If you are into applying unique nail art designs, you probably know how difficult it can be to find excellent ideas. Furthermore, stiletto nail art designs vary in complexity and design quality.
Fortunately, we have this compressive guide in the 13 dazzling stiletto nail designs that stand out. While they might require specific resources, time and some level of nail care skill, the results are a guarantee.
So, this in-depth guide should be helpful in improving your knowledge base on acrylic nails:
1. Black Stiletto Nail Design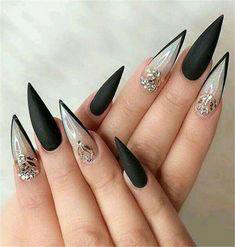 For this nail art design, you will need acrylic nails, a black nail coat, and silver acrylic. Start by applying the black nail coat on your middle, pink finger and thumb.  However, index finger will get the black coat, along with a unique 
2. Holographic Stiletto Nail Design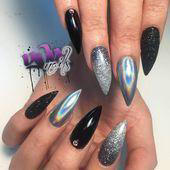 Make your summer unique and impress your peers with this Holographic Nail Design. You will need for different nail colour patterns to complete this particular nail design.
Start by applying a light base coat on the nails. Then, get a black nail glitter goat, a grey glitter polish, a shiny grey coat and plain black coat.
Apply, these coats of paint to your nails sparingly to ensure the best results.
3. Short Stiletto Nail Design
 If you prefer going for the simple nail designs, this short stiletto nail design should be perfect for your needs. As usual, start by applying the clear nail base coat over your nails. Do this, because it will help boost the overall finish of your matte nail paint.
Then, apply a matte black nail coat on your nails. Ensure that you leave the nail coat to cure for a while to help ensure the best quality results. 
4. Valentine's Day Stiletto Nail Design
 There are only a few techniques you can use to make a good impression on your loved ones, or share your emotion with a loved one than with nail designs.
Try out this unique nail design that involves the use of jewelry, a clear nail base coat and heart shaped stencil. First start by applying the stainless steel base coat on your nails, and then let it cure.
Next, proceed to place the heart shaped stencil on your middle finger. Then, apply some glue to the base of the middle and ring fingers. At the base of these fingers, add some jewelry and let your fingers dry. 
5. Halloween Stiletto Nail Design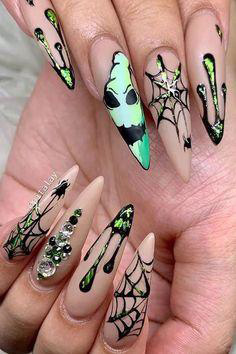 For this nail art design, you will need a light cream base coat, some glue, and halloween stencils. To get the most out of this look, ensure that you apply different patterns of the halloween design on all your nails. 
You will also need some nail glue for this process, and an LED light. Use these resources to help you get the best results for your nails.
6. Trend Brand Stiletto Nail Design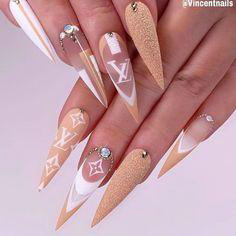 Here is where you are also going to have to get creative with the nail designs you apply. Start by applying the clear nail design on all your nails.
Then, get a louis vuitton stencil kit, and some compatible glitter to apply on your nails. There is no specific pattern or technique that you have to use for the application process.
You can perform this process in a random manner, and let it sit as it cures for the best results. 
7. Marble Stiletto Nail Design
 Its no secret that marbles ranks among some of the most popular jewelry in the world today. You can apply it to your nails as long as you have the right resources and technique.
Try out this marble stiletto nail design, that is simple and straightforward to apply. Start by putting acrylic nails on your nail bed. Once its  a base coat to your nails. Then
8. Colorful Stiletto Nail Design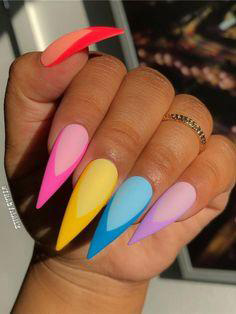 You can also take your creativity to the next level, with this unique nail art design pattern. However, you may also need a triangle stencil, which you can use to complement the finish on your nails.
For this nail coat however, you don't have to apply a base coat, because it's a matte nail coat. Plus, you might need a total of four colours for you to get the best results. 
Start by painting all your nails, and then place the stencil above them just before the drying process. Remove the stencils such that they leave a unique fade design on the structure of your nails.
9. Glitter Stiletto Nail Design
 As usual, there is always something simple in store for those who prefer going for the simple nail designs. For this particular nail art, things are exceptionally simple. 
You just have to apply acrylic nails, and then apply a base over them. Next, apply black nail polish so you can get the right results. 
10. Gray Matte Stiletto Nail Design
 Here is where you get to play around with gray nail polish and a unique glitter stencil. While you may not require a base coat for this particular design, you have to start by cleaning your nails thoroughly.
Next proceed to apply the golden stencil, and let it cure under a light.
11. Rhinestone Stiletto Nail Design
With this nail art design, you can take things a little technical or to the next level. While you need several resources, and some time on your schedule, it's easy to apply.
You will need some silver nail polish, a clear coat/base,glitter nail polish and some jewelry. The good thing with this approach is that you don't need to apply the content using a specific pattern.
The only real is to be creative with things. For instance, you can paint the middle finger silver, and apply glitter to the index and pinger finger. The index and middle finger could get the silver coat base, and some jewelry.
Latest posts by Katharyn Riedel
(see all)