There is nothing better than when you look and feel good. And, making sure your nails look good can be an important aspect of looking good. It's especially important if you are a lady, or if you just want a good way to stand out from the rest.
So, here are 13 irresistible nail designs.
These nail art designs are diverse, dynamic, and even easy to customize to suit your needs. More so, these art designs are not set in stone, and you can play around with different patterns, paint coats or designs.
1. Black and Glitter Nail Art
First on this list would be this creative use of glitter, patterns and a fresh coat of black paint. As with most nail art designs, you have to be varied in your application of these elements.
The pinky finger in this case gets a fresh paint coat of black. The ring finger gets a plain coat, with a unique design including glitter, black paint, and  some flitter. The middle finger gets nail paint upper side, with a unique glitter finish to complement the design.
However, the index finger and thumb stay clear, so you don't have to apply a fresh coat of paint.
2. Amazing Grey and Glitter Nail Design
If you like going low key with things, try out this approach to nail art. It involves applying a fresh coat of light grey paint on all your fingers. The light coat of paint should be consistent, and cured using a UV light for the best results.
However, the middle finger should be slightly different. Ensure that its unique, by applying a unique glitter pattern. So, you have one finger that stands out from the rest. Its perfect for things such as femme flagging.
3. Immaculate Blue and Glitter
Do you want a unique way to make a good impression on your mates, but still stay low-key at the same time? Try out this unique design to nail art, that involves a single coat of paint and some glitter.
Apply a fresh light blue paint on your thumb, index or ring finger.  For the remaining nails, get a fresh coat of light blue glitter paint. However, ensure that you use the right curing technique, to get the best finish.
4. Orange and White Gel Nails
For the summer months this year, try out this next irresistible nail art design. The colours are warm, and suitable for showing your emotion for this time of the year. It's no longer cold winter, and what an excellent way to express your feeling than with a glamorous coat of paint.
You will need a total of four coats of paint for you to complete this approach to nail art. Start by applying a fresh coat of light pink paint on the thumb and the middle finger. For the index and pinky finger, apply a fresh coat of light blue paint.
The only unique finish will be for the ring finger. Apply a white coat of paint, and then draw dark blue flowers on the edges of the nail paint.
5. Pink and Glitter Stripes
Also top on this list of nail art designs, would be this unique design to irresistible nail art design. It will involve the use of two colours, and light grey glitter.
On the middle, index, thumb and nail finger, start by applying some clear nail polish to help complete the base coat. Then, proceed to apply a unique coat on the ringer finger. Here you will apply a unique mix of paint strips and flitter. Start, with some flitter, light pink finish,  and then the white coat of paint. Repeat this process twice.
On your pinky finger, apply a unique glitter finish, and let your nails cure under an LED light
6. Amazing Yellow and Leaves Pattern
For many, yellow is a powerful colour. It gives signs of a happy mood, and even portrays some as open or friendly to new experiences. So, make a good impression on your new friends, workmates or more, with this creative nail art design.
Expect to use a total of three colours of this nail art design. For the thumb and middle finger, you will have to get unique with the paints. For the pinky, middle and index finger, apply a fresh coat of bright yellow.
However, ensure that you let it cure right so it's consistent and appealing.
7. Glitter and Cream Nail Polish
Here is where you nail curing and painting skills will come into play. For this particular nail art, you will need some glitter nail polish and a crean nail coat.
First, start by applying the light cream nail polish to all your nails, except the middle finger. For the middle finger, you will apply some glitter nail paint.
Once it's complete, let it sit and cure naturally to ensure the best results.
8. Mystical Purple with a Unique Nail Colour Gradient
There is a unique appeal to someone who can play around with a single coat of colour, and lay it out in different shades. It's certainly not an easy feat to achieve on any surface let alone your nails.
So, try out this unique approach to nail paints, which includes layering a purple finish, with a fade finish.  You may need some light grey and nail polish to help balance the quality of the purpose coat.
9. Laid Back White Pattern Stencils
The final design on this list requires a bit of time and creativity on your part. While it may involve the use of a single colour, fake nails and some glitter, you have to be cautions. The good thing is that the final result looks simply astounding on your nails.
Start by cleaning your nails with some disinfectant, and then fake nails over the top. Then, proceed to apply some paint on the nail and a unique flower or structure design over the top of the nail bed.
However, be careful with the details and this is a process you may have to leave for nail technicians.
10. Mellow Gel Nails
For this approach to nail styling, you are going to learn how to apply gel nails the right way. Start by cleaning your finger, applying some nail strengthener, and then setting gel nails. Let it sit under an LED light for the best curing results.
Remember that you have the freedom to play around with any set of colours on all your fingers. These colours can include cyan, light blue, light purple, and light orange.
11. Dazzling Purple Nail Coat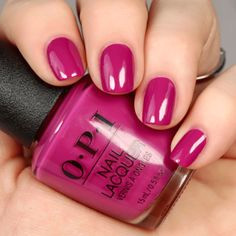 You can still make your nails look appealing by using a plain colour coat. We recommend this unique shade of purple that is bound to attract the attention of peers this season.
The best part about this coat is that it's easy to apply. The only challenge comes up in letting your nails cure to give it a unique finish.
Latest posts by Katharyn Riedel
(see all)