Using nail polish can be an excellent way to improve the appeal of your nails. However, the challenge arises in using nail polish products the right way. It's particularly difficult, when it comes to ensuring the nail polish provides optimal longevity.
So, what are the best ways for you to improve the longevity of your nail polish? 
Well, the best way for improving the longevity of your nail polish boils down to a few specific factors. Done correctly,  you can be sure that you nail products will last for a long time. A few useful tips for you to consider include:
Top Tips 
There is more than meets the eye when it comes to boosting the longevity of your nail polish. A few key factors to consider include: 
1. Use the Right Storage Measures 
If you are probably going to put your nail polish on display, ensure that it's away from places such as windows. You will have to do this to ensure that the light won't compromise the content of your nail polish.
You may have to consider secondary storage measures if you have a large stash of nail care products. Go for products such as storage bags, which are ideal for storing your nail products conveniently.
Another excellent alternative would be to store your nail polish on a rack, or to perhaps a shelf. There are various excellent examples that you can find on platforms such as Amazon. These types are popular among creators, as they have the ideal height for bottles. So, it makes total sense to get the product for your small space.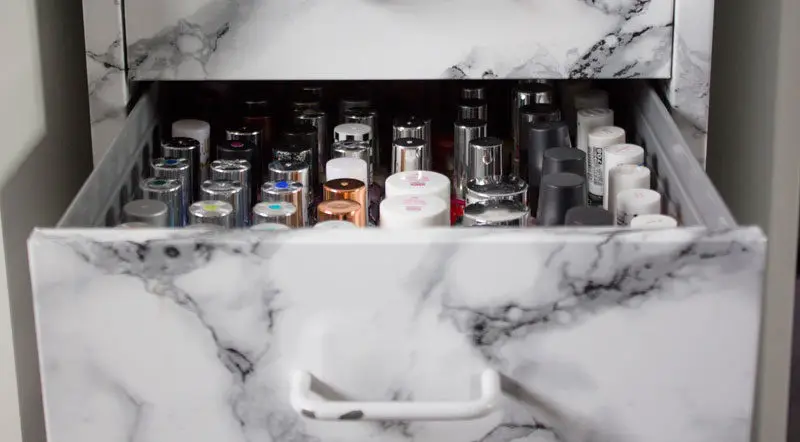 An excellent recommendation for you would be to use a non slip mat on the inside sections of the drawers. Do this to help ensure the nail polish bottles won't slip around inside as you open or close for storage. 
Don't leave things just there yet! You can also go for a marble patterned vinyl and sprayed handles for added functionality. So, you have a drawer that helps you store your nail care products with style. 
2. Keep It Upright
Ensure you store the nail polish bottles in an upright stance. If they end up falling down to the sides, this might cause the polish to seep through the neck and thread sections. It may seep and cause a mess in your entire drawer.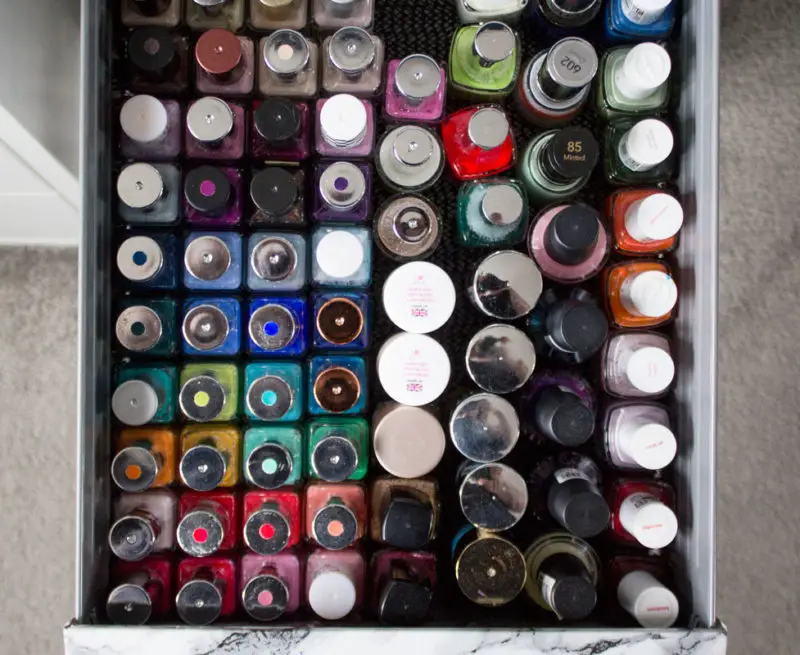 Or, it may also seep and dry on the neck section, thus compromising your ability to use the nail polish next time. You can still open the nail polish at this point, but it's a process that may require lots of strength.
Right after using the nail polish, store it a well organized drawer, away from regular traffic. Plus, ensure that the paint sits upright in a cool and dry place.
3. Never Place the Nail Polish in Your Fridge 
You have probably come across literature or people who recommend storing nail polish in your fridge. However, this is quite contrary from the truth, and you may end up doing more harm than good to your nail polish.
So, never place your nail polish in the fridge, as this might compromise its longevity. The freezing temperatures will have negative side effects on the chemicals in your nail polish. So, just use the traditional measures to ensure the best results.
Just use the traditional nail polish storage measures. Keep your nail polish in a cool and dry place for the best results.
4. Use a Nail Polish Thinner 
Even if you store your nail polishes away from the sun, or the fridge, its inevitable that these products will thicken over time. It will cause the solvents in the nail polish to evaporate, and it might also compromise the polish quality. 
However, this does not mean you have to throw away your nail polish into the bin. Using some nail polish thinner in the paint will help maintain the longevity of the polish. Believe it or not! A few simple drops should be sufficient to restore any compromised nail polish.
Best of all, it works well for various product types. These include products such as glitters, creams, top coats and more. So, you may have to do your homework when it;s time to choose the right nail polish products.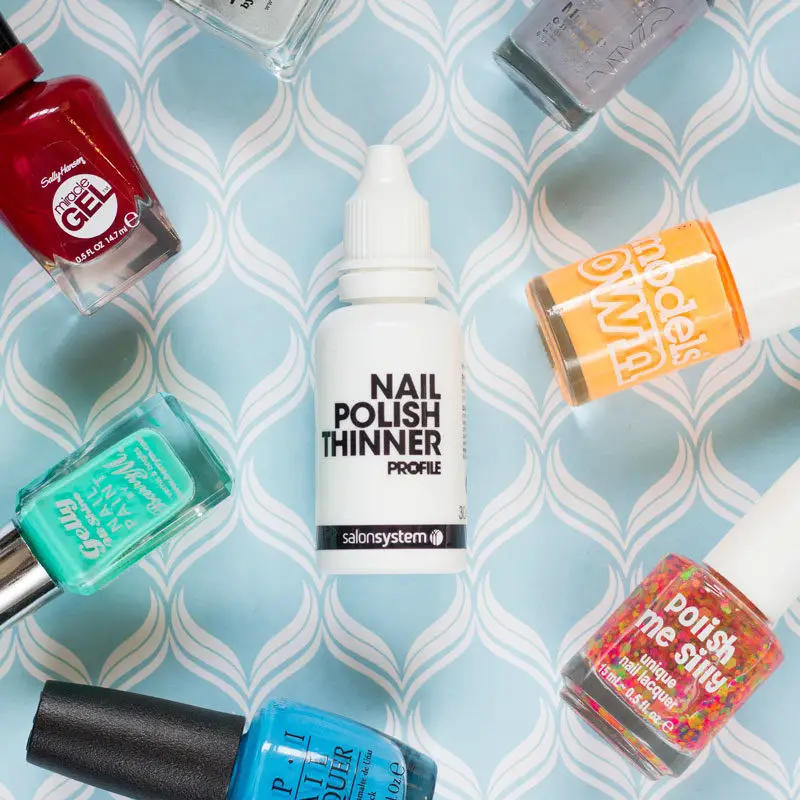 5. Choose Nail Polish from Legitimate Brand 
Your journey to becoming a savvy nail product user would be to choose products that come from legitimate brands. High quality nail products have excellent longevity benefits. Furthermore, you won't have to worry about using nail thinners on a regular basis.
Be careful when choosing the right nail polish, as this also has an impact on the health of your nails. You have to go for products that contain the least number of chemicals, without compromising the paint quality. 
Latest posts by Katharyn Riedel
(see all)