The traditional shades in your ridiculously large polish stash are starting to seem boring. You want to try out new nail designs this summer, but it's a significant challenge. The range of trends and art designs available out there is immense.
So, we take a look at 8 must-try nail art trends in spring of 2023.
These must try nail art trends will have you scrolling through your phone for days. Whether it's in between selfies, photos or memes, there is tons of inspiration you can acquire from your feed. YES! We recommend you spend more time on your phone to boost your deposit box of nail ideas. 
1. Smiley Faces
The famous musician has a song on Youtube with millions of views. The title is "You Are NeverFully Dressed without a Smile." And this applies to your nails as well, especially for the ladies.
Make a good impression on mates with this nail art which is super fun and laid back at the same time. You just have to paint your nails using a clear base coat, then let it cure. Next, apply some smiley stencils on your nails, and then paint them using your preferred polish. Let it sit to dry. 
2. Tennis Ball Green
Tennis ball green ranks among some of the best color trends this year. While it's mostly common for wardrobes, you can also take this sport design to your nails.
Start the application process with a clear coat on your nails. Then apply circular edges on your nail, and apply the tennis ball green polish over them. Next, place a curved stencil vertically across your nail. Paint some white polish over it such that the curved shape also touches the curved design. 
3. Amazing Scarlet Red Nail Design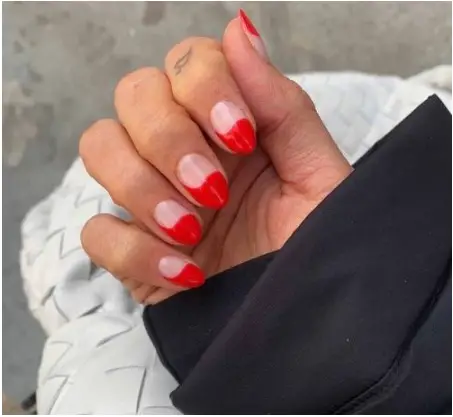 Who knew that scarlet red could also look this appealing on your nails. For this particular design, you need two specific colour shades.
Start by applying a clear base coat to the structure of your nails. The clear base coat helps boost the shine and finish quality of the paint. 
Next, set two stencils to the structure of your nail. Then, pain the top section scarlet red. Leave the bottle section clear, with the base coat you had applied initially.
4. Butterfly Blue 
Sure, this particular nail art seems complex. But with the right resources, a steady hand and a bit of patience, you should be complete with this process in a few minutes.
As usual, start by applying a clear base coat to the structure of nails. Then, proceed to apply the unique butterfly stencils to your nail bed. Doit strategically so that it covers at least half of your nails structures.
Also, complimenting your nail design with some jewelry.
5. Happy Colours Nail Art Trend 
If you like to get a bit technical with things when it comes to nail art, you can also play around with this design. It involves applying various different gel nails, and each with a unique colour.
The colour gel nails you need include blue, light green, light purple, white and yellow. For each nail, you will need a unique stencil. The stencils include clouds, strawberries, flowers, black patches and lighting. Apply each successively to each nail without compromising the gel nails. 
6. White and Pattern Nail Art Design
You are one step away from making a good impression with your nails. Try out this unique acrylic nail design, that includes various appealing patterns. As usual when using the traditional nail art design, ensure you disinfect and strengthen your fingers using biotin.
Also, ensure the acrylic nails sit for a few minutes for the glue to dry.
 7. Cream and Pattern Gel Nails 
Spring is the perfect time to try out gel nails, and you can make a good impression when you get the details right! For this design, you will need cream gel nails, which you shall set as the base coat for all your nails. Then, let the nails sit and cure under an LED light for the best results.
Next is for you to get your patterned stencils, and set them on the surface of the dried gel nails. Set them on the nails, and then apply some black nail coats over them. Once the nail coat dries, remove the nail stencils.
8. Lovely Sky Blue Nail Art Design 
Don't we all love when someone can produce intricate nail designs, especially those that are reminiscent to nature? Well, with this unique nail pattern, you can achieve your goal. Start by applying a light blue nail coat with some glitter on all your nails. However, leave out the middle nail.
Next, proceed to put a unique clouds template on the middle finger, and set unicorn stencil.
Latest posts by Katharyn Riedel
(see all)