It's impossible to talk about hairstyling without mentioning braids. It's also one of the oldest ways to style your hair. Even in Roman times, women never went outside without weaning braids. 
Now, in the modern era, braids have a fashion sector of their own. It has only increased over time. From Europe to Asia, people have been wearing many types of braids.
So, wondering if these cute braids will be everywhere in 2023! Well, yes! Just read along if you want to know more about those braids. 
9 Braids That You Shouldn't Miss in 2023
Like other aspects of fashion, braids have evolved many times. Braids are super beneficial when it comes to hair growth. But most importantly it adds uniqueness and stands out. 
To help you, we've listed some braids that you can easily do by yourself.
Braid 1: 3 Strand Braids
3 strand braids are always going to be a classic. This is also the easiest braid you can do all by yourself. 
Just start by diving your hair into 3 strands. Then put the left strand over the middle and put the right strand on top. 
Keep repeating and you'll have the 3 strand braid right away!
Braid 2: French Braids
Now, the French braid can surely give you a professional look when done. It also consumes less effort and time, which is always a plus point.
So, start with dividing the front hair into 3 sections and start braiding. When you reach the 2nd stitch, add 2-inch hair to each strand. When you run out of hair to add, simply braid the rest.
Braid 3: Dutch Braid
The dutch braid is called the reverse french braid technique. It adds volume to your hair and can be styled into a bun. 
Just divide the front section of hair into 3 sections first. Make a stitch by putting the left and right strands under the middle strand. 
Now, add hair to the left and right strand every time you make a stitch. Once you reach the nape, braid the rest.
Braid 4: Fishtail Braid
The fishtail braid is like a french or dutch braid but super thin. For this, you've to separate your hair into many small parts first. 
The ideal width of the strands is half an inch. This way you'll have many strands which then can be braided. You can also create two different sections and have a double fishtail braid. 
Braid 5: 4 Strand Braid
A 4 strand braid looks absolutely iconic. It's also more unusual than regular braids. So, it's a good choice if you want to look unique but also stylish. 
To do this braid, make 4 strands and intertwine them. Strand 4 (left to right) will be over strand 3. Then place the strand over strand 2 and strand 1 respectively.
Relabel and repeat the process.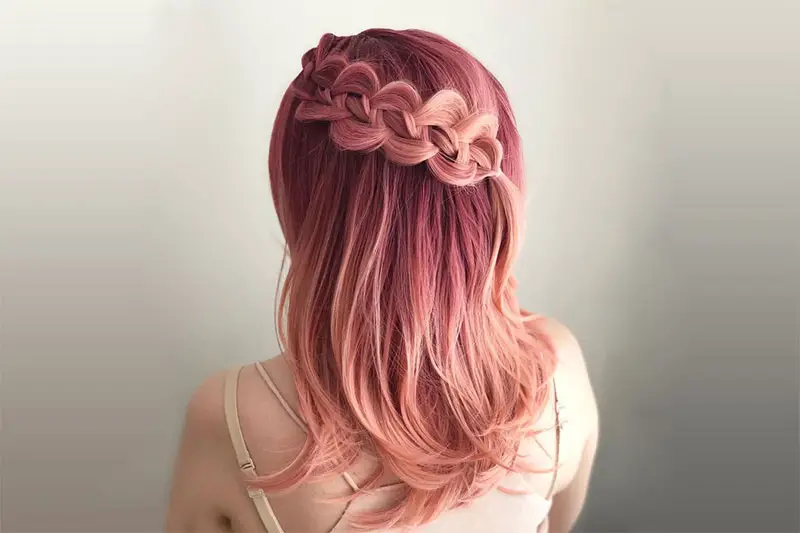 Braid 6: Crown Braid
Another great braid for weddings and proms is the crown braid. A crown braid can easily make you look like a princess. Thus, it's great if you're going to be the bridesmaid or the bride! 
Crown braids are usually dutch braids or french braids. All you need to do is create two different hair sections first. 
Then braid them into double dutch or double french braids. After that, pin them in the opposite direction. This creates a crown right away!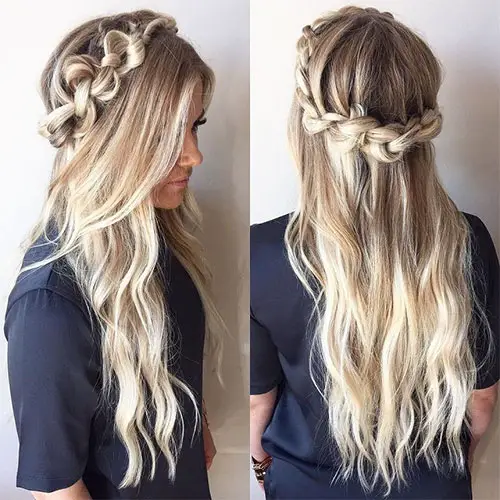 Braid 7: Box Braids
If you have afro hair, box braids are perfect for you. This braiding system is a little bit different from normal braiding. 
This technique involves inter-braiding with a small section of hair. As a result, they become fully individual plaits. This is a viable approach against hair damage.
But make sure the braids are thin. Because otherwise, it can raise tension and cause hair breakage. 
Braid 8: Cornrow Braids
Cornrow braids are super trendy nowadays. From singers to politicians, you'll see people wearing cornrow braids all the time. 
Cornrow braids can last for several weeks. It's also super independent. Meaning, you don't need too much thickness or thinness. It's easily adaptable. 
Start by parting your hair into multiple thin sections. Then divide each section into 3 strands and start braiding. Add hair to strands as you braid and secure it. 
Braid 9: Braided Ponytail 
If you have long or medium-length hair, you can simply do a ponytail. Whether it's a box braid or a cornrow, it can be styled into a ponytail. 
Just add some accessories after making multiple cornrows or box braids. Then tie the braids off with a hair tie into a ponytail.
You can showcase your facial makeup or add accessories to your braids. So, for a party or date night, this is certainly a great choice. 
Some Frequently Asked Questions
Since people can have certain confusion regarding braids, we've answered some questions. Have a look and find out for yourself. 
How Long Do Braids Last? 
Any well-braided hair can last from 2 to 8 weeks depending on multiple variables. If your hair is sweaty, you're going to need scalp-related care like TLC. On top of that, you'll need to wash your hair at least once every 3 or 4 weeks.
Can Braids Be Kept For 3 Months?
Yes. Although everyone should follow the two-month rule, 3 months is the maximum. Any more than that, you'll permanently damage your hair. Usually, if you see hair growth, you should immediately take them out.
Anyways, that was everything on- these cute braids will be everywhere in 2023. Hopefully, these braids have helped you choose one. Just remember that you can't go wrong with braids! 
Finally,  good luck and happy braiding! 
Latest posts by Katharyn Riedel
(see all)