"If your hair is done properly and you have on good shoes, you can get away with anything"

Iris Apfel
Well, we too believe in Apfel's words. But doing your hair properly can give you a hard time. And you can mess it up quite easily.
For example, you might find your hair smelling gross after straightening.
So, you're wondering why my hair smells bad after straightening?
Well, it can smell because you've been using your iron on wet hair. Thus the hair gets burnt causing an odor. Or you haven't cleaned the iron for a long time now. That's why residue and hair products are burning. That's not all, there are a few more straightener-related issues to discuss.
So, don't get fooled with these two reasons because we got a lot on the list. But you have to scroll down to see all of them.
Let's slide straight into those reasons –
Why Does My Hair Smell Bad after Straightening? -8 Causes!
Well, there can be a lot of reasons why your hair smells bad. Most of the reasons are common mistakes we make while using our straighteners.
But there are other factors that can make the hair stink while straightening.
Time to have a quick look as to what they are –
Hair Product Burning on The Edges of The Iron
Well, most of the time we put on hair products before straightening. For example, you might have applied hair serum or gel on your hair.
The next thing you'll probably do is plug in your hair straightener. Then you started to straighten your hair. After a while, your hair may start smelling bad. The hair mainly smells like smoke when you straighten it.
And that's because some of your hair product is stuck in the flatiron. So when the straightener gets heated, that product heats up. After that, it starts to burn. That burning smoky smell transfers to your hair as well.
This smell doesn't stick all day though. It will disappear after an hour or so. But it sure can make you concerned. 
Iron Not Cleaned after Use
So another reason is that your straightener is dirty. As we speak of hair products stuck in the iron, it wouldn't have happened with a clean iron.
Your hair stinks because you didn't clean the iron after using it. So dust, debris, and short frizzy hair sometimes get stuck in it. When the iron is turned on, these particles start to burn. 
Then you straighten with this straightener, the smell transfers to your hair. Then the hair smells like a flat iron or burnt.
Iron is Being Used on Wet Hair
One warning you always get is not to straighten wet hair. Nevertheless, we all at some point made this mistake knowingly or unknowingly. So let's tell you what happens when you straighten wet hair.
The water or moisture remaining in the hair vaporizes. But the hair is holding the water. So in the process, the hair gets burned first.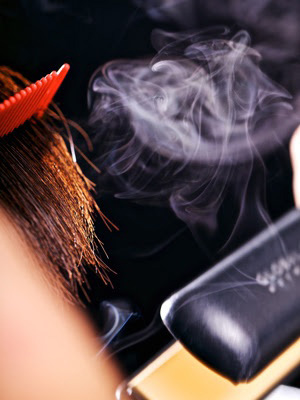 We all know damp or wet hair can't be straightened. 
So it only damages the hair. And your hair smells either burnt or like weed. The smell sometimes remains even after 2 or 3 washes.
But with each wash, the smell tends to fade. Until it completely goes away.
Flat Iron Temperature is Set Too High
One thing you might do is set the iron temperature too high. Maybe you put it to 200 degrees celsius. You might have done it because you're in a hurry. And you wanted to straighten the hair in the least amount of time.
Trust me we've all been there. And if you've got curly hair, this can be a common problem for you. So whenever the temperature is set too high, you'll notice the smoke. And that gives your hair a smoky and skunky smell.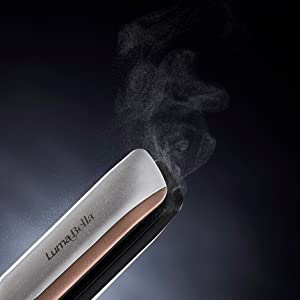 Hair Spray Odor is Making The Hair Stinky
There are a lot of hair sprays out in the market. But some of them do have a strong smell. It's not always pleasant. So if you're trying new hairspray and your hair smells bad after straightening, it can be the reason. 
Sometimes the spray smell gets mixed with the iron smell. Together they leave an unpleasant smell on your hair. 
The Protective Layer/Ceramic Plate on Iron is Peeling Off
You may be using iron for a long time now. So we're assuming that you've noticed that there's a ceramic plate on the iron.
That's actually the protective layer of the iron. It helps to protect the hair against heat damage. But it has a lifetime also. If you've been using the same iron for a long time, the layer may come off.
When the ceramic plate or layer comes off, your hair's vulnerable to direct heat. So the hair burns and it smells like sulfur after you use the flatiron. 
Iron Has Been Connected to Electricity for A Long Time Without Use
What we do is connect the straightener to any electric panel to turn it on. After that, we wait for some time for the straightener to get heated up.
Once it comes up to temperature, we start ironing out our hair. But there is a time limit for heating it up before straightening. If you start straightening too quickly, the iron won't work. Because it's not heated enough to straighten your hair.
It might happen that the straightener is overheated. Because it's been heating longer than it should. And in this case, it starts to burn the ceramic plate.
The reason it burns the plate is that it's not heating up the hair. But the heat is still more than enough. So without transferring the heat, it burns itself. As a result, the plate burns off. 
So when you straighten the hair it smells awful. 
Hair Straightening for A Longer Time than Usual
We sometimes tend to straight hair for a longer time. But it's not always needed.
You might have a date night or a big day. So you want your hair to look perfectly straight. Thus you've been straightening your hair for a long time. 
But the truth is, it only gets worse. Because overdoing it can cause damaged hair. And the hair will be stinky. 
How to Remove Bad Smell from Hair?-4 Quick Solutions!
If your hair is smelling bad after straightening, there's nothing to stress about. Because it's not one of the problems that can't be fixed.
So we've given you some alternative quick fixes to the problem. You can choose any one of them. But to help you with the choices, we've given you a sneak peek.
Do have a look at the following table.
| | | | |
| --- | --- | --- | --- |
| Alternatives | Application Time | Effectiveness | Ease of Application |
| Body Mist | 5-10 minutes | Medium to High | Easy |
| Perfume | 10 minutes | Medium to High | Easy |
| Moroccan Oil | 10-15 minutes | High | Medium |
| Hair Styling Cream | 30-60 minutes | Medium | Medium to hard |
You've got an idea about the solutions. And you might also have chosen which one you want to apply to. Before taking the final decision do read the rest of the article.
So that you make a good choice for your hair. 
Spray Light Body Mist on Hair
Another quick remedy for burnt-smelling hair is mist spray. Take one of your light body mists. Then shake the bottle well.
Now cover your face and eyes. Then directly spray it on your hair. But maintain a 6-inch gap while spraying.
Body mists mostly have light fruity smells. It reduces the burnt smell and spreads a gentle smell all over the hair. 
Spray Perfume on The Comb
Well, it is the quickest solution to your problem. What you need to do is take your comb. And then bring your favorite perfume.
Then hold the perfume 6 inches away from the comb. And spray it on the comb. But make sure the spray doesn't get near your face or eyes.
After you spray, wait for 2 minutes. Then comb your hair with the hairbrush. You'll get rid of the bad smell instantly.
If the hair is really stinky, you might need to repeat the process. In that case, follow the instructions that we've given. epeating once will do the work. 
Use A Bit of Moroccan Oil/Serum Afterward
Moroccan oil has moisturizing and damage repairing properties. It also has a great aroma. Once you start using Moroccan oil, you will be in love with it.
Its smell will overpower the burnt hair smell. And you'll have hair that smells nice and sweet.
To apply, put 6-8 drops of oil on your palm. Now rub both your palms together. Then rub the hands on your hair. Remember you don't want to make the hair oily. You just want the smell to go away. So use it as you apply a serum.
Speaking of serum, there are lots of hair serums available. Most of them smell good. And some even contain Moroccan oil. So if you're afraid that your hair will get oily, go for the serum. 
We've been using some serums. These are not only good smelling products but have other purposes. Like some of them repair hair damage too. And they can do the same for you.
So check them out.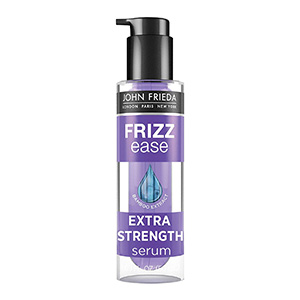 John Frieda Frizz Ease Extra Strength Serum
Trader Joe's Shea Butter & Coconut Oil Hair Serum
After you get the serum, it's time to apply that. The application method of the serum is the same as the oil. 
Use Hair Styling Cream And Spray with A Nice Smell to it
One thing you can use to remove the smell from hair is styling cream. Most hair cream has a chemical sort of smell. That can worsen the current smell of your hair.
But we've found some good smelling hairstyling creams. Some of them are even lightweight. It's important that you use a light cream for styling. Otherwise, the residues will remain in your hairbrush.
 Thus, there will be lint buildup in your hairbrush. To avoid all that, look for these hairstyling creams.
Moroccanoil Hydrating Styling Cream
John Frieda Frizz Ease Secret Weapon Touch-Up Crème
Or you can use nice smelling hair sprays to set the hair and smell good. 
How to Prevent Hair from Getting A Bad Smell After Straightening?
It's always better to prevent stinky hair after straightening. That's why you need to maintain some basic factors. And then you can bid farewell to smelly hair after straightening. 
So why wait, let's see then right now.
Apply The Correct Amount of Heat Protection Spray
You already know that hairspray can cause your hair to smell. So you can prevent that by applying the correct amount of it.
You'll find directions on the spray bottle or package. It clearly says how much to use. But if you can't find the amount mentioned, don't worry.
We also know how much to apply. For short hair, spray once. For medium to long hair spray twice. Also, you need to follow proper instructions for using a hairspray.
Clean The Straightener after Use
Cleaning the hair straightener regularly is important. It'll help to remove any residue or hair product in it. 
To clean the straightener, make sure it's unplugged. Then wipe it with an alcohol swab. After that, wait for 5 minutes. Then wipe the flatiron again with a damp cloth.
Now let the iron completely dry before you plug it in. Otherwise, there will be a burning smell again. 
Make Sure The Hair is Completely Dry
Whenever you're planning to use the iron, do one thing. Before straightening, check if your hair is completely dry or not.
If it's not completely dry, then blow dry it. Even if you're in a hurry, blow-drying will keep the hair straight for 1-2 hours. For that, you need to comb the hair from root to bottom. And blow dry it at the same time.
So you can use it as an alternative if you're really in a rush. But still don't use the iron on wet hair. If you have time, then use the iron after blow-drying. And straighten the hair. 
You've finally figured out how to remove bad smell from hair after straightening.
Frequently Asked Questions (FAQ)
How often should I change my flatiron?
You can use your flatiron for 2.5 years. If the ceramic plate starts to come off before this time, then change earlier. Otherwise, change every 2.5 years.
My hair straightener is peeling a layer, what should I do?
The layer that's peeling off, is the ceramic plate. If that's been peeling off on its own, discontinue usage of that iron. And get a new one.
How long can I straighten my hair without getting the burnt smell?
Well, that depends on the hair length. But approximately, for shorter hair, the time should be 5-10 minutes max. For medium hair, it can take 15 minutes and so on.
Endnote
Looks like you continued reading till the end of this article. Well, now you know the answer to why my hair smells bad after straightening. 
Along with it, you got some solutions. So without any delay, apply those. Let us know which alternative worked for you.
Bye!
Latest posts by Katharyn Riedel
(see all)