We get that you have been wanting to relax your curly hair. To be honest, tough and stiff curls can really turn into a headache at times.
Because they get unmanageable and messy. So it can be a good option if you're thinking of relaxing your hair. Relaxers are heavy chemicals, so you don't wanna risk your hair. As you don't want any mistakes, you want a proper guideline. 
Starting with how long after washing hair can you relax it?
Well, the ideal time to wait after washing hair is 7 days. After that, you can relax your hair. But do not wet the hair in between these days. If you've already wet the hair, wait for 5-7 days. You can then relax your hair.
So you know how long to wait before relaxing. But do you know how to relax your hair at home? If not, then we've given a step-by-step guide on that. So scroll to the end. 
How Long After Washing Hair Can You Relax it? Explained!
You can relax your hair after 7 days of washing it. Though you'll see some relaxers mention on the packaging that 48-72 hours is enough.
But we highly disagree with that. Most professionals say that you shouldn't wash your hair in 5-7 days. After the time period, you can only opt for the relaxer.  We also get a lot of questions regarding can you wet your hair before relaxing it?
Well, the answer is no. Relaxed hair is nothing like a hair treatment or trimming hair. 
For relaxing, that's a big no. You shouldn't wet the hair before relaxing, not even in 7 days before relaxing actually. The same goes for hair treatments as well. When you go through a hair treatment, the hair needs adequate time to get used to it. 
So you'll have to give time to your hair so that it can work on the relaxer. Now to make things more clear here's a table. Here you'll see how long you need to wait after washing your hair to relax.
| | |
| --- | --- |
| Method | Time to wait before relaxing |
| Using Shampoo | 7 days |
| Wetting the hair | 5-7 days |
| Using dry shampoo | 6-7 days |
| Applying hair treatment | 15 days |
| Bleaching or changing hair color | 1 month |
So you've got the idea about how long to wait before relaxing the hair if you want any of the above-mentioned factors. It should be easy for you to apply the relaxer more effectively now.
What Happens if You Relax Your Hair after Washing it?
So as you already know that you can't wash your relaxed hair, here we'll tell you why not. So relaxing hair after washing will turn out to be bad rather than good. And your motive is to loosen up curls by using relaxers.
If that purpose is not served, the whole hard work will go in vain. So let's describe what happens when you relax your hair after washing.
The Scalp Will Have Irritation
The scalp is more sensitive than other skin parts. It gets irritated even with a little disturbance. And relaxers are heavy chemicals that weigh your hair down. So they're quite powerful as well.
If you wash your hair, the scalp remains more delicate due to water exposure. So without waiting if you put on the relaxer, your scalp will burn. This sensational irritation will stay on the scalp for a few days. So don't apply a relaxer in between the prohibited time.
Hair won't Have Time to Rest from Previous Chemical Exposure
Most of the shampoos contain sulfate that's harmful to hair. That is used as the cleansing agent in shampoos. But cleaning the hair takes away moisture as well.
At this stage, the hair will still be working on gaining moisture. So the hair is occupied in lessening the damage from the shampoo. So if you expose the hair to another highly concentrated chemical, both the hair and scalp will have a tough time.
Because frequent chemical exposures are harmful to hair. 
The Product Won't Work
As mentioned, the hair and scalp are healing from shampoo damage. If you apply the relaxer now, it won't work.
Because in the first place, the relaxer is made to be used in hair that's not damaged. Nor that it's repairing from any chemical exposure. Also, the relaxer only works in hair that hasn't been in touch with water for at least a week.
And without maintaining relaxer guidelines, it won't work.
How to Prepare your Hair before Relaxing?
To let the relaxer work in your hair, you'll have to prepare the hair beforehand. Because without proper preparation, the relaxer might not work. You'll end up losing both time and effort. On top of that, you may hurt your scalp and hair.
So it's better to be prepared. 
If you're planning to relax your hair then you need to avoid certain things for a time. Like you shouldn't color the hair or bleach it before relaxing. Any sort of chemical exposure and treatment should be avoided.
If you want to know how many days you need to wait, check the table above. Apart from these, you need to minimize hair damage and styling before relaxing. Just avoid using hair gels, sprays, and heating hair before 7 days of relaxing.
Because that might damage the hair and stress it. 
Now let's tell you what to do before relaxing the hair. In between the 7 days while you're not washing the hair, try to keep the hair detangled. For that, comb the hair twice a day. If possible,  limit your outdoor activities. Because you won't want dry polluted hair.
As you won't wash the hair, you can wrap the hair with scruff. Do this only if you're going out. Or you can wear a cap to cover as much hair as possible. 
So that the hair isn't much exposed to dirt and dust. So the preparation is done.
Now move on to relaxing your hair at home.
How to Relax Hair at Home? – 6 Easy Steps!
It's preferred to relax at home at the hair salon. But now, there's a lot of easy-to-use relaxers that can come in handy.
You can easily use them at home. So you won't have to pay the extra salon charge. Also, wrong relaxers can dry out your hair extremely. And you'll see frizzy hair all over the head. To help you in choosing the right relaxer, here are our suggestions.
Softsheen-Carson Dark and Lovely Healthy Gloss 5 Moisturizing No-Lye Relaxer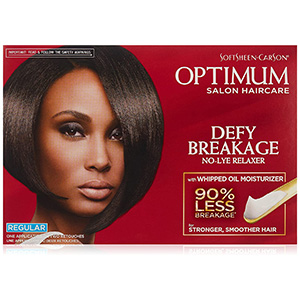 Softsheen-Carson Optimum Salon Haircare Optimum Care Defy Breakage No-Lye Relaxer
So after you get the relaxer, move to the steps. 
Step 1 of 6: Divide The Hair into Small Sections
So first, you'll need to divide the whole hair into small 1.5-2 inch sections. So separate the hair from the middle. Now make small sections and clip them all separately. Leave only one section untied at a time.
Now move to the next step. 
Step 2 of 6: Apply The Relaxer
Now you'll have to apply the relaxer to your hair. So take some relaxer in your hand. Then apply it from the root to the tip of that single section. Now pull the hair down while having a relaxer on it. Then repeat it. Keep pulling that section of hair 3-4 times.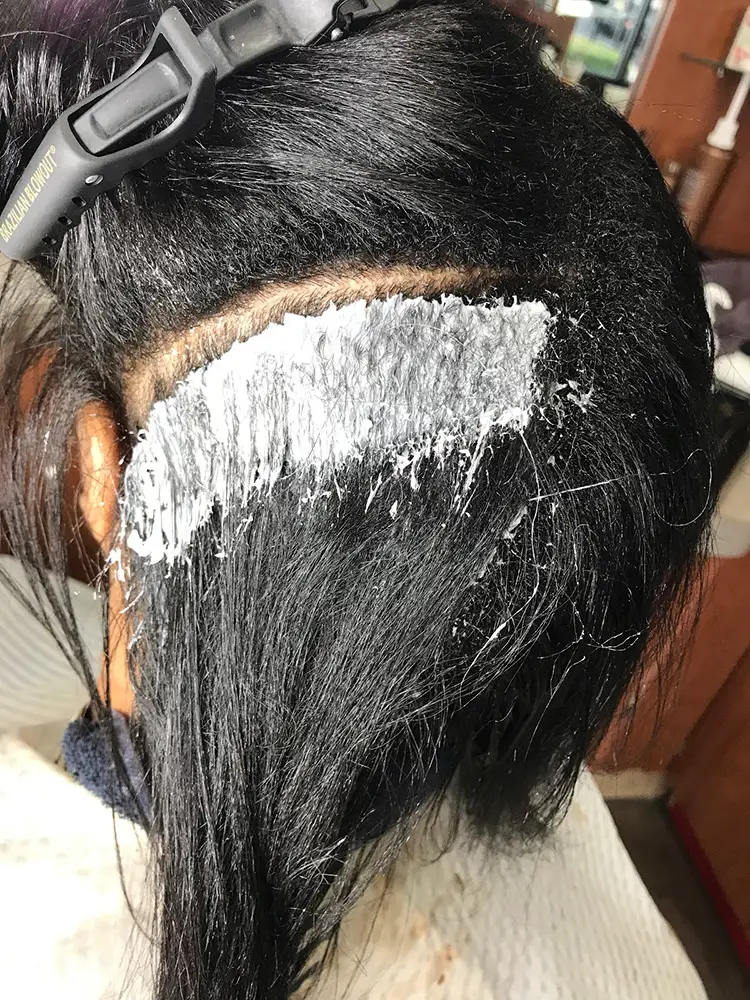 So that it stays straight. Now leave this section like this and move to the next section. Just like this, apply a relaxer to all the sections. Then keep on pulling the hair until it looks super straight. 
Step 3 of 6: Smooth The Hair
So it's time to smoothen your hair further. Try combing your hair. But this time don't do it in separate sections. Try combing the hair together, as you normally do. But be a little gentle while combing.
This is because the hair is in a delicate condition. Too much stretching will result in hair breakage. So comb the hair 4-5 times. See if the hair looks completely straight and detangled. If yes, let it rest.
Step 4 of 6: Use A Timer to Keep Track of Time
While resting the hair you need to set a timer. So that it notifies you when to wash your hair accurately. Every relaxer comes with its own guide. So there you'll see the time limit to put it on your hair.
Be sure to maintain that time strictly. Otherwise, your hair will definitely start to burn. You'll experience hair fall and breakage. So you know how important it is to keep track of time. So it's a must that you follow these instructions. 
Step 5 of 6: Apply Neutralizer
You must have seen that the relaxer package comes with a neutralizer. It's mainly a shampoo that stops the relaxing process after usage. Don't think that any shampoo would do the same thing for your hair. Yes, you can stop the relaxing process with other shampoos as well.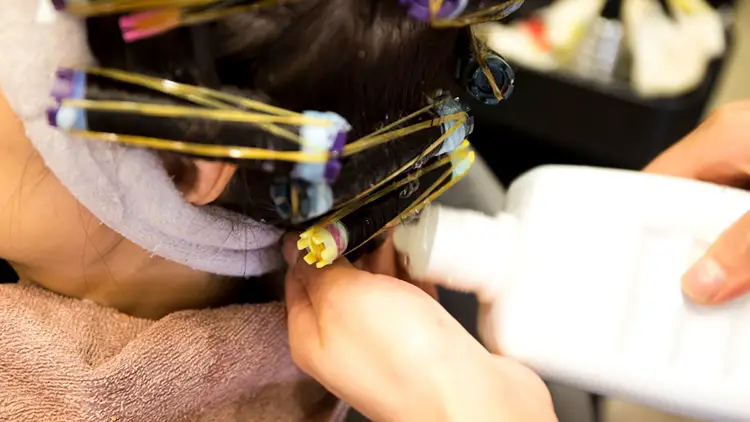 But that's not the ideal process. Because normal shampoos are not made for cleaning up relaxers. So there would be a high chance of relaxers remaining on your hair.
Another thing we hear is that the neutralizer amount is little compared to your hair length. As a result, you can't wash your hair completely with it. In that case, you can purchase an extra neutralizer from the shop and use it if needed.
Step 6 of 6: Condition The Hair
After relaxing the last thing to do is condition your hair. Because the hair needs to be smoothened immediately. So just go for deep conditioning your hair. 
Not only that day, but the conditioner will also become a regular thing in your life. Because you'll need to condition 4 times a week. So that your hair remains soft and detangled.
You can apply a quick method while conditioning from next time. Take 3 tablespoons of conditioner. Then mix it with 1 teaspoon olive oil. 
Lastly, apply 1 teaspoon of honey or aloe vera gel to the mixture. 
After that apply it to your hair. And wait for 15 minutes. Now wash your hair with water. It will make the hair more smooth and shiny. You can do this thrice a week. And your hair will thank you in return. 
So with this step, we're done with relaxing the hair. By now all your queries regarding the time and procedure of washing and relaxing have been answered. 
It was a great experience for us to let you know the factors. Hope you learned everything you need to know.
Frequently Asked Questions (FAQ)
Question: How long after relaxing hair can I wash it?
Answer: You can wash your hair after 7days of relaxing. Otherwise, the hair won't work on the relaxing process if washed earlier than the mentioned time.
Question: How frequently should I moisturize my hair after relaxing?
Answer: You need to moisturize your hair every other day after relaxing. You can use moisturizing lotion/cream to moisturize your hair. Or you can try homemade hair moisturizing methods.
Question: How frequently should I wash my hair after relaxing?
Answer: You can wash your hair twice to thrice a week after relaxing. And try to choose mild shampoos that will cause less damage to your hair. Or you can simply go for herbal shampoos to wash your hair without concern.
Endnote
It's almost the end of the article. You've gained a lot of information regarding how long after washing hair can you relax it. But we're not done until we share this last tip with you.
So after you relax your hair, do use products that help with damage repair. So choose shampoo and conditioners that are for damaged hair. You'll see the damage from the relaxer going away.
If you have any questions, feel free to ask. Just comment below and we'll reach out to you.
Bye! 
Latest posts by Katharyn Riedel
(see all)