Your hair keeps falling onto your face. We get it, it's uncomfortable and irritating. You try tucking it behind your ears but your straightened hair gets curled up. This might be very frustrating for you, so let's find out what we can do.
So, how to keep hair out of face without tucking behind ears?
Well, you can choose from a wide range of hairstyles to do. Firstly, you can blow-dry and comb your hair backward. Or you can use hair ties, clips to pin or tie it backward. You can also opt for bangs. Moreover, you can use gel-type products!
This was basically the preview of the entire segment. Intrigued about what's ahead? Well, why don't you join us and take a tour here, c'mon!
Why Do You Not Want Your Hair Behind Your Ear?
Well, this is pretty simple, nobody wants hair on their face. But there are some who find it more annoying to tuck it behind their ears. But you might be doing this for a reason.  
You Just Don't Like It
Maybe the 'tucking behind your ear' isn't your style. Maybe you have very thick hair or too wavy hair. Moreover, this hairdo doesn't really go with your facial structure. 
That's why you're looking for an alternative style that complements your face structure!
You'll End Up With Ear Wave
An ear wave is a curl or bends you get on your hair. This is from constantly tucking it behind your ear. 
Now, this might be a problem for you especially when you've straightened your hair. This is because you'll get a wave in a section and might look odd. Therefore, it's better to not tuck your hair behind your ear. 
You Might Damage Your Hair
There's a chance you might damage your hair if you constantly keep tucking it. Tucking might cause breakage around your hairline. 
In case you're a man, you might end up with breakage all over. Besides that, you also damage hair around the side of your head. 
How to Avoid Tucking Hair behind Ears?
For this, you need to style your hair in a way that it doesn't get in your face. You only tuck your hair behind your ears, when these are getting in your way. 
Therefore, a good hairspray might do the trick for you. For more details, keep on reading, because we have some amazing hairdos for you to try out!
Therefore, we've got some pretty good options for you to style your hair. Let's have a look!
| | |
| --- | --- |
| Using Hair Tools And Accessories | Using Hair Products  |
| You can blowdry and style it backward. Or use bobby pins, hair clips, headbands, and hair ties to tie it. | You can use gels, hairspray to sleek it backward |
| You can cut your front hair into bangs | You can make a homemade gel if you're not comfortable using chemicals  |
Now, let's check these out down below where we get into details about each of these!
Option 1 of 2: Styling Your Hair with Accessories & Tools
One way to style up your hair and get it off of your face is by accessorizing. You can use different types of headbands and other clips. Moreover, you can use heating tools to style it to your desired look. 
Blow-drying And Combing It Backwards
Wondering how to keep your hair out of your face without putting it up? Well, blowdrying is your best option. 
For this, you need a blow dryer and a thermal or round brush. This method can be done on both wet and dry hair. 
Now, start by taking about a 1-inch section of your hair from the front. Then you have to pinch the hair and roll it in your brush. 
Turn your blow dryer on and start at the root of your hair. Slowly move the brush away, maintaining the heat on your brush.
Then roll your brush back in and continue 2 to 3 times. That is until you get your desired style. Repeat this until you've blowdried your entire front hair section. And there you have it, perfectly volumized hair styled away from your face!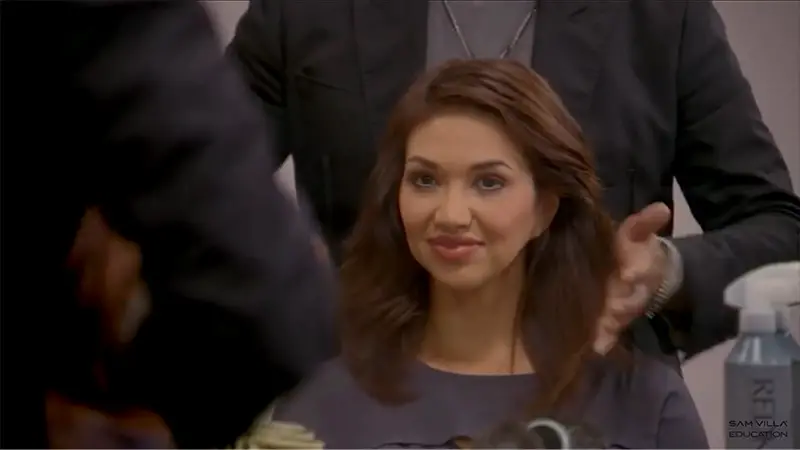 Besides blow drying, you can also use a curler or straightener. And you'll get the same result by following this technique as well!
You Can Tie Or Braid Your Hair
Now, this step involves partially tying up your hair. You can either use hair ties, or other accessories such as clips to do so. 
To start off, we can simply part half of the hair from the front and put it into a ponytail. This is a very simplistic look that takes no time to do. 
Moreover, you can also take two sections from your front part and brush it back. Then using a hair tie, secure the two sections at the nape beneath the hair. This is a little trick that people do to get that smooth, sleek part in the front.
Moreover, you can also do a half bun or a messy hair bun. To prevent tucking your hair you can scrunch up your hair without any damage and put it up. 
These are in trend nowadays and look very sleek. And it is probably the most stylish way to get the hair out of your face
Besides tying up your hair, you can use barrettes, bandanas, or headbands. This will keep your hair in place. 
Moreover, there's another option for you. You can braid the front section of your hair and clip it. Or you can also do a french braid or waterfall braid. But if you don't have that much time, you can just twist the front section and secure it with a clip!
If you want a hairdo that ties all your hair, we got you. You can do a beautiful pigtail or a messy braid. These braids complement almost all styles. Therefore, no matter what you're dressing up for, a braid will always work. 
However, if you want a quick, instant hairdo, you can use a claw clip. You will just have to twist your hair and place it. This clip will hold it in place.
Cut Your Hair In a Style That Keeps Your Hair Out of Your Face
Now if you have exhausted all your efforts, this alternative might be helpful. Well, you have hair in the front section that's bothering you, why not cut it. You can shape it into bangs and your hair will always be away from your face.
Moreover, bangs might give you a more structured look. So, that'll last a long time, bangs are the way to go! 
However, if you have a shorter forehead, you can opt for curtain bangs. And maybe style your bangs backward!
Option 2 of 2: If You Want A Stronger and Longer Lasting Hold
Here comes the part where we take help from our trusted hair products. For this, the product can be mild or long-lasting. And you can choose according to your preference. Use a hard gel for a stronger grip. 
Here's a list of options for you!
| | |
| --- | --- |
| Chemical Option  | Natural option |
| Hairspray, Hair Gel, Mousse | Aloe vera Gel |
| Will have a stronger hold | Comparatively less strong |
| Lasts more than 8 hours | Gives you a pretty good hold for 2 hours |
Now let's take a look at them in detail.
Chemical Options
You can use your typical hair spray for this. You basically just brush your hair in the opposite direction to your face and then spray it. 
We have some of the hairspray recommendations for you. Have a look at some of these: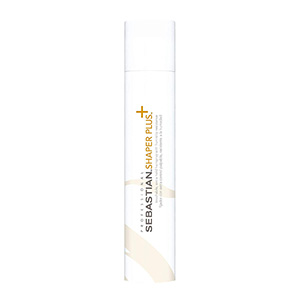 Sebastian Shaper & Re-Shaper Hairsprays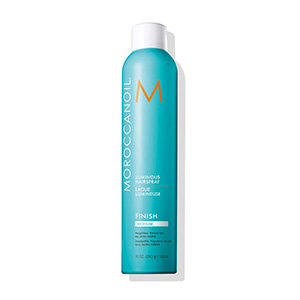 Moroccanoil Luminous Hairspray Medium
You can choose from here, and you're going to see the difference!
The same goes for the application of mousse and hair gel. You simply have to brush your hair back and apply the product. 
You can use Ampro gel to style your hair without any damage. This is alcohol-free and is safe for everyday use.
Make sure to properly brush and set your hair. Otherwise, your hair might look frizzy and uneven. 
Non-Chemical Options
Well, if you don't use chemicals on your hair, we have a homemade option for you. It's aloe vera gel. It's very easy to make and can be used on both dry and wet hair. 
Now for the process, start by adding your aloe vera to a mixing bowl. But first, peel the aloe vera skin. Then put it on a blender for a minute until the consistency is smooth. 
Then pour the container into a double boiler for a minute. There you go, you have your DIY aloe vera gel. 
If you have 2-3 drops of lavender essential oil. And you can add preservatives such as Vitamin C and E to it. For 60 ml of aloe vera gel, you can add ½ g powdered vitamin.
After that mix well and store it in a silicone container. You can use it normally, how you would a gel!
What's The Solution For Men With Long Hair! 
Now, for you long-haired folks out there, don't feel left out! This is because we have a few techniques that'll style your hair. And you don't have to tuck it behind your ears to keep it away!
Option 1 of 3: You Can Use A Hair Tie to Style It 
Now you can either tie your hair into a ponytail using your hair tie. Moreover, you can also make it into a man bun. You basically do a ponytail but you only pull it halfway before you twist and pull it. See, so simple and easy! 
Moreover, you don't have to be worried about damaging your hair with this. You can even braid your hair if you like and then secure it with a hair tie.
However, you should never use a rubber band as a hair tie. This is because it'll pull on your hair and damage it. They're also pretty difficult to get out. Plus you might even lose a few strands of hair. 
Option 2 of 3: You Can Use a Headband
This styling technique is perfect for you if you don't prefer tying your hair. For this, you need to brush all your hair back and use a headband to hold it. You can use a stretchy headband or a fabric one for this. 
Moreover, this is very helpful when you're playing or exercising. Because this will secure your hair in place until you take the headband off. Thus you can bid a very goodbye to tucked-in hair!
Option 3 of 3: A Bandana Or A Cap Might Be Helpful
You can also use a bandana to help you with your problem. Just brush your hair backward and wrap your hair or put a cap on it. 
And there you go, perfectly styled and secured hair!
These are basically the ways you style your hair without having to tuck it in. And you can do all these styles in under 15 minutes. So pick one and let's start styling!
Frequently Asked Questions (FAQ)
How do I keep my face from getting bangs when I wash my face?
You can use bobby pins to pin your bangs. Or you can even put on a headband. This is to keep your bangs away from your face when washing. 
How do I keep my short hair out of my face while sleeping?
For this, you can tie your hair loosely into a ponytail. Moreover, you can also loosely braid it. And thus you can sleep comfortably with your hair getting in your face.
How do you keep hair out of your face when washing it?
You can use a towel to wrap your hair out of your face. And then you can proceed to clean your face. You can also secure it with a claw clip for support. 
Bottom Line
Well, this brings us to the finale of our segment. Hope you now know how to keep hair out of face without tucking behind ears. 
Firstly a big yippee for making it to the very end. As an added bonus, we have a special tip for you.  
Besides these amazing techniques, you can also use a roller to achieve a fresh look. And it'll give you a very voluminous look and keep it out of your face. Moreover, you can add a little bit of dry shampoo for the extra oomph!
Well, that was all. Until next time, take care!
Latest posts by Katharyn Riedel
(see all)