Coconut oil is mostly used on your hair and skin. But here's the catch, the smell of coconut oil is not always pleasant at all.
The smell sensitivity differs from person to person. Somehow you're one of those who doesn't love the smell of coconut oil. And the smell disgusts you. 
So you're asking how to make coconut oil smell better?
In order to do that, you'll have to mix it with essential oils. Or you can make it smell like vanilla by adding essence to the oil. If not that, mix some vitamin oil into it. Or you can just put the oil in a perfume bottle to make it smell better. However, you can't always fix its odor.
To do that you'll need clear instructions. And to explain the instructions there's this whole article. So read on
Does Coconut Oil Smell Good?
The smell of coconut oil can be intolerable for some. The well-refined coconut oil mostly has a neutral sort of smell. But the virgin coconut oil has a sort of sweet coconutty scent.
With that, we're done with the small talk. Now we'll talk about the types of coconut oil and smell intensity in the next segment. But let's tell you one thing: coconut oil might smell foul and sour/bitter. Then just know that it's gone bad. The expiration date might have been over.
You'll just have to throw the oil away then. But what if the oil is good.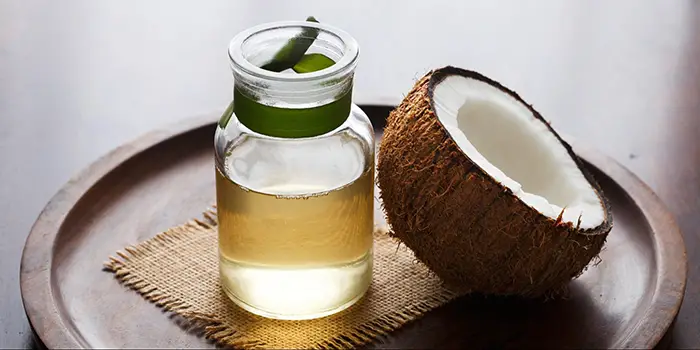 And you're naturally intolerant towards the coconut smell. In that case, you can try to make it less smelly or look for alternatives. 
Coconut Oil Types And Smell Intensity
In this segment, we'll talk about everything that's related to coconut oil types. And we'll shed light on its smell intensity. So let's have a look.
Does Refined Coconut Oil Smell?
No, refined coconut oil doesn't smell. This is because it goes under a lot of procedures. While refining, its odor completely goes away due to the procedures. So it has a neutral smell. Some of the refined ones might not have any smell at all.
Does Unrefined Coconut Oil Have A Strong Odor?
Yes, unrefined coconut oil is smelly. It has a medium to a high level of smell. It's because it has gone through a natural fermentation process. When the fermentation happens, the bacteria make it smellier than the refined ones.
Does Heat-treated Coconut Oil Smell Bad?
Yes, heat-treated coconut oil has a strong smell due to its production process. The coconut milk is boiled in heat in a large pot.  It keeps heating until only 1/3rd of the milk remains. Then it's boiled in medium heat to take out the oil.
So the whole heating procedure makes the oil smelly.
Well, you may unknowingly get heat-treated coconut oil. But we assure you that the smell can be better if you follow the ways we showed you. So let's see how to make the oil less smelly.
How to Make Coconut Oil Less Smelly?
So you may think that coconut oil is one of the smelly substances. Well, no harm in thinking that way. But what if you think that the oil needs to be less smelly because you still need to use it.
If you're using it for skin, let's say you're making a face pack. Then combine the coconut oil with coffee. Coffee is really good for the skin and it will tone down the coconut oil smell. 
Well, now you may have a different concern. Like you've accidentally poured coconut oil into your shirt. So now you want to remove that smell from your clothes.
In that case, you can wet that place. And put baking soda over it. And let it sit for 30 minutes. After that remove the baking soda by washing it with a fragrant liquid soap. And the smell will be gone forever.
Finally, the most concern related to coconut oil is when you put it in your hair. The hair tends to absorb the smell. Even after shampooing, your hair still smells like coconut oil.
What you can do is wash your hair with a clarifying shampoo. This guarantees maximum cleanliness, it will ensure that there's no smell in the hair. Now when the hair is half damp, apply a serum with a pleasant smell on your hair.
If you still smell the odor, spray a little amount of perfume on your comb. And then comb the hair with it. Finally, the odor will be removed.
Now there's one trick you can apply on both hair and face is aloe vera gel. Aloe vera has enormous uses and benefits. So it's good for both skin and hair. You can simply wash and apply aloe vera gel after washing the hair instead of a serum. Its mild smell will get rid of the coconut smell.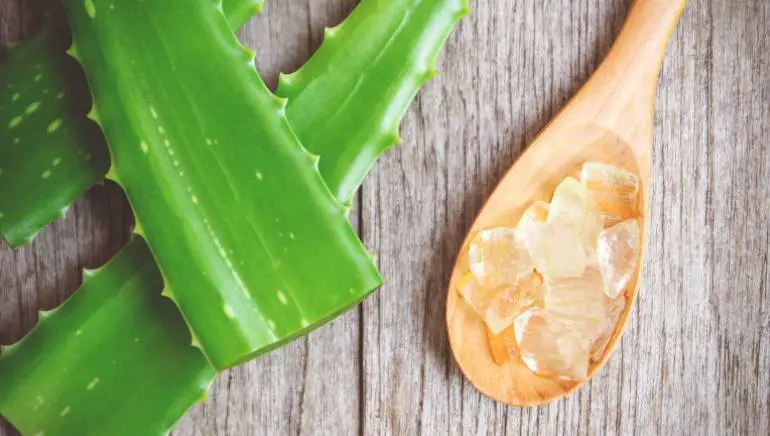 And while making a face pack with coconut oil, you can add aloe vera gel. So that it tones down coconut smell and is beneficial at the same time.
How to Make Coconut Oil Smell Better? 4 Different Ways!
Well, there are a few ways to make coconut oil smell better. It's not like removing the smell of coconut oil. Because removing that smell is more of an industrial process. But it's more like adding fragrance to coconut oil. It would overpower the coconutty smell. 
So let's check out the ways.
Mix The Coconut Oil With Essential Oils
What you can do is mix essential oils into coconut oil. Especially if you're using the oil for skincare or hair care.
Essential oils like lavender rose and chamomile can make coconut oil smell better.  There's no harm in mixing these oils with your coconut oil. 
So you can mix 3 drops of lavender oil in 50ml coconut oil. You can even add 2 drops of lemon essential oil to it. Then just shake the bottle and it's good to use. The next time, you'll see that your coconut oil smells better.
The essential oils we mentioned actually smell good with coconut oil. 
Mix Vitamin E Oil With Coconut Oil
Another thing that can make coconut oil smell good is vitamin E oil. The oil doesn't have any fragrance. But when mixed with other oils, it makes them smell better.
So you can add 1 capsule on 100ml of coconut oil. And your coconut oil smells better than before.
Add Vanilla Extract to The Coconut Oil
Now you may want to know how to make coconut oil smell like vanilla?
Take a 500ml coconut oil bottle and add about half a teaspoon of vanilla extract.
Keep the bottle in a slightly warm place for about 15 minutes. After that, store as you'd like. When you apply it to your face or hair, you won't even know that it's coconut oil
Put the Oil in A Perfume bottle
Did you know how to add fragrance to coconut oil? If not, t we're here to answer. One way to add fragrance is by using perfume bottles. Once you're out of perfume, don't just throw away the bottle.
Instead, clean it lightly with soap water. And then pour coconut oil into it. And this will make the coconut oil fragrant. 
What Are The Alternatives to Coconut Oil?- 4 Options!
If you feel that the odor of coconut oil is too much, there are alternatives to it. Depending on your purpose, here are all the closest alternatives to coconut oil.
Before enlightening you with details, here's a quick comparison of the alternatives-
| | | |
| --- | --- | --- |
| Alternatives | Closeness to coconut oil | Effectiveness |
| Olive Oil | Exact effect as coconut oil | High |
| Argan Oil | Better than coconut oil | High |
| Almond Oil | Thinner than coconut oil | Medium to High |
| Aloe Vera Gel | Thicker than coconut oil | Medium |
The aforementioned table delivers you the shortcut to choosing between the alternatives. Now, scroll through the following segment to know about them in detail.
Olive Oil
You may use coconut oil to moisturize your hair or skin. In that case, take 2-3 drops of olive oil and rub that on your palms.
You can also rub that on your face. It will lightly moisturize your skin. And the skin won't feel oily or greasy. But if you want to apply it to your hair, here's what you can do.
Take 1/3rd cup of olive oil and warm it up in the oven. You can warm it up for 30-40 seconds. Then apply that to your scalp and hair. Now keep it that way for 3 hours.  Finally, wash it off with a mild shampoo.
You'll see that the oil is removed but your hair is silky and smooth. That's because olive oil has the same smoothening properties as coconut oil.
In terms of straightening, olive oil performs much better. So you can consider it as a good alternative.
Argan Oil
Argan oil is another alternative to coconut oil. It has moisturizing properties and for these, argan oil is used on different hair products.
Whether it's for skincare or hair care, argan oil smoothes both. For hair, it heals if you have an itchy and dry scalp. Doctors even suggest applying argan oil if you've recently loosened up your curls.
It's because the loosening process causes severe hair damage. Your hair can become extremely dry and lifeless. So argan oil works as a tonic. And if you have sun-damaged hair, argan oil is the best option to go for.
You can apply argan oil products to solve severe skin problems.  This will get you healthy-looking glowy skin.
So we've been talking about how good argan oil is. Now, let's tell you how effective it is compared to coconut oil.
For example, you can use 2 tablespoons of coconut oil in your hair. Then just take half the amount of argan oil. Because it's twice moisturizing like coconut oil, so taking half would do the work.
Almond Oil
Almond oil is another substitute for coconut oil. But it is much lighter than coconut oil so it gets less sticky. You can also use it as a hair serum as well to tame frizzy flyaways on your head.
So if you're going to use it as a serum, take a few drops. Rub that on your palms and apply it to your hair. 
You can also use it as an oil therapy. Then just take some oil in an ovenproof bowl. Then heat it for 40 seconds. After that take a hair massager to massage your hair.
Now hair massagers come in different varieties. Some of these can even give you a headache instead. That's why it's needed to look for the ones that are not too spiky and serve the purpose.
To help you with that, here's our suggestion on head massagers.
COMFIER Cordless Hair Scalp Massager
NICEMOVIC Scalp Massager
Do purchase the head massager for a salon-like oil therapy. 
Apart from using it for hair, you can mix 1 tablespoon of almond oil with 1.5 tablespoons of licorice powder. Apply it to your face for a glowy outlook.
Aloe Vera Gel
Who doesn't love aloe vera gel? It's good for both skin and hair care. Plus it's a great alternative to coconut oil because it also makes the hair shiny.
You can just mix aloe vera gel with any hair product. Apply it to the hair to have a similar effect.
Or you can simply apply the aloe vera gel to your hair. Here you can use the store-bought aloe vera gel. Wait for an hour for it to dry. Then rinse it with water.
Or you can use fresh aloe vera and make the gel yourself. Then you'll have to peel the aloe and blend it to make a gel. Now apply it to your hair and wait for 3 hours. Then use a herbal or mild shampoo to wash it off.
The smoothing effects sometimes are better than coconut oil. Your hair will feel like you had some hydrating treatment. The same goes for your face.
You can apply the gel plain to your face. Or you can mix 1 tablespoon aloe gel with 1 vitamin e capsule. Add 1 teaspoon of honey to it. Then apply it on your face to have a nourishing effect.
You can leave it overnight. You can also wash it after 20 minutes. And you'll see a glowy face just like Cinderella.
Hope you learned a lot on today's topic about making coconut oil less smelly.
Frequently Asked Questions (FAQ)
Why does some coconut oil not smell?
There's a reason why some coconut oils don't smell. It's because they have been purified. And the whole refining process took the smell away. So it doesn't smell anymore.
Can fenugreek oil be used instead of coconut oil?
Yes, fenugreek oil can be used instead of coconut oil. But you should know that most fenugreek oil is a version of coconut oil. Mainly fenugreek seeds are boiled with coconut oil until the oil absorbs its properties. But boiling with fenugreek makes coconut oil less smelly.
Can flaxseed gel be used instead of coconut oil?
Yes you can use flaxseed gel instead of coconut oil. Just boil flaxseed with water, until the water turns to be sticky. It's actually the gel from the seeds. And now just apply it to have silky smooth hair.
Parting Words
Here we are at the end of this article. You know how to make coconut oil smell better by now. So spread the knowledge with anyone who needs to know.
If you have any coconut oil hacks, do comment below. We'd love to add some more to our list.
Thank you!
Latest posts by Katharyn Riedel
(see all)