Brown hair gel, remember using that? Well, that was Ampro gel, my dear friend. Being a 90s kid sure has its perks. And this definitely brings back your childhood memories? Then you might be interested in knowing if this is good for your hair. And whether you can use them still
So, is Ampro gel bad for your hair?
No, Ampro gel isn't bad for your hair. But you have to use this correctly to get the best results. Besides that, you also need to take good care of your hair. And you also have to wash and shampoo your hair routinely. This will prevent buildups and keep your hair healthy!
We already know how interested you might be to read through it. Without wasting any time, let's dive in and see what we find out!
Different Types of Ampro Gel Available
Ampro gel is available in quite a few categories and for different types of hair. Not only that, there are options for all types of hair. So no matter if you have natural, chemically treated hair, etc. there's one for you!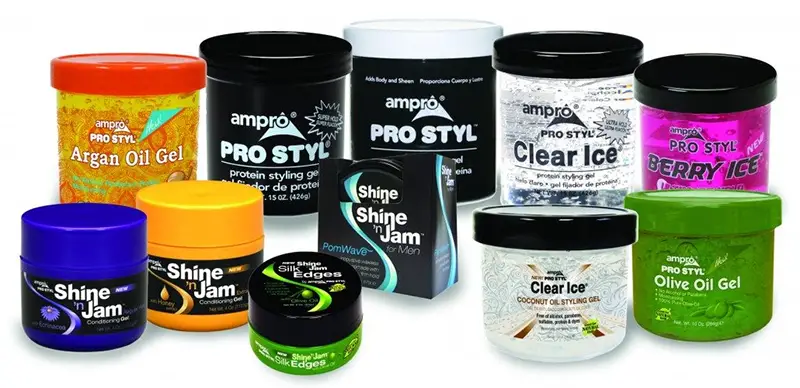 To help you understand this better, we've categorized each of them into groups. So let's have a look!
| | |
| --- | --- |
| Type Of Hair | Compatible Ampro gel |
| Natural Hair | Ampro Pro Styl® Olive Oil Styling Gel, Ampro Pro Styl® Argan Oil Styling Gel, Clear Ice® Coconut Oil Styling Gel, Ampro Pro Styl® Curl Enhancer | Regular, Ampro Pro Styl® Curl Enhancer | Extra Dry, Ampro Pro Styl® Cognac Oil Styler And Oil Hair Creme, Ampro Pro Styl® Cognac Oil Styler, Ampro Pro Styl® Marcel Wax |
| Curly Hair | Ampro Pro Styl® Curl Enhancer | Extra Dry, Ampro Pro Styl® Curl Enhancer | Regular, Ampro Pro Styl® Aloe Styling Gel, Ampro Pro Styl® Argan Oil Styling Gel,  |
| Dreaded Hair | Honey Beez | Gold, Honey Beez | Black |
| Chemically Treated Hair | Ampro Pro Styl® Argan Oil Styling Gel, Ampro Pro Styl® Curl Enhancer | Extra Dry, Ampro Pro Styl® Curl Enhancer | Regular, Ampro Pro Styl® Olive Oil Styling Gel,  |
| All Hair Types | Ampro Pro Styl® Protein Styling Gel | Super Hold, Ampro Pro Styl® Protein Styling Gel | Regular Hold |
Now, these products are compatible with the hair types as follows. 
Here the regular hold, super hold, and clear ice are used for firm holding. It contains vegetable protein that protects your hair. It also helps to make the product last longer!
The olive and argan oil ones are the moisturizing gels in their line. These are perfect for natural hair. They give you a defined style and shine. 
The coconut gel is quite similar to these ones. But this one doesn't contain any protein. Therefore, if you're protein sensitive, you can opt for this one. 
Moreover, all of these products are gluten-free, 82% allergen-free. These also don't contain nickel lanolin, tropical antibiotic, MCI/MI, soil, irritant/acid, or dye. 
If you're an expert, you can mix and match. Or if you know what works for your hair and what doesn't. Then you can choose the one that fits your style the most!
However, make sure to pick the product that is appropriate for your hair type. Use the table above to find products according to hair type! Because at times these can be the reason you might be having problems! 
Is Ampro Gel Bad For Your Hair?
No, Ampro gel isn't bad for your hair. Ampro gel has been around for a long time, and it's the perfect product to style your hair.
However, there are certain concerns regarding this product there were in the past. There were complaints about dryness and flaking in the past. But we can 100% confirm that these products don't have that anymore. And with all the information we're here to clarify those for you! 
And once you're sure about this, you can go back to using this product. That too without a doubt and with proper knowledge about it! 
Does Ampro Gel Contain Alcohol? 
All Ampro Pro Gels are 100% free of alcohol. This is not used on gels because it is known to dry your hair out! This will also roughen your hair up. Although previously there were concerns about this product containing it. But hey, they upgraded the formula, and it's great. 
Moreover, your hair will feel frizzy and messy. The alcohol in the products, furthermore, strips your hair off of its natural ingredients. Furthermore, it might also turn your hair red!
The alcohol in hair products does serious harm to your hair. Therefore, if you have this doubt you can take a breather. Because this gel of yours doesn't have any! So you can use this tension-free!
Does Ampro Gel Flake?
Nope, all these Ampro gels don't flake. This flaking is caused because of polymers in the gel. However, in the previous formulas, there were some doubts. But these gels now are infused with amazing ingredients that compliment your hair. And this formula doesn't flake. 
This gel also has polymers. But the gels' unique formula and other ingredients blend with the proper to give you a flake-free look!
This ingredient is the main one in every gel product. This is because this is a plastic-like polymer sealer that keeps your hair together. That is the polymer is dissolved in water to create a clear film, which is the gel.
Thus even though Ampro gel contains polymer, it won't cause flaking. 
Does Ampro Gel Cause Hair Loss?
The gel doesn't cause any hair loss. And that being said, you need to use it properly too! Because sometimes it's not the gel that causes the damage. Sometimes it's the application process. Therefore, carefully read the instructions before you use them. 
However, make sure to properly use it and remove it!
Moreover, you can use these products on all types of hair. Your hair can be natural, curly, dreaded, or even chemically treated, this product is usable! But you need to use it differently on each type. 
For example, for very 4c hair you'll need more product for precision than 2c hair. Moreover, this gel will take care of your frizzy hair problem.
How Often Can You Use This Gel Without Damaging Your Hair?
You can definitely use this product regularly without causing harm to your hair. You won't experience any hair loss or dryness. There are so many people who use this gel daily. And they do for a long period of time and don't have any negative effects. 
Besides styling your hair, you also need to take care of it. This is because this gel alone doesn't damage your hair, but the way you use it does! So you have to be cautious about using it!
The application part for this is very simple. According to your preference, you can use it on wet or dry hair. When using it on dry hair, make sure your hair is shampooed. And also you've dried it naturally, blow-dried it, or used moist heat. This preps your hair for a smoother application. 
Now that you have your hair ready, section it into small sections and apply it thoroughly and comb it out! This is the application part. This is a very important step. Much like how crucial it is to get it all out of your hair.
This is because you don't want to have these products build up on your roots. As it might damage your hair. Therefore, you need to make sure to remove it all when you shower!
However, it's best if you don't use this hair every day. Maybe use it every other day instead. This will give your hair a chance to breathe in between! 
Because your hair due to constant styling and improper care might get damaged. 
How To Remove The Gel From Your Hair?
Now if you're using this gel, you need to shampoo regularly. But first, you need to use warm water to get the gel out. Now the temperature of the water will depend on the type of gel you're using,
If you're using a regular gel, you can use lukewarm water. For super hold or extra grip type ones, you need to use hot water. But be careful and check if the water is too hot. Or you might burn yourself. Dip your elbow in the water to test it.
Now add shampoo and conditioner to your hair. Then using the warm water, wash it out thoroughly! You can use pineapple juice or vinegar in your hair. Just soak your scalp in it, and use your finger to mix in well. 
But only do this if you're unsure if all the gel is out of your hair. And voila, your hair will be squeaky clean and product-free!
How Can I Style My Hair Naturally? ( Alternatives To Ampro Gel)
If you're someone who doesn't want to use any chemical but wants to style it. Well, there's good news for you, cause you can! And there are actually two different ways you can do it.
Using Natural Ingredients
You can use water to mist your hair and use a wide-toothed comb to style it. Or you can use a natural curling method to style your hair. You can even plop your hair to get your desired look. And the best part is these are heartless, so yay to healthy hair.
Also, there are other natural ingredients to style your hair. You can use aloe vera or gelatin to perfect your hair. Or you can even use flaxseed to keep your hair in place!
Moreover, you can make your own gel using a few ingredients. Mix ½-1 teaspoon of unflavored gelatin with warm water. After that, you need to freeze it for 3 hours minimum. Then add 2-3 drops of essential oil and mix it well. And voila! You just made your homemade gel. 
Using Heating Tools
But for a precise look, you can use heating tools. For a voluminous, luscious curly hair look, you can use a curling iron. A straightener can be used for a sleek look.
Moreover, you can also use crimping tools, and many other tools to style your hair!
Here are some hair styling tools we suggest. These will definitely keep your hair in place:
INFINITIPRO BY CONAIR Tourmaline Ceramic Curling Wand
Remington S5500TA 1″ Anti-Static Flat Iron 
Any one of these will help in styling your hair. So, pick the one you want!
Tips on Using Ampro Gel
 Check if you're allergic to any ingredient in the product before application. Either ask for your dermatologist's expert advice. Or apply a small amount on your scalp. Then check to see if there's any irritation.
When using this product, if you notice your hair texture is off, stop using it. Change your product if your hair feels damaged or rough.

However, there's a negative effect your hair can have. If you're not careful about washing your hair there might be buildups. This can cause hair loss. 
This was it. Therefore Ampro gel is definitely good for your hair. But you need to use it carefully so as to not harm your hair!
Frequently Asked Questions (FAQ)
Does Ampro gel expire?
Yes Ampro gel does expire. It'll become lumpy, jelly-like, and won't give you your desired result. Therefore they should be discarded. But don't worry, cause they won't harm your hair in any way! However, it's best to use one that's fresh and has a smooth consistency.
Does gel make your hair grow?
Well the answer will have to be a no! There isn't any proof of that. But if you're facing problems with your hair growth such as breakage, switch to one like Ampro gel. This product has no alcohol, thus will keep your hair healthy if you're an avid user.
How long can I keep gel in my hair?
You shouldn't keep your gel in your hair for longer than 48 hours. And if you use it regularly, shampoo your hair almost daily. By doing this, your hair will be less damaged. 
Take Away
Well, this was about everything you need to know about your Ampro gel. So does this answer your burning question 'is Ampro gel bad for your hair?'. Therefore, you now know that you can use this gel without a doubt!
Go on and style your hair! And you'll have the best hairdo ever with this product.
Until next time, have a great day!
Latest posts by Katharyn Riedel
(see all)