Picking one between Keracare and Mizani might seem difficult. Well, it is actually! But you still have to get the right one for yourself. Otherwise, you'll not receive your desired results. Furthermore, you can even end up with damaged hair. 
So, what are the differences between keracare vs mizani? 
When it comes to price, Keracare is a bit cheaper than Mizani. Then Keracare also moisturizes hair better than Mizani. However, both brands carry great cleansers. Next, for dry and itchy scalp, Keracare is a better choice. Also, both Mizani and Keracare are cruelty-free. But unfortunately, some of their products carry sulfate and mineral oil. 
Now, these might help you to come to a conclusion. Therefore, we've explained all differences between the two. 
Therefore, choose the best product for your hair by reading along! 
Different Products of Keracare and Mizani with Their Speciality 
Both Mizani and Keracare have a wide range of hair products. You'll never get tired from seeing the varieties. 
Each product works to resolve different hair problems. Thus, here we've discussed some hair products from both brands. Along with the varieties, we've also mentioned their specialty. 
Let's start with Keracare first- 
| | |
| --- | --- |
| Name of the Product  | Specialty  |
| Dry & Itchy Scalp Anti-dandruff Moisturizing Shampoo | Works to make your scalp and hair healthy.  |
| 1st Lather Shampoo (Sulfate-free) | Cleans hair and keeps it soft.  |
| Thermal Wonder Cream Cleansing Shampoo | Cleans hair, reduces damage, and keeps the hair soft afterward. |
| Keracare Hydrating Detangling Shampoo | Makes hair easy to detangle. Doesn't promote stripping of hair |
| Keracare Humecto creme Conditioner | Makes hair bouncy, soft, healthy. Also eases detangling.  |
| Keracare Detangling Conditioning Mist | Takes care of tangles and leaves the hair soft.  |
| Keracare Silken Seal Liquid Sheen Avlon Spray | Produces high sheen and softness. Protects from thermal styling damages.  |
So, these were some popular Keracare products. 
Now, let's go through the popular Mizani hair products- 
| | |
| --- | --- |
| Name of the Hair Product | Specialty |
| 25 Miracle Milk Leave-in Conditioner | Moisturizes and protects hair. Keeps hair hydrated and reduces detangling. Also, undoes hair damage, frizziness, dryness.  |
| True Textures Perfect Coil Oil Curl Gel | Defines curls, coils, and tight coils.  |
| Mizani Styling Foam Mousse | Helps to hold curls and moisturizes hair.  |
| Mizani 25 Miracle Nourishing Oil | Hydrates hair and makes it soft.  |
| Mizani Scalp Care Dry Scalp Shampoo | Helps scalp from scaling. Thus, it reduces flaking, irritation, and keeps the scalp healthy.  |
| Mizani True Textures Cream Cleansing Conditioner | A light cleanser for wavy and curly hair. Repairs damage. Also, leaves styled hair shiny and protected.  |
Now, as you can see the two brands have common specialties. Their products work on the same concern. Therefore, it's possible to differentiate between them on the basis of common factors. 
Mizani or Keracare: Quick Comparison for Basic Idea 
Before getting to the detailed comparison, it's best to get a basic idea. The factors you need to focus on are- moisturizing, cleansing, stripping, ingredients, etc. These also help to differentiate between Aura and Aveda shampoo. 
Now, let's just quickly go through the dissimilarities- 
| | | |
| --- | --- | --- |
| Factors | Keracare  | Mizani |
| Cost | A bit cheaper  | A little expensive |
| Moisturizing ability | Good | Good  |
| Cleansing ability  | Good | Good |
| Repairing dry and itchy scalp  | Better  | Good |
| Eliminating stripping | Good | Good |
| Detangling ability  | Better | Good |
| Sulfate and mineral-free  | Almost all products are sulfate and mineral-free  | Most products are mineral and sulfate-free |
| Long-lasting or not | Depends on user | Depends on user |
Hopefully, you've got an idea about how they differ from each other! 
Are There Any Similarities between Keracare and Mizani?
Even though Keracare and Mizani are different brands, they have some common features and benefits. So, here are the similarities between them-
Which One Cleanses Better?
One of the reasons why people buy hair products is for cleansing the hair thoroughly. Now, to be honest-
There isn't much difference between Mizani and Keracare in this field. 
Keracare cleansing products are great for cleaning dirt, oils from your hair. Plus they also make your hair soft later on. 
Mizani cleansing shampoo, conditioners are also known to do the same. For example- Mizani True Textures Cream Cleansing Conditioner cleanses wavy to curly hair lightly. Then leave them soft and shiny. 
Furthermore, cleansing products of both brands repair damages. Moreover, they also reduce the chances of split ends and breakage. 
So, both Keracare and Mizani lines are good cleansers!!
Are the Two Hair Products Cruelty-free? 
In today's world, no one wants to use a hair product that is tested on animals. But fortunately, with both Keracare and Mizani, you don't have to worry about it. 
Both brands claim that they're 100% cruelty-free. Thus, none of their products are tested on animals.
Keracare and Mizani: In-depth Comparison
Now, knowing only the basics difference won't really help you. Because sometimes you'll find more useful info in the details. This way you can surely avoid unwanted situations regarding your hair. 
For example-
You need in-depth knowledge about sisterlocks and nappylocs before getting one. Otherwise, there's a possibility that you might regret the decision later on. 
Therefore, let's not take any chances and check out the overall comparison-
Which Is More Expensive?
One important concern while buying a hair product can be the price. Hence, we thought about starting with this factor. 
Now, Keracare is more on the cheap side than Mizani. For example-
Dry & Itchy Scalp Anti-dandruff Moisturizing Shampoo costs $12.75 on their official site. And the price is $14 on Amazon. On the other hand, for Mizani Scalp Care Dry Scalp Shampoo you have to pay $24. 
Thus, clearly, Mizani costs more. Even though the specialty and benefits of the products are almost similar you have to pay more for Mizani. For this reason, if you're a teenager or you're trying to save some money-
Keracare is clearly the best option for you. 
Which One Is the Better Moisturizer?
It's quite crucial that you buy a shampoo that moisturizes your hair properly. Otherwise, what's the point!! 
Now, Keracare and Mizani both have hair products that work on moisturizing your hair and scalp. However, according to people that used both products- 
Most of them said Keracare is a better moisturizer. Because the product can turn dry into soft and bouncy hair. 
However, when it came to conditioners, most picked Mizani Moisturizing Conditioners. Furthermore, they have said it moisturizes the hair more. 
Nonetheless, the result actually depends on you and your hair. Because all hair types are different. Thus, we advise using the products yourself to identify which works better. 
Which Is Best for Dry and Itchy Scalp? 
Now, no one wants a dry and itchy scalp. Because this type of scalps causes dandruff and flaking. These further result in hair breakage and split ends. 
And do you know what breakage does to your hair? 
Well, your hair gets unmanageable. You'll see hair strands sticking on top of your head. 
So, to prevent this type of problem-
People go for shampoo and conditioner that can fix the dry scalp issue. Luckily, both the brands have products regarding the problem. 
Now, Keracare dry and itchy scalp shampoo is really great for dry scalp. It creates a tingling sensation and relaxes your scalp. 
By using the product you'll see results pretty quickly (3-4 washes). The dandruff problem will go away. Furthermore, you'll have a healthy scalp and hair. However, make sure to use the Keracare dry and itchy scalp conditioner with the shampoo. 
Then Mizani dry scalp care prioritizes removing scaling, flaking. Both the shampoo and conditioner remove dryness from all types of hair. But they also leave the hair soft and healthy. 
However, people who used the Keracare ones loved it more than the Mizani ones. Still, it's up to you to decide, my friends! 
Which One Is Less Stripping and Gentle? 
Keracare is known to have all-natural ingredients. Therefore, no matter what product you're using there's no chance of stripping. The same goes for the Mizani products. 
However, there are a few complaints that Keracare makes hair dry. 
Which One Is Better for Detangling?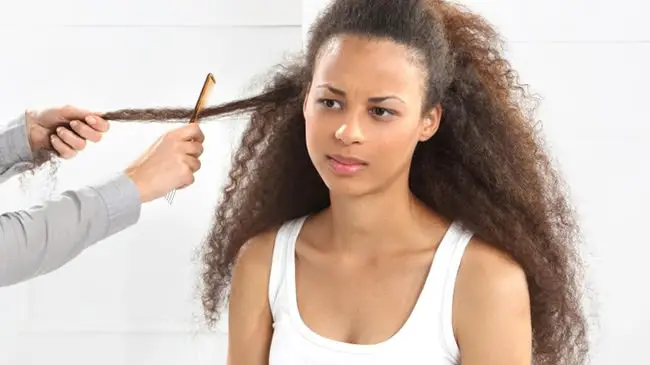 Keracare has dedicated products for detangling hair. For example, hydrating detangling shampoo promises to detangle your hair easily and quickly. Then the Keracare detangling conditioning mist immediately fixes your detangling problem. 
Now, Mizani doesn't specifically categorize any product for this issue. But Mizani 25 Miracle milk does help to detangle your hair. 
So, if you're wondering which product to use for detangling your hair-
Keracare has got you covered!
Anyways, to further help you-
We've mentioned some detangling hair brushes for you. These will definitely loosen those knots-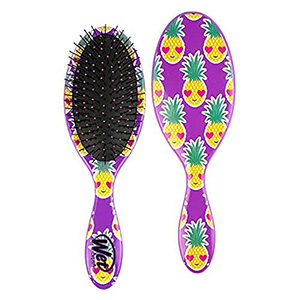 Wet Brush Original Detangler Hair Brush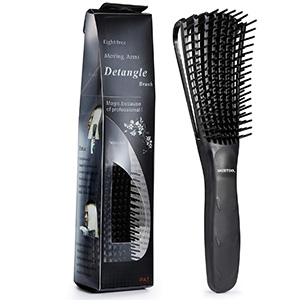 BESTOOL Detangling Brush for Black Natural Hair
So, buy the products to solve your issue right away!
Do the Products Carry Sulfate, Paraben, Or Mineral Oil?
Sulfate, paraben, and mineral oil are potential threats to your hair. They can cause serious damage. Hence, it's best to avoid hair products that have these as ingredients. 
Now, almost all Keracare products are safe. They're sulfate-free, paraben-free, mineral oil-free, and silicone-free. 
On the other hand- 
Even though all of the Mizani conditioners are mineral oil-free, some styling products have it. For example, Mizani Thermastrength Style Serum contains mineral oils. But it doesn't awfully dry out your hair. 
Furthermore, their Botanifying Poo and Purifying Poo have sulfate in them. However, it's said that the Botanifying Poo is gentle on the hair. But the result of Purifying Poo isn't clearly stated by users. Thus, it's a bit hard to tell if it's worth the risk. 
Which Products Lasts Longer?
The shelf life of your product depends on how you use it. If you use too much of it, you'll need another one sooner than you expected. 
Therefore, we suggest using both products according to their directions. This way you can ensure not only good results. But you'll also be able to use the products for a longer time. 
To be specific, how long the product will last depends on-
How often you use the products and how much of them you're using. Because if you're applying a dime-size amount but daily, an 8oz bottle will last for 2 months. But for a half dollar size amount-
Your 8oz shampoo or conditioner bottle will finish before 2 months. You'll be able to use it for 3 weeks. 
Furthermore, you should always check the expiration date. And finish using it before the stated date. Most Keracare shampoos and conditioners have a shelf life of 12 months. The same goes for Mizani shampoos and conditioners too. 
So, for this section, both the products are either winners or losers. The result solely depends on you! 
Mizani Vs Keracare: Who Wins? 
To be honest, the winner is hard to determine. They're both great in their own ways. 
However, we wanted to point out some things which can make your decision a bit easier. 
Firstly, if you're looking for cheaper hair products with great results-
Keracare is the one for you.
But you might think expensive products carry better results. And you're willing to spend some more money on hair products. In this case, you can try out the Mizani line. 
But we suggest going for Keracare. Only if you're suffering from tangled hair or dry and itchy scalp.
Nonetheless, no matter which one you use, remember to use it properly. Because using an excess amount of a hair product will never bring any benefits. Instead, the products will be the reason for your hair damage. 
Frequently Asked Questions (FAQ)
Is Keracare good for black hair? 
Yes, Keracare is one of the top choices for black hair care. The products are often used by African American women. And they love it. Thus, Keracare is definitely a must-try for black hair. 
Is Mizani good for defining curls? 
Yup, Mizani works great on curly hairs. It moisturizes the hair and helps to hold curls. In fact, it's also a great choice for wavy and curly hair. For example, True Textures Perfect Coil Oil Curl Gel and Mizani Styling Foam Mousse are great picks for ladies with wavy and curly hair.
Is Keracare worth it? 
To be honest, it is. Because Keracare presents you with amazing products. And the cost of the products is quite cheaper too. Thus, you'll get good results at a cheaper price. Hence, Keracare is definitely a cost-effective option.
Endnote
That's it! We tried keeping the comparison between keracare vs mizani simple for you! 
Also, if you have dyed or colored hair, Keracare and Mizani are both good picks. Because Keracare's moisturizing shampoo and Mizani's Butter Blend Relaxed are great for color-treated hair. 
Now, it's just up to you to decide. But do let us know which one you picked and how it was!! Good luck!! 
Latest posts by Katharyn Riedel
(see all)