There are various reasons for getting artificial nails. It could be that you are going for a special occasion. 
Or, it could be you are a nail product enthusiast. Regardless of your choices, it's always good to gain insight into the least damaging artificial nails. 
It can be difficult to learn more about these products, especially if you are new. Fortunately, the guide below helps outline all you should know:

Types of the Least Damaging Artificial Nails
Below is a list of some of the least damaging artificial nails based on our research:
Type #1. Acrylic Nails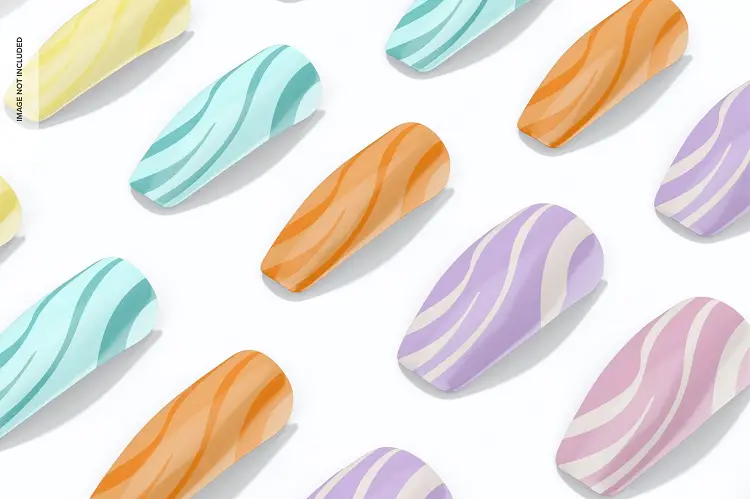 It's a nail product that invlves the application of a liquid and powder, which you then set on your nails. It usually works to cover the entire structure of the nails. However, you might sometimes only add tips or a flexible form that can conform to extend the nail structure.
The product will harden over time as it's exposed to the air. You might also come across a strong or unusual chemical smell during the application process. 
But, this shouldn't be any cause for concern. The only caveat is to ensure you have a well-ventilated room.
Maintenance: one major challenge with acrylics is that they also grow out with your nail. So, this means that you have to go for maintenance procedures after every 14 to 28 days. 
Ensure your technician files down the acrylic edge which sits on the closest section of your nail bed. Next, they should fill in the empty section between the nail bed, and existing acrylic for the best results.
Removal: removing acrylic nails is simple. You must soak them in some nail polish remover for up to 20 minutes. Avoid forcing or prying through the acrylic nail product. Then, condition your nails. 
Type #2. Gel Nails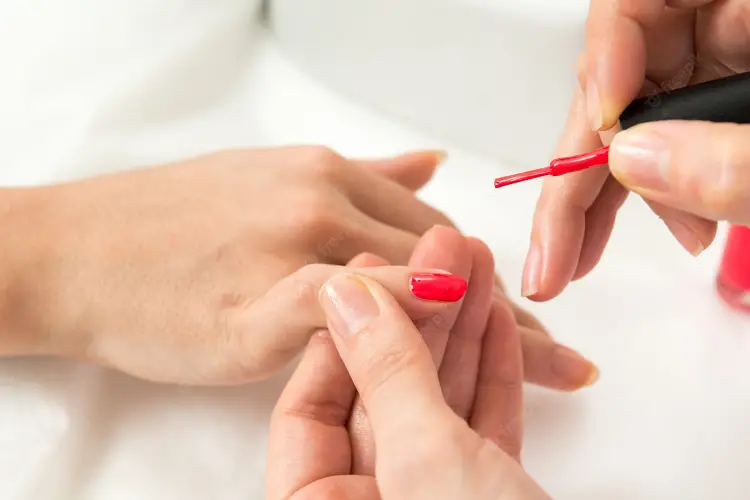 Gel nails are artificial nails that have almost the same appearance as natural nails. They are also similar to acrylics because they contain chemicals like polymer liquids and monomer liquids.
Gel nails have undergone significant improvements over the past few years. Nowadays, these products have an exceptional consistency level. You typically apply them by brushing them onto the structure of your nails, or tips. 
Once you set each coat, you have to set your nails under a UV light or lamp fo a few minutes. Doing this kickstarts the gel nail curing process, which involves hardening the product. 
Plus, no unusual chemical smell originates from applying this process. However, be careful as some reports link excessive use of UV lamps to health risks 
Generally, gel nails are more costly than acrylics. However, they hold their color longer, suffering from artificial damage. So, don't worry about any significant price increases.
Maintenance: Similar to acrylics, gels develop with your nails and require filing after a few days. Your technician will gently file down the gel, so it gets closest to the nail bed. They will then fill in the spaces in the gel, which should last a few more weeks. 
Removal: the best way to remove gel nails is to soak them first, usually in a nail polis remover. You might also require some nail-sized wraps containing the nail polish remover.
Use them to loosen your artificial nails enough without causing overdrying issues. Like acrylics, you might get infection easily due to trauma or lack of hygiene. 
Type #3. Shellac Nails 
Shellac refers to a specific nail formula that applies to the CND brand. It contains more lacquer than other traditional gel polish products. Most brands contain a large amount of gel, which will harden after the curing process. 
Thus, its crucial for you to choose the right Shellac brand. Any product that over-hardens can cause extensive damage to the structure of the nail.
Type #4. Silk Nails 
These are fabric wraps, that nail product users glue into place to help improve the structure and strength of the nails. Usually, wraps feature silk material, but some feature paper, linen, or fiberglass. 
A nail technician is responsible for fitting the material to suit the structure of your nail. They also have to perform this process so that wraps stay in place, and then set some glue on the nail. 
Silk wraps are temporary resources, and the adhesives will break down after a few weeks. Sometimes the breakdown process can occur sooner, such as when you like cleaning your hands without gloves. 
PRO TIP! Here is a Youtube Video that gives more details about Silk Nails.
9 Tips for Artificial Nails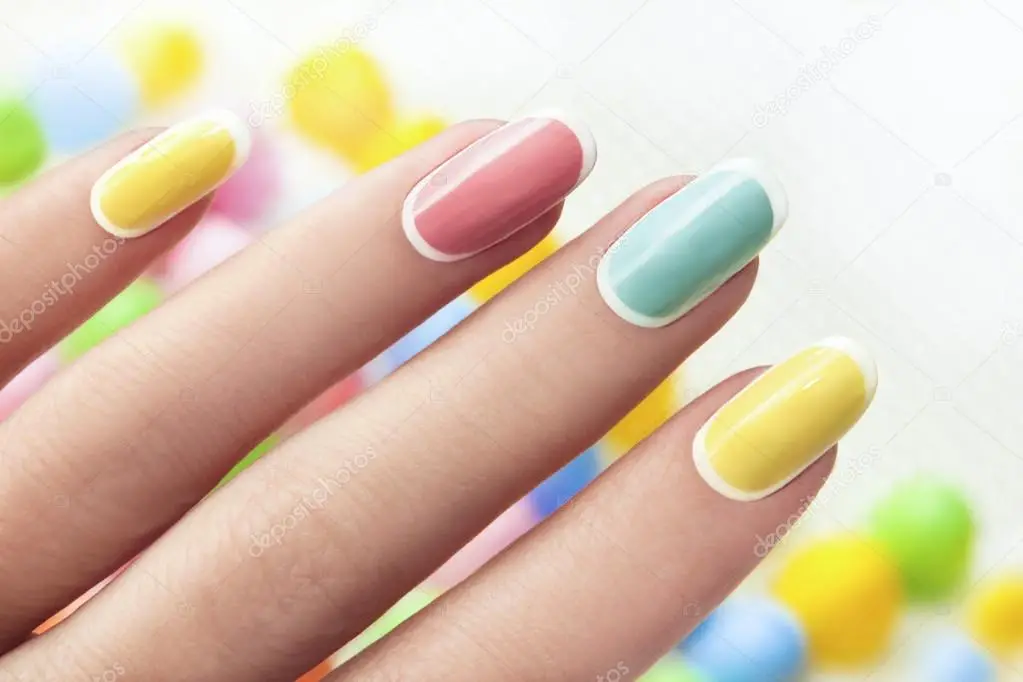 Below are the tips for applying nails correctly
Products 
Here are the products you need for the least artificial damaging nails:
Steps 
Consider visiting a nail professional to get your nail products. DIY home nail products require lots of skill.
Avoid peeling off your artificial nails. Brand makers create them to adhere to the structure of the nail. So, peeling them off will easily yang the top layer section of the nail. Once they are off, your nails should have a natural appearance. Visit a professional for nail application products. 
Pick a nail technician in relation to the recommendations you get from friends. Avoid doing it based on price or location factors. Many people visit salons across the street because of price and convenience factors. However, they fail to realize they won't game the services as when visiting the right salon service.
Your nail salon should be hygienic and use the right tool disinfection measures.
Ensure your nail technician cleans their hands before working nails. Also, do the same, and maintain to avoid touching different surfaces during this process. 
Unless you know what you are doing, never touch your cuticles. Any poor adjustment procedures can easily lead to long-term damage to the cuticles of your nails. 
Never bandage or try to fix nails DIY without research first. It's best if you leave this process to a medical care professional.
Seek insight on when to care for your nails between different visits to the nail salon. Ensure you get a competent, and reliable nail technician to help you through this process. 
Speak up if you come across any inconsistencies in the nail product application process. Inform your nail technician if you have any discomfort or pain when using the nail products. 
PRO TIP! Look at this Youtube Video titled, "How to: Apply Fake Nails like a Pro || Quick & Easy False Nails tips!!"  for more information.
Frequently Asked Questions (FAQ)
What Are the Healthiest Nail Extensions?
The healthiest nail extensions are gel nails. You apply them by using a hard or semi-hard gel, which you sculpt to the nail's surface. The product will then go through procedures that add the nail's strength.
How Do You Wear Fake Nails Without Damaging Real Nails?
The best way to ear fake nails without damaging real nails is to use an informed process. You must use conditioners, acetone, and nail polish correctly. You also have to take scheduled breaks from using these products. 
What Artificial Nails Are Most Durable?
The most adurable artificial nails are acrylics. They are common and have been popular for many years. Acrylics offer longevity and ease of maintenance benefits – making them perfect for different nail types.
Is It Better to Get Gel or Dip Nails?
Both dip and gel nails are unique for specific applications (but gel nails are better). The dip nails are had to remove and require soaking in acetone. Gel nails are ideal for those that want something that's easy to remove or apply. 
Are Gel Nails Better Than Acrylic?
Gel nails are better because they are easy to apply and are available in a unique range of designs. However, dip nails require a lot of time to apply and remove (but they are also durable!)
There is no specific manicure that classifies as the least damaging artificial nails. It all depends on your preferences, ability to make informed decisions, and following up with nail care practices. 
Latest posts by Katharyn Riedel
(see all)