Seeing Tae-yeon or Kim Ji-soo can certainly make you try out curtain bangs. We've been there too. Curtain bangs are super easy to do and maintain. Luckily, it's possible to have long curtain bangs that you can try on your own. 
A good bang requires a perfect triangle. All you need is to determine the points correctly and cut them accordingly. Then you've to cut the bangs and angle the hair. 
Anyways, that was a short summary of the entire process. We've elaborated each of these steps with pictures. 
Read along if you want to get those curtain bangs for yourself. 
Will Curtain Bangs Look Good On You? 
Absolutely! All you need is long hair and a good blend. Curtain bangs suit any type of hair and any shape of the face. That's why people love this haircut so much! 
But if you have a round or square-shaped face, you're luckier than the rest. On the other hand, triangle or oval shapes can wear any bangs they want.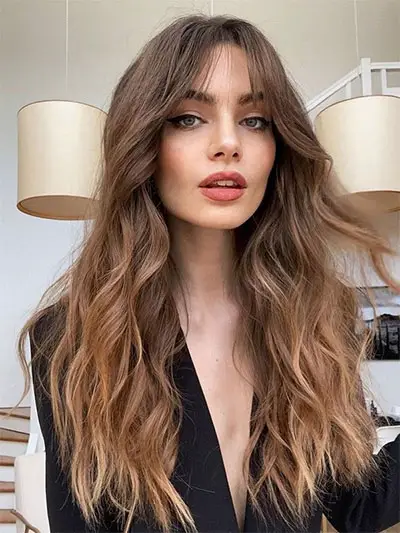 See how the bang makes her face seem longer than usual? Still not convinced? Well, we've got more!
This is an example of a round-shaped face. Like other shapes, this is also getting complimented by those bangs!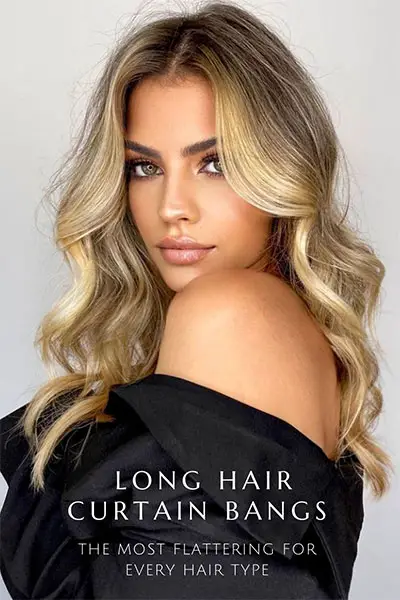 These should be enough proof that any face shape can pull off curtain bangs. Now, all you need is some courage and you're good to go! 
How To Cut Long Curtain Bangs Perfectly? 
Cutting and angling the curtain bangs doesn't take long. Usually, it takes about 15 to 20 minutes. But you can always take your time and do it slowly and safely. 
Here's what you're going to need- 
Scissors
Hair Clips
Hair Dryer
Round brush 
Hair Straightener 
Grab them as soon as possible and you can immediately get started! 
Step-1: Choose the Part For Your Bangs 
Take the comb and create a centered line on your head. Sit straight and place the comb about one inch behind the hairline. The ideal spot is where the comb doesn't fall off. 
When you find it, hold the point with your fingers. Then mark the spot which is directly above the eyebrow's arch. 
Use the comb to draw a diagonal line and separate the hair. Clip the rest of the hair when done. 
Now, repeat this on the other side and the first step is done!
Step-2: Cut Your Bangs at the Right Length 
Now all that's left is to cut the bangs at the correct length. For this, you're going to use your chin as a measure. 
Wet the hair you chose and comb it straight. Do it multiple times if necessary.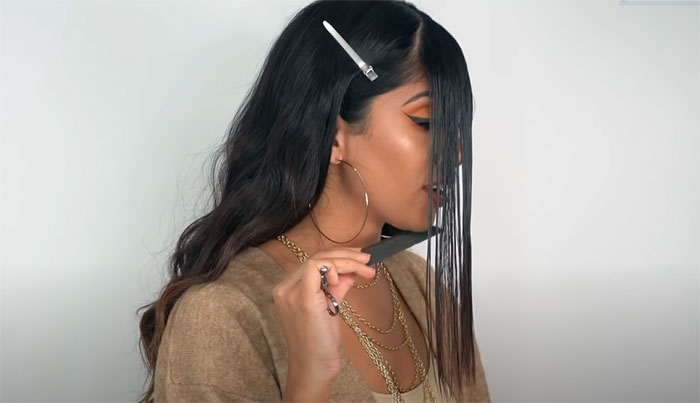 After that, use your comb from underneath. As you reach the chin area, make a human scissor with your fingers and grab the hair.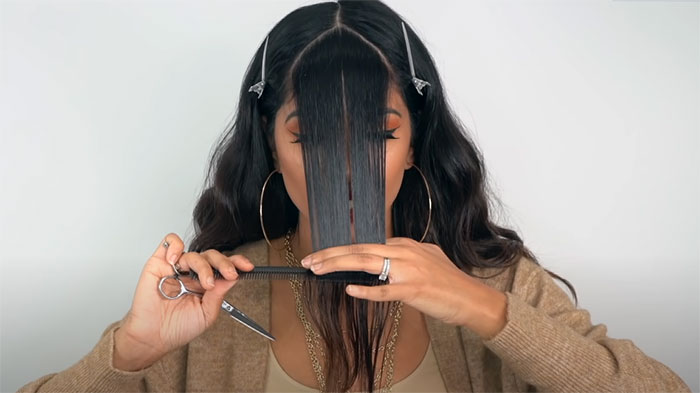 Now, get the actual scissor and cut the hair at that length. It's a serious step so do the combing multiple times if necessary!
Step-3: Angle the Hair 
Angling the hair is important to make the bang blend with the other hair. It provides a nice and soft finish. 
Separate the bang into two parts and clip one of them. Then use the comb in parallel to the diagonal line of step 1.
Use your fingers to grab diagonally at the end of the hair. Cut the extra parts.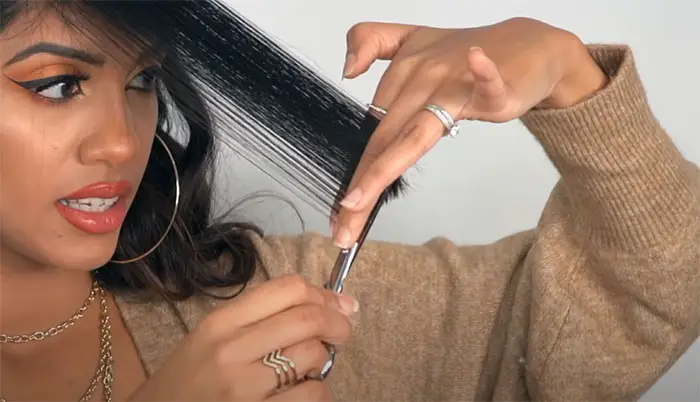 Now do it for the other side and you're done!
Step-4: Add a Finishing Touch 
It's time to get the dryer to dry out the hair. Select a low air setting and moderate heat setting for this. 
You can also use a round brush to add a little bit of curve. Use the dryer on the brush to dry it thoroughly. 
You can also add some more finishing by cutting some hair vertically. This adds a feathery finish. 
And you're done! You're now ready to show off the bang to your friends!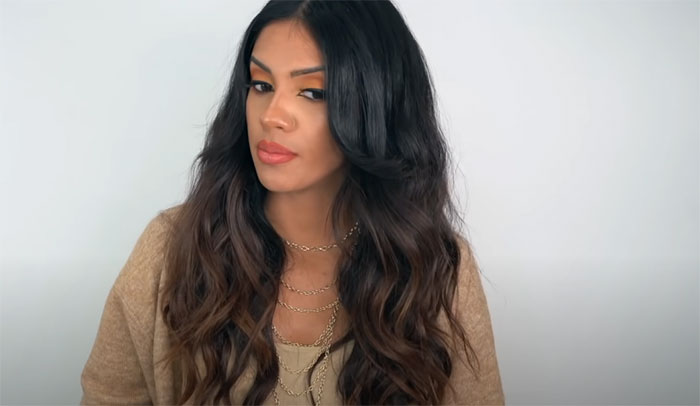 Step-5: Blend the Bangs In (Optional)
You can still go for a more angled finish. This is usually done by professional hairdressers. For that, you've to cut some extra hair at the same angle as the bangs. 
Note that this is optional and not necessary. Just hold the extra hair and maintain the angles of the bang.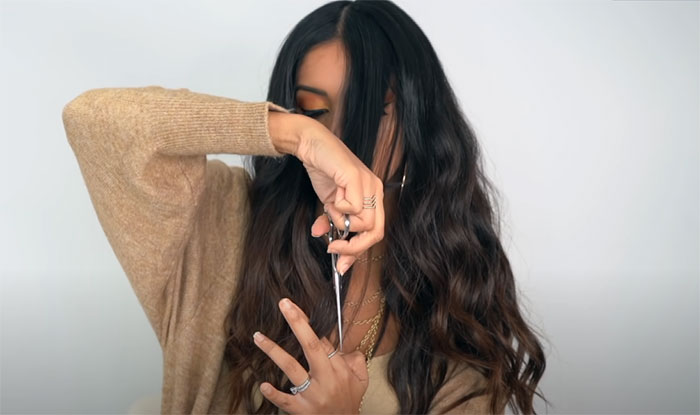 Here's what it looks like when finished-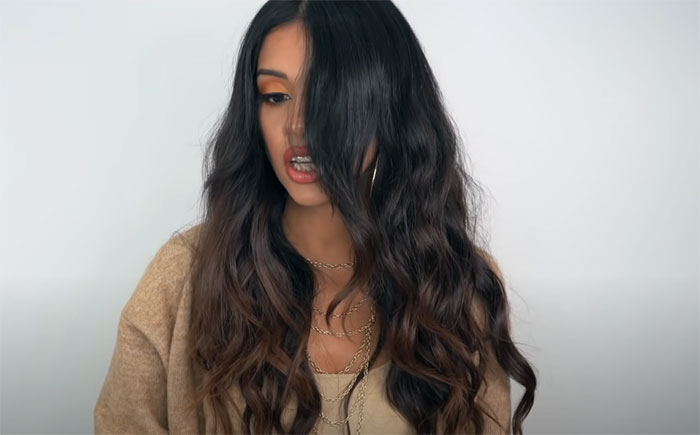 Some Tips To Follow 
There are some techniques that can help you achieve this. These are optional and only beneficial to a certain extent. 
Use a Hair Straightener
Use a hair straightener if your hair is messed up because of all that clipping. It's a great tool to make the other hair blend in perfectly. This is an alternative option if you don't want to cut the other hair. 
Use Concentrated Nozzle When Styling 
Dryers have different types of nozzles. Among them, there's a concentrated one. It's way thinner than other nozzles. When you're using a round brush, use this nozzle to dry the hair. It gives a better finish. 
Alright, it's time to say goodbye. That was everything on long curtain bangs that you can try on your own. Hope it worked or at least gave you some more courage. 
Finally, good luck and have a nice day!
Latest posts by Katharyn Riedel
(see all)