Nails products and designs are all the rage nowadays in the beauty industry. Enter the manicure that doesn't damage nails guide – a topic that consists of various concepts, techniques, and products. 
However, it can be difficult to identify the right approach to such manicures without sufficient research. Here is all you should know about this manicure approach:
So What is the Best Manicure That Doesn't Damage Nails?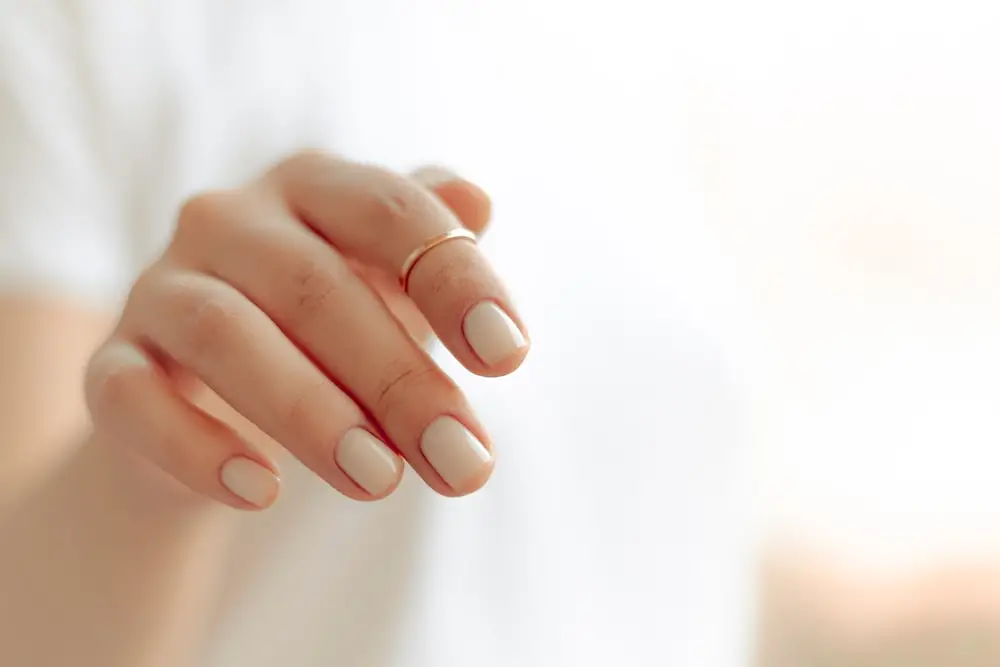 Well, there is no specific manicure that doesn't damage nails. The key to avoiding such an issue involves being informed. 
When using nail products, you should realize that nails are prone to damage. Thus, you have to use specific products and techniques to ensure the best results – even when using "ANY" nail care products.
First, nail products for home and salon use are produced based on the Food and Drug Administration (FDA) regulations. The specific act that regulates this process is the Federal Food, Drug, and Cosmetic Act (FD&C Act).
With the right information, almost all nail care processes won't cause nail damage. Here are some of the common characteristics of nail manicure that don't damage nails
Hygiene
The first step in performing a manicure is being thorough with the hygiene process. Before performing this process, you must remove old nail polish and dirt. Part of this process also involves ensuring you use disinfecting products to clean the nail. 
Aside from cleaning your nails, ensure you also clean your nail kits. Do this to reduce the chance of infections that arise from the presence of bacteria or dirt. You have to repeat this process each "EACH" time you work on your nails.
Safe Trimming 
Trimming is part of almost all nail care, maintenance, and application processes. Procedures like decorations and polish are just for aesthetic purposes. However, a good manicure requires you to cut your nails to the correct size (usually short).
After trimming, you must take your nails through the filing and disinfection process. Doing this helps to remove dead skin and prepares your nail bed for further nail manicures. 
Remember the importance of "AVOIDING" filing in a back-and-forth manner. Instead, you should file your nails in one direction, from the sides to the central section.
Cuticle Care 
Never cut your cuticles because they are essential for the nail bed. The cuticles help prevent bacteria or fungi from penetrating your body. It also helps make up an important section of the nail's structure. 
Before working on your cuticles, ensure you set your nails in a remover to help with softening purposes. You also have the option of setting your nails in some salty and warm water. After this, get a cuticle pusher, and do the necessary. 
Using the Base Coat and Polish 
You have to apply a base coat before setting the gel nail polish. Doing this helps ensure your nail polish is free from issues such as staining and chipping. 
You should also give your nails sufficient time to dry before applying colored polish. You need to perform nail painting procedures using thin coats. The thick coats break down fast and also have a bad appearance.
Appealing Decorations 
The ideal manicure process should leave your nails looking appealing. Any manicurist with experience should experiment with different types of decorations and designs for attractive nails. 
Some common components to try include stickers, rhinestones, and customised stencils. Nowadays, resources like 3D stencils make it easy to produce stencils for nail art designs. 
Using the Right Products and Technique
You should also be cautious in choosing the right products for nail care. These can include removers, cuticle conditioners, exfoliators, and more. Be safe and gentle when using these products, especially with acetone removers.
While manicures are different, you must be careful in using them – especially for the long term. Here are some tips for you to consider:
Use nail conditioner to help restore the structure and strength of the nails.
Clean the nails using acetone-based products before and after applying nail polish products.
Disinfect your nail application or care kit using acetone or any other relevant disinfecting product.
Take a few days' break from using nail care products when possible. It helps restore the structure of the nails.
Use products like nail dehydrators correctly to avoid causing damage to the nails.
Type #1. Natural Nail Manicure 
The natural nail manicure approach is ideal for anyone who wants to do nails DIY. It's a classic nail design involving filing and cutting your nails to form a specific shape or length. You also don't need products like dip powder or acrylics.
The other procedures involved include hand massage, cuticle grooming, and polishing. Here are the other details to expect the best manicure for natural nails:
Average time spent: 30 – 45 minutes.
Longevity – seven days.
Price range: $10 to $30.
Damage to nails: none.
Pros: Easy to apply, requires small chemical amounts, and is affordable.
Cons: it takes longer to dry and lacks sufficient longevity.
Type #2. Press on Nails 
If you have been looking for a mani requiring minimal effort, this is your solution. Press-ons have become popular over the years and are here to stay. These refer to the nail types you set on your nails' structure. 
They are simple to DIY, and you can even order the custom types online. Here are some of the other details relating to this nail care approach:
Time taken: 30 minutes.
Longevity – two weeks.
Price range – $6.
Damage to nails – none. However, the nails require regular care and conditioner procedures. 
Removal process – acetone, nail kits, nail conditioner, and disinfectant tool.
Pros – simple to remove and apply, readily available, and pocket friendly.
Cons – lack of design diversity and designs.
Type #3. French Manicure 
Usually, French manicures consist of a natural nail color design with a white tip. Users can produce this nail design using traditional nail polish, gel nails, and acrylics. 
When done correctly, these nail designs are striking – usually with a classic and elegant appearance. The range of designs you can try is also immense, thanks to the availability of resources like stencils.
Here are the other details of applying a fresh manicure:
Time taken: 10 to 30 minutes.
Longevity: one to three weeks.
Price range: between $10 to $50.
Nail damage: None.
Removal process: depends on the type but mostly involves acetone.
Pros: Easy to apply, reliable, and availability of designs.
Cons: N/A.
Type #4. Acrylic Manicure 
Are you trying to achieve those striking nail designs you might have encountered on Pinterest? We recommend that you settle for the acrylic types – AKA the least damaging artificial nails. These nail products contain a liquid polymer powder enhancement that offers durability. 
You should also realize that acrylics have a unique chemistry. Usually, the traditional acrylic powder product contains a polymer and liquid, the monomer. These products harden when mixed, forming a hard surface on the nails. 
There is no UV light required for the curing process to occur. 
So, why does acrylic have a bad rep?
The reason is that they require high skill levels to apply to the nails. The most common acrylic product application issue involves excessive use of the product. Here are the other details to consider about acrylic nails:
Time taken: two hours.
Longevity: two to three weeks.
Average price: $120 for a new batch.
Nail damage: none.
Removal process: soak in acetone for a few minutes.
Pros: Durable and easy to apply.
Cons: Lack of designs.
Type #5. Gel Manicure
The other safe manicure you can consider is the hard gel type. It's the best solution if you want manicures for short nails. You can do it DIY, using products like UV lamps and base or top coats.
However, you can consult the nail technician about developing custom designs for a standout look. Or, you can also go for the stencil approach.
These nails are unique because they tend to be flexible and lightweight. We recommend you learn more about"how to not damage nails with gel."
 Here are the other suggestions that we recommend for your needs:
Time taken: two hours.
Longevity: two to three weeks.
Nail damage: none.
Removal process: acetone pads and liquified acetone.
Pros: Striking designs, durable, and easy to apply.
Cons: Requires curing using a UV light.
Type #6. Shellac Manicure
Shellac manicures also make it to our list of manicure nails that don't damage nails. A shellac manicure refers to a specialized gel product that you apply over the structure of your nails. It's created by the Creative Nail Design (CND) and has to undergo curing procedures. 
It's easy to apply and doesn't require high levels of competency. Many people also use it as the best nail for working hands.  Here are some of the details related to shellac manicures:
Time taken: 90 minutes.
Longevity: two to three weeks.
Price range: $30 to $100.
Nail damage: none as long as you use the right nail care process.
Pros: Suitable for different nails types, easy to apply, and durable.
Cons: Requires a lot of time to apply.
Type #7. Dip Powder Manicure
Dip powder nails involve a unique mixture of glue and powder that can bond to the structure of your nails for longevity. It was a popular technique several years ago and is still common today. 
However, DIP powder also requires an informed application process for the best results. Here are the other details:
Longevity: two hours.
Price range: $30 to $50.
Nail damage: none.
Application process: involves acetone.
Pros: Easy to apply, appealing, and dynamic.
Cons: Requires high levels of hygiene.
Products for Applying a Manicure That Doesn't Damage Nails 
Here are the products you can need to apply a manicure that is healthy for your nails:
Best Nail Conditioner – Hard As Hoof Nail Strengthening Cream with Coconut Scent Nail Strengthener
You must condition your nails each time you use nail care products. It's why the Hard as Hoof Nail Strengthening Cream is first on our list of manicure products. The cream contains a proven formula for strengthening the nails and is easy to use.
It prevents chips, peels, cracks, and splits. With this cream, your nails will have improved endurance and a unique coconut scent. The product can condition the cuticles thanks to its unique ingredient content. These include vitamins, calcium, and hydrogenated jojoba oil.
Pros
It has a proven formula for strengthening the nails.
The product prevents chips, peels, and cracks.
It contains only natural ingredients.
Cons
It has a pungent smell for some.
Best Cuticle Pusher – 2PCS Metal Silver Cuticle Pusher and Cutter
Did you know that pushing your cuticles correctly is crucial to most nail product application procedures? With the 2PCS Metal Silver Cuticle Pusher, you will have a resource that can perform this function and more.
It's a multifunctional tool with four different heats making it ideal for multifunctional purposes. 
The cuticle pusher is also portable thanks to its portable carry case that makes transportation a breeze. The latest design and blade slope structure are also perfect for nail restructuring.
Pros
Multifunctional cuticle pusher design high-efficiency levels.
It also has high-quality stainless steel, which is easy to sterlize.
The tool has a precision design that offers a clean and effortless cut.
It also has an ergonomic design for optimal user comfort.
Cons 
Best Sterilizing Jar – Diane Glass Sterilizing Jar – Disinfectant Container
Hygiene is the key to finding a manicure that doesn't damage nails. Why is this? It's because elements like bacteria and dirt can easily lead to long-term nail health issues. Cleaning your nail kit with the Diane Glass Sterilizing jar is simple.
It's a powerful tool that you can use to clean various resources, including combs, brushes, and other barber accessories. The sleek and sophisticated design also complements the decor of your work surface.
Pros 
Designed to be easy to clean and simple to sterilize.
It comes with a stainless steel lift tray for removing items.
The sleek design makes it suitable for any barber shop setup.
Cons 
Best Acetone Nail Polish Remover – Super Nail Pure Acetone Polish Remover, 8 Fl Oz
You also need a nail polish remover, which is why the Super Nail Acetone Polish is perfect. It's also helpful for people who want a nail treatment that doesn't damage nails. Why? That is because it kills bacteria and germs likely to cause nail damage.
You can also use the acetone polish to clean your nail kits and any other items you use in this process.
Pros 
High-quality acetone doesn't cause long-term damage to the nails
It doesn't have a pungent smell like most acetone products
The 8FL oz size offers longevity.
Cons 
Acetone is strong, and you have to take breaks from using it.
Frequently Asked Questions
What Is the Difference Between Classic and Gel Manicure?
Gel polish has a better density than other nail polish products. The main unique feature of Gel Polish products is that it requires a curing process. Usually, this process requires using an LED light for the best drying results.
What Kind of Manicure Lasts the Longest?
The type of manicure that lasts the longest is gel and dip powder. However, the longevity of nail polish products also relates to the quality of the application process and products used. Aspects such as genetics and the individual's lifestyle are also crucial.
Does Shellac Ruin Your Nails?
No, Shellac doesn't ruin your nails, especially when using the right application. You must condition your nails regularly and maintain the right lifestyle choices. It's also crucial that you learn more about applying shellac nails correctly.
What Is the Difference Between Gel Manicure and Acrylic?
The main difference between gel nails and acrylics is the liquid monomer and powder polymer product. Acrylic sets naturally in minutes without the help of any equipment. Gel nails have a glossy and more natural appearance on the hands. This makes gel nails popular and an attractive option most times.
What Kind of Manicure Doesn't Damage Nails?
All manicures can damage your nails – but it doesn't always have to be this way. The key to avoiding nail damage is to take good care of your nails. It also involves using nail products like acetone the right way. It all boils down to your nail care habits.
Do Electric Nail Files Damage the Nails?
No, electric nail files don't cause damage to the nails. The damage occurs when you fail to use the right product application process. It can also happen if you have brittle nails and use artificial nails regularly without maintenance.
So, what damages your nails the least? While most manicures raise nail health concerns, staying informed is key to success with these products. You must take good care of your nails when using any manicure approach. 
Latest posts by Katharyn Riedel
(see all)