When it comes to achieving volume, your hair type can be your best friend or worst enemy. 
Everyone is born with a specific hair type and there isn't much you can do about it. Some people are fortunate enough to have a lot of natural volumes, while others do not.
We understand that faking volume with thin or fine hair can be difficult. It's probable that your haircut has a great deal to do with it. That's why volume boosting haircuts might be an option. 
This is why we have detailed info regarding the most popular volume-boosting haircuts. So, spare a few minutes and give this a read. 
Should You Go For Volume Boosting Haircuts? 
Before you choose which kind of hairstyle you want, we suggest you do a little bit of research. Following the tread may not always be the best option. 
Volume boosting haircuts are easier to maintain and style. This is the main purpose of these haircuts. Volume boosting haircuts will make your hair look thicker. So, if you're not happy with your thin hair, you can go for it. 
However, there are some complications. First of all, you need to take extra care of your hair. If you don't, volume-boosting hairstyles can harm your hair permanently.
Secondly, volume-boosting hairstyles can get dirty very often. Because of the high volume, the dirt will stick to your hair easily. 
But if you think you can take good care of your hair, then go for these hairstyles. Otherwise, we suggest you think carefully before committing to anything. Now, let's see the type of haircuts you can get. 
5 Popular Volume Boosting Haircuts
I guess you already decided if you want to try a volume-boosting haircut or not. If you actually want to go for this, we have some excellent suggestions. Let's get right to it and find out what they are. 
Blunt Bob
For creating additional volume, we like blunt cuts. However, you'll need some texture in your hair to accomplish this.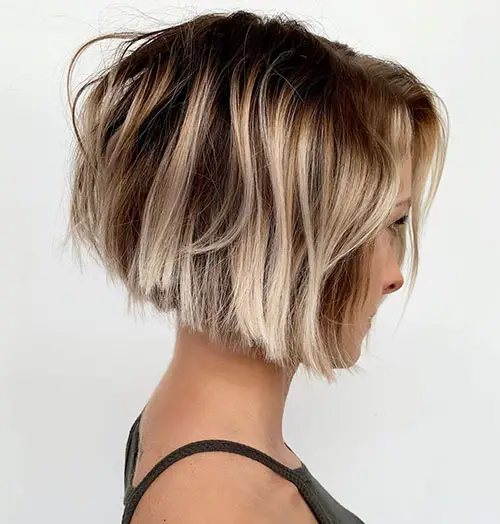 A blunt cut allows your hair's ends to lay on top of each other on curly or wavy hair textures. This adds instant volume to the ends of your hair.
On straight textures, however, it may take longer to achieve the same level of volume. 
But more volume at the crown could be achieved by layering. A blunt cut, in conclusion, provides unparalleled thickness and overall volume.
Long Shag 
If your objective is to do a thicker hairstyle along with a messy one, long shag is perfect for you. 
Messy hairstyles will always appear voluminous compared to their counterparts. Hair that has texture flowing through it appears to be much wider and fuller.
Shag hairstyles add volume because the transition from the bangs to the ends is seamless. It also adds finer layers to give this design an overall halo impression. 
The shag haircut lacks strong angles and clear-cut lines. This gives even light hair the appearance of being considerably thicker.
Long Layered Haircuts
Long layers may appear counterintuitive for making your haircut look more voluminous if you have long hair. This is because many people believe that layering reduces hair.
In this situation, however, it works. The lack of layers in very long hair eliminates mobility in thin hair. This means that any bending or body that your hair has, isn't being fully used. By adding structure, movement, and dimension to the hair, layers provide the illusion of larger tresses.
Stacked Bob 
For ladies with straight hair, this is our short-haired choice. Try a stacked bob if this is more your style. 
In this haircut, the back of the bob is shorter. However, the layers and angles towards the front are longer. 
Additional shapes are created because of the layers and angular cut.  This is why this design works so brilliantly. Plus this is very effective on straight hair.
These layers in the front also help to slim down a broad face. Additionally, cutting your hair shorter in the back provides contrast and emphasizes volume.
Pixie Cut with Longer Front
If you enjoy super-short haircuts, this pixie cut is for you. To begin, you should lengthen your hair in the front. You can style it back like this to add height to your look.
To get this look, use a round brush and a blow dryer after washing your hair. This will help you achieve the volume you want.
Now, the only thing left to ask is what will you do? Will you follow the trend or are you content with your current hairstyle? Well, we gave you a few choices and the rest is up to you.
Some Tips 
Does layering Hair Add Volume?
Layers give your hair a lot of volumes. They're especially good for people who have thin or fine hair. They can also give curly and wavy hair extra bounce.
Will I Have More Volume if I Cut My Hair?
Hair that has been cut creates additional volume. Hair near the scalp is weighed down by longer tresses. This results in a loss of fullness and volume at the root.
Is Castor Oil Good for Hair Volume?
Castor oil gives your hair a thicker appearance. Because it reduces hair fall and makes the hair follicles stronger. However, it doesn't actually give you a thick set of hair. 
Now you know why volume boosting haircuts going popular right now. Whichever style you choose, make sure to always take proper care of your hair. Because no matter what you do, your hair won't show enough volume if it's damaged.
We wish you all the luck.  
Latest posts by Katharyn Riedel
(see all)