Halloween's just around the corner and you need to set your look for the day. Nails are also a big part of the whole outfit and need to be just as spooky.
But is that possible? Of course, it is!
It might be a bit hard to visualize these designs in your mind. So why not check them out with your own eyes? Let's get it-
5 Spooky Nail Arts to Try
We've compiled a set of 5 nail arts. Each of them is different and goes well with different aesthetics. Surely you'll find the match for you! Let's get started-
Chained Skull
First up we have the classic spook, chains, and skulls. This is a very well-established symbol of horror. Incorporating that in nail art is a good idea.
Drawing a skull with chains through it on a matte base looks exquisite. Adding some black veined butterfly wings on the remaining fingernails seals the deal. They look like the symbol of terror and death, perfect for a spooky Halloween.
You can choose the color of the matte base according to the rest of your outfit. Making this nail art a highly customizable one.
Battered Roses
The focus of this design might look like the skull at first. However, the true showstoppers are manicured roses.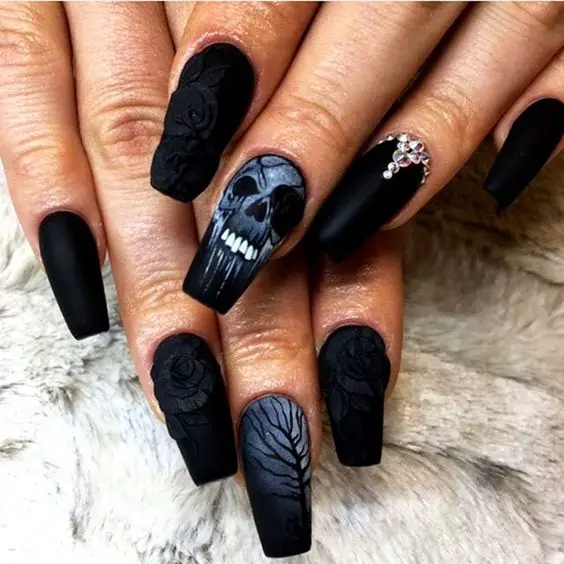 The matte black is the perfect color to go for a goth look. You can use black matte nail gel to carve the roses into shape. Or you could use molds to make them and attach them to your nails.
Finish up with a few regularly painted nails with creepy woods, webs, or skulls. You can use some small gemstones to give off a royal feeling. Might be the perfect match for your vampire look.
Glossy Webs
We've seen many web designs drawn on fingernails. But they just don't pack as much of a punch needed for a spooky Halloween look. But what about webs you can feel and touch?
To get this look, you need to first coat your nails with a matte dark grey. Then you need to draw the webs with glossy gel nail color. You could also use a small piping bag to pipe the nail color on top. That will help you achieve the 3-dimensional look like the picture above.
You could change up the color combination, but make sure the color can be separated. Otherwise, the webs won't be as visible.
In The Woods
Who doesn't think of a test of courage in a creepy neighborhood during Halloween? But what would it look like if you carried those woods around on your nails?
This nail art has some colors, unlike most nail arts you'll see for Halloween. Not only colors but some shimmer as well. The moon and woods create the perfect level of spook you'll need this Halloween.
Classic Spook
You might not be into skulls, webs, and other elements usually used for Halloween. So, here's a design for you that's simple but still just as spooky.
The shape of the nail in this nail art is the key. You want to be curved and pointed like claws. As if a scratch from them will suck out some real blood. Now that's some real horror!
Paint the tips of the nails to a darker color. Like dark brown or deep red. That'll give you the perfect set of claws for your blood-sucking vampire look.
Frequently Asked Questions (FAQ)
How should I shape my nails into a claw?
You'd need a UV gel nail base to make the shape. Then you'll have to cure it under UV for enough time to keep it set. Then you can paint over the base as you please.
Do I need special tools to make the designs?
You only need basic nail art tools. Such as small brushes, dot painting tools, and gel nail kits. For the Battered Roses, you'd need something sharp if you're going to carve them.
Should I use self-adhesive gemstones or glue them on?
You can go for either. However, if you're going to party hard, glue them in. Self-adhesive gemstones are prone to fall out easily if you move around. So, if you're going to get your nails wet or move a lot, glue them with glue.
Did any of these fabulous nail arts catch your eye? Surely, at least one of them did, if not more! You might even be having a hard time choosing. In any case, go for the one that matches most with your outfit.
Make sure to cure your nails super well so they stay put in place. You don't want them coming off mid-party. Until you find your way to us again, see you!
Latest posts by Katharyn Riedel
(see all)