Nail stickers are a great way to take your look from boring to exciting. Luckily, they're easy to use as well. You just need to peel off the sticker and place it on top of your nail. It will last for days without chipping or peeling off. 
Nail stickers are great for women who can't keep their nails painted regularly. So, they're perfect for people who are mostly busy. Because the process of applying them is so quick and easy along with so many varieties.
So, let us help you step up your nail game with these nail stickers–
Types of Designs That Are Available in Nail Stickers
Nail stickers come in different designs, including polka dots, stripes, and holiday prints. The design you choose should depend on your mood or the outfit you want to match. 
You can also place several stickers on top of each other. This way you can create unique patterns and textures. Anyhow, here are the most trending nail stickers-
Type 1: Plain Design Nail Stickers
You can easily use flower designs along with cartoons for this nail art. You just need to get the design you prefer. Then peel and stick them on your nails. 
Manicures can be as elaborate or as simple as you want them to be. Luckily, they're very affordable too. Thus, you don't need to worry at all!
Type 2: Lace Patterns Stickers
Lace sticker nail art is available in mostly stripes instead of solid colors. It's up to you to customize your lace sticker by cutting it to size. 
They also come in different hues along with patterns. Plus to get a unique appearance, you can combine two distinct sorts of lace patterns. You'll be amazed at how good they appear once you apply them.
Type 3: 3D Stickers
These stickers appear to be in three dimensions. You have to apply them by peeling and sticking. They have an adhesive backing. 
Various types of 3D stickers designs can be found easily. You'll find the ones particularly enamored with the floral ones more.
Type 4: Fimo Clay Stickers
Polymer clay is used to make these stickers. There are lots of adorable designs to choose from. 
Now, sticks or pre-cut forms are two options for these stickers. You might pick sticks for yourself. In that case, they must first be cut or sliced as thinly as possible. 
Then stick the cut stickers to decorate your nails. You can use clear nail paint or nail adhesive to attach them.
But with pre-cut ones you don't need to work too hard. Just peel and attach them with the adhesive. 
Type 5: Metal Art Stickers
As the name implies these are metal stickers. These also are found in various styles. You can easily use these to create accent nails in your manicure. 
The metal decals are sometimes known as nail decals. They are applied using nail glue.
Type 6: Acrylic Stickers
There is only one distinction between acrylic nail art stickers and metal nail art stickers. The acrylic ones are composed of acrylics. They have a sleek and lovely aspect to them. You can easily go for the design you desire.
Type 7: 3D Silica Gel Stickers
These are constructed of silica gel and are incredibly soft. They are also bendable due to their flexibility. 
It might be a bit harder to adhere the stickers to your nails. Because you'll need a high-quality clear nail adhesive.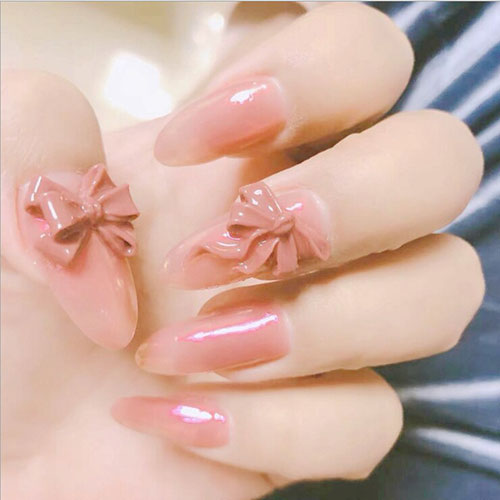 Type 8: Full Coverage Gel Nail Stickers
They're made of two halves. One of which is filled with a gel-like substance. You just have to add gel nail stickers to nails. You can apply these as the same as the above ones. These not only make your look beautiful but also protect them. 
Type 9: French Tip Stickers 
French tip stickers are used to make stunning nail art patterns with the tips of the nails. You can get them in different colors and designs. 
French tips can also be stickers that serve as a guide while painting French tips. They are removed when the paint has dried.
To apply French tip nail art stickers, you must peel them off the backing. Then glue the stickers to your nails' tips. If needed, minimize the stickers' size by filing away the extra.
Frequently Asked Questions (FAQ)
Is It Necessary to Use a Top Coat after Applying Nail Stickers?
To seal and protect the stickers, apply two coats of topcoats (or gel/shellac topcoat) to the entire nail. It will help extend the life of your manicure by smoothing down the sticker's edges.
In What Way Do You Prevent the Stickers from Peeling?
Using a credit card, smooth down any bubbles or creases in the sticker. Hold the card perpendicular to the surface. Then apply pressure to remove air bubbles from behind the sticker.
Is It Unhealthy for Your Nails If You Use Nail Glue?
The harsh chemicals in artificial nail adhesive and acetone may cause your nails to become weak. Try to take breaks as often as possible if you can't live without them. So your nails have a chance to breathe. When removing nail glue from the skin, avoid yanking or squeezing. Ripping your skin or cuticles can happen as a result of this.
Nail stickers are hassle-free and will last for days with minimal chipping or peeling. Plus as you can see it's pretty easy to step up your nail game with these nail stickers. Hence, you should definitely try these out! 
Latest posts by Katharyn Riedel
(see all)