It's easy to get worried if you don't know the effects of sulfur water on your hair. But hey it's never too late to learn!
So, what are the sulfur water effects on hair? 
Well, sulfur water won't affect your hair if the sulfur amount isn't excessive. However, if you have more than the safe limit, your hair will firstly smell like a rotten egg. Furthermore, your hair can even get dry. Therefore, you'll encounter hair breakage and split ends. Eventually, your hair will start falling out. 
Now, it's best to have more knowledge about this issue. That's why we've explained the effects and how to recover from the situation. 
Therefore, take some time off of your daily life. And keep going through our piece!
How Much Sulfur in the Water Affects Hair? 
For starters, yes, sulfur in the water will affect your hair. But there's a catch-
You see, it's mostly known that hard water is a threat to human health, skin, and hair. However, sulfur water isn't necessarily hard water. It can be soft as well. This depends on the amount of sulfur you have in your house water. 
So, how to identify how much sulfur you have in your water? 
Well, firstly, let's understand what sulfur water is-
It's the water condition when your house water is exposed to the gas- hydrogen sulfide. This makes your shower water or the water in your house smell different. 
By different, we mean your hair will either have a musty or rotten egg smell. And this smell is how you identify the sulfur amount.
To help you out, we've discussed the sulfur amount according to the smell of the water- 
| | | |
| --- | --- | --- |
| Water Smell | Sulfur Amount (Parts Per Million) | Safe or Not |
| Normal | <0.5 ppm | Safe to drink and shower with |
| Musty | 0.5-1 ppm | Not really suggested to drink or use |
| Rotten egg | >1 ppm | Dangerous |
Well, that's how you can understand how much sulfur is in your water. You can take some of the water in a glass and breathe in the smell. 
Now, another way to identify is by going to a state-certified lab. This way, you can know the exact amount of sulfur you have in your house water.  
By the way, there are some test kits available too. These can tell you how much hydrogen sulfide gas you have in your water. On that note, here are some of the sulfur water test kits-
Hach 2537800 Hydrogen Sulfide Test Kit
Industrial Test Systems WaterWorks Hydrogen Sulfide Test
Just read the guidelines and test the water accordingly!
So, in conclusion- 
Too much sulfur in water turns the sulfur water into hard water. Which definitely affects your hair in a negative way. 
What Does Sulfur Water Do to Your Hair?
So, you know that sulfur water does affect your hair. 
Now, what kind of effects will you notice? 
Well, first of all, you'll get the sulfur smell from your hair. And to be specific, the smell will be much like a rotten egg. Yup, we have mentioned that before. 
After you start getting the smell, you'll also find your hair getting dry. Which will lead you to split ends and hair breakage.
Then with time, your hair will start getting thinner. Lastly, this will result in hair loss.
Other than that, your scalp can also turn dry and can cause dandruff.
You may also have trouble styling your hair. Because your hair will have more frizziness and tangles. 
Now, you might also wonder about the sulfur water effects on color-treated hair. Well, you'll obviously go through the above-mentioned problems.
But you'll also see your hair color or dye washing out while showering. By the way, tea tree oil does the same to color-treated hair. 
How to Remove Sulfur from Your House Water?
Before doing anything, you've to get rid of the harmful sulfur from your house water. Because certainly, it's not only in your shower water. 
Therefore, call a professional as soon as possible. There are a couple of ways to remove sulfur from water. 
For example, the two common methods of removing sulfur from water are-
Filtering your house water by using a good carbon filter. This way you can even get rid of really small amounts of sulfur/hydrogen sulfide. 
Chlorination of your house water. By adding chlorine to your house water you can easily remove large amounts of hydrogen sulfide/sulfur.
These will surely help you get back safe and healthy water. So, no more sulfur in your shower water. 
By the way, if you didn't know-
Chlorination and carbon filtration are both useful to remove sulfur from well water too. 
Now, these purifying processes might not be possible for you to try out immediately. In that case, install a water softener shower head. These showerheads have cartridges and these have carbon within them.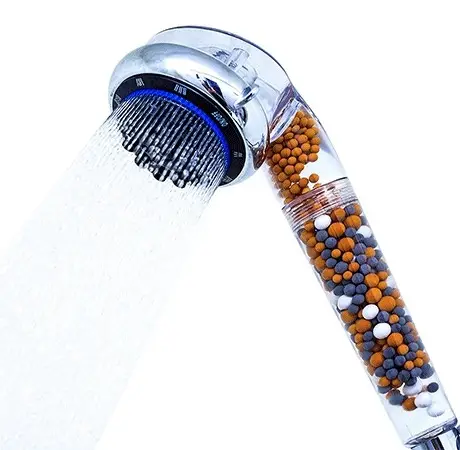 Hence, your shower water will be purified (sulfur or other mineral-free) before touching your hair. 
Moreover, it's pretty cost-effective too. Thus, get yourself one and then move on to repairing the hair damage.
How to Treat Sulfur Water Hair Damage?
Now, it's possible to revive your damaged hair. But you have to follow a few necessary things. 
And we have mentioned those below for you-
Remove the Sulfur Smell from Hair
After that, the first thing that'll get into your mind is probably-
How to remove the sulfur smell from hair? 
Well, there are different effective ways to do that. For you, we've mentioned three methods to remove the rotten egg smell from the hair. But at first, let's check few things about the three options-
| | | | |
| --- | --- | --- | --- |
| Methods | Time | Effectiveness | Ease Level |
| Lemon Juice | 15-20 minutes | Quite effective. But not 100% safe for colored hair. | Easier |
| Yogurt | 25-30 minutes | Effective. However, it is not good for oily or colored hair. | Easy |
| Apple Cider Vinegar | 5 minutes   | Effective and safe for all types of hair. | Easier |
As you have got a little heads up, let's go through the details-
Lemon Juice Can Get Rid of Sulfur Smell
Now, lemon juice works pretty well to remove odor from anywhere. And yes it's safe to use in your hair as well.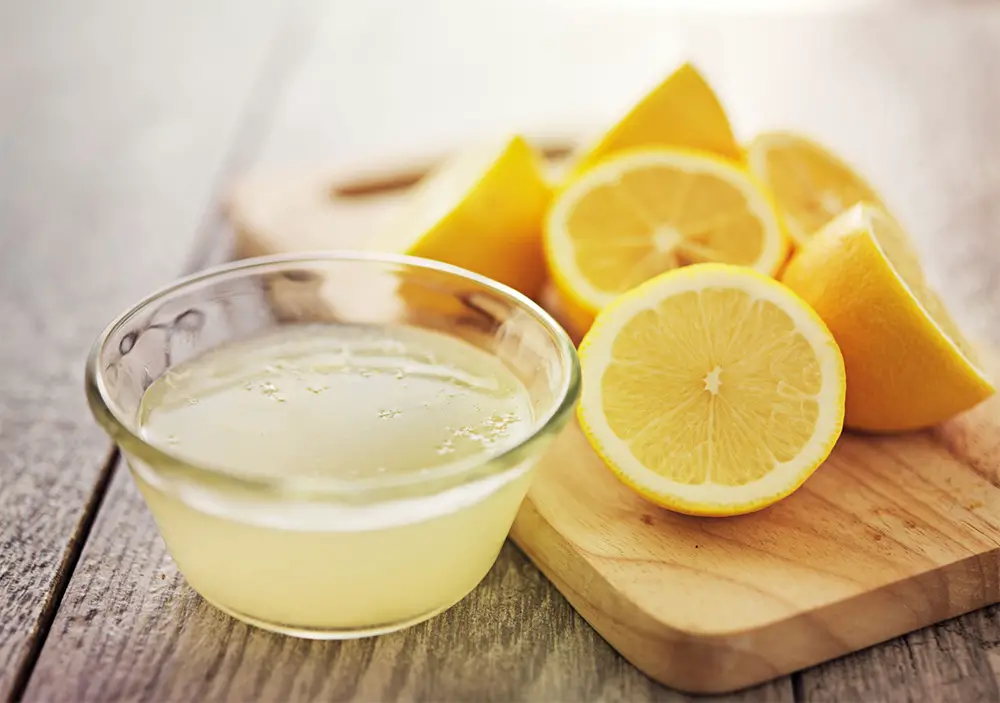 Plus it's great for hair as it carries ascorbic acid/vitamin C. However, the vitamin can remove your hair dye. So, better not try this method if you have dyed your hair.
Anyways, to use it in your hair, grab enough lemons to cover the length of your hair. We suggest using one whole lemon for hair that's above shoulder length. And 2-3 for hair that goes past the shoulder. Use more than 3 lemons for longer hair. 
Now, squeeze the lemons and mix them with a little bit of water. The ratio of lemon and water should be 2:1. Lastly, apply the mixture to your hair and scalp. 
Wait for about 20 minutes. Finally, rinse or wash your hair with the purified cold water. 
Yogurt Can Help to Remove the Smell Too
Yogurt is another good option to remove the smell and moisture from your scalp. Just take one medium bowl. Then add 2 cups of yogurt and pour 2 teaspoons of lemon juice. 
Apply the yogurt and lemon mixture on your scalp and hair. Then wait for 20-25 minutes. When the mixture is dry, wash with cold water.
Apple Cider Vinegar Will Make the Smell Disappear
Vinegar is a common cleaning and odor removing agent. And it's pretty much available in every household. 
Therefore, it's a great solution! Even for colored treated hair. 
Now, mix equal amounts of water and vinegar in a bowl. Then move on to washing your smelly hair with the solution.
Let the mixture sit in your hair for at least 5 minutes. Lastly, wash your hair with cold water. 
These are the few ways to get rid of the rotten egg/sulfur smell. And bring back moisture to your dry scalp. 
Use Clarifying Shampoo to Repair Your Hair
Now, to fix your damaged hair, you need to get good shampoo. And we suggest you try using a clarifying shampoo. 
Because they revive damaged hair due to harsh water (sulfur water). Use the shampoo once throughout a week. 
Now, you might want to try out a shampoo that's good for your scalp. However, remember, some like living proof can cause hair loss. So, it's best to ask a dermatologist or hairdresser for suggestions. 
Go for a Leave-in Hair Conditioner
Now, leave-in conditioners are the best when it comes to treating damaged hair. And it's useful for every type of hair including colored/dyed hair.
Moreover, this type of conditioner is made to tame dry, frizzy hair. The conditioner will work by smoothing out your hair. 
It'll make the dullness of your hair go away. And bring a beautiful shine to the hair. 
Therefore, don't just wait. Pick one according to your hair type now!
Use Essential Oils/Coconut Oil  
Lastly, using oil in your hair is a must. This will help you bring back moisture to dry hair.
It'll further help you remove the tangles if there are any. Furthermore, oil is a great choice for taming frizzy hair. 
However, if you have colored your hair, remember to use the essential oils that are safe for it. For example, lavender essential oil is a safe choice. 
Use the oil with some other carrier oil to get healthy hair!. For example, coconut. Almond, jojoba, or even castor oil. 
To be specific-
Take a small bowl of carrier oil. It's better if the oil is warm. Then add 2 drops of lavender oil. And massage your scalp. This will surely help you out!
Now, that's pretty much it for getting back to your normal, sulfur water-free life! 
Frequently Asked Questions (FAQ)
Why do I have sulfur in my water?
Well, you can have sulfur in your water due to poor water treatment. Most people in the city areas suffer from this problem. Then sulfur water can be caused by the contamination of your water heater as well.
Can sulfur water cause hair loss?
Yes, too much sulfur in house water can cause hair loss. Because the chemicals in the sulfur water start making your hair dry. As we know dry hair is pretty much prone to hair breakage. So, ultimately, this leads you to hair fall or loss.
Is sulfur water safe to bathe in?
Not exactly. Because bathing in sulfur water can cause irritation and itching. And bathing for a long time can cause hair damage and skin disease. So, it's best not to bathe with sulfur water.
Bottom Line 
Well, that's pretty much it! Hopefully, you are all cleared out about sulfur water effects on hair. 
By the way-
You can use orange juice or baking powder to remove the sulfur smell too. 
Lastly, let us know your opinions and thoughts regarding this. Don't forget to keep your hair happy and healthy!
Latest posts by Katharyn Riedel
(see all)