Not any hairdryer can make any day a good hair day. Only the best products can give you the perfect outcome.
Now, there are two such hairdryers: T3 and Drybar hairdryer. Both are the best in the beauty industry. And this makes choosing any one of the dryers difficult. Don't worry, we're here to make things easier for you.
So, t3 Vs Drybar hairdryer: which one to choose?
Well, there are a number of features that distinguish both. The T3 hairdryer is much lighter than the Drybar hairdryer. They also differ performance-wise. Not only that, the Drybar can run with a low power outage and has a longer chord length. However, unlike Drybar, T3 has a bigger nozzle and zero heat damage possibility.
Now, these are some of the features that set both hairdryers apart. However, if you want to know more about the two hairdryers and their unique features, then read along.
Let's begin-
Why Are T3 and Drybar Hairdryer Compared? – Quick Look
T3 and Drybar hairdryer are two of the most popular choices of hair styling tools. Both of these products are used and recommended by hairstylists in hair salons. Many people use them at home for their salon-like effect and minimum heat damage.
Both the hairdryers make our hair soft, elegant, and shiny. Unlike other hairdryers, they are easy to use. However, both brands have great potential in the hairstyling industry.
In case you're wondering why T3 and Drybar are compared-
T3 and Drybar are at present the top choices of professionals and hairstylists. Both these brands offer plenty of advantages to the customer.
While T3 is a luxury brand of hair styling tools, Drybar is a hair company famous for blowouts. T3 sells hairdryers with functional designs. The T3 hair company is usually a blend of technology and beauty. And they have successfully introduced the tourmaline technology on their products.
Drybar hair dryer, on the contrary, is known for its excellent blowouts. The tools of the Drybar allow us to experience the best in-home styling experience.
Here's a quick comparison between T3 and Drybar hair dryer for your convenience-
| | |
| --- | --- |
| T3 Hairdryer | Drybar Hairdryer |
| Comparatively lighter [ 1lb 2oz/0. 51 kg] | Comparatively heavier [17.6oz/0.49kg] |
| Consumes 1800 watts of power | Consumes 1875 watts of power |
| Soft and healthy shine | The smooth and dry hair effect |
| Shorter than 9 feet | 9-feet long |
| Comparatively bigger nozzles | Comparatively smaller nozzles |
| Less heat damage | More heat damage |
| Price range: $28-$150 | Price Range: $130 |
In order to choose, you need to compare both of these hair products. By comparing them you'll be able to find out which unique feature is suitable for you.
So let's take a look at the differences in their features and what makes them stand out-
Drybar Hair Dryer VS T3: A Head To Head Comparison
We worry about our hair day and night. We always search for a product that will help our hair and keep it as healthy as possible. T3 and Drybar hairdryers are products that have helped millions of people who struggle with their hair every day.
So, we get it if you get confused while choosing between the two. That's why we've gathered their best features to help you clear your confusion. One unique and suitable feature will be enough to convince you.
So, let us take a look at the direct comparison between the best features of T3 and Drybar-
Price Range
Since the products are so different, obviously there are some differences in the price. While T3 has a variety of hairdryer options, the price range varies from a range of $28-$150. On the other hand, Drybar has only one variant. And so the price range is around $130.
These are the basic differences between the T3 and the Drybar hairdryer.
Weight Of The Dryers
One of the most important things to compare in a hairdryer is the weight. Because that is what decides how long you can use the product before your shoulder hurts. The lighter the weight the easier it is to use a dryer. Ease of use is what makes a product more approachable.
Drybar is designed in such a fashion where it's easy to grip and comparatively lightweight. It weighs around 1lb 2oz/0. 51 kg. 
However, T3 hairdryers are constructed using the DC motor. This makes the T3 hairdryer even lighter than the Drybar hairdryers. It is around 17.6oz/0.49kg. This makes T3 ten times easier to use and more portable than a Drybar hairdryer.
Separate Hair Filters
Some models of Drybar have separate hair filters. Which is good news for a lot of hairstylists. However, you might have to clean the hair filter every once a week yourself.
T3 hairdryers don't have separate hair filters. So, if a separate hair filter is important, Drybar would be the best option for you.
Nozzle Size
A lot of people prefer buying the T3 hairdryer because of its nozzle. The nozzle of the t3 hairdryer is bigger than that of the Drybar hairdryer. The reason is that the bigger nozzle helps thick and long hair to dry quickly.
So a lot of people might prefer using the T3 hairdryer model for their long hair.
Chord Length Of The Dryers
Power source for a hairdryer is important. Sometimes the source is closer to the place you'll be using and other times you'll need a longer wire. 
So, Drybar hair dryers have a certain advantage in this area. They have a longer wire, a 9-foot cord, for connecting the hairdryer for use. This feature has helped a lot of people using the Drybar dryer.
T3 hairdryer doesn't have this particular feature. Although this doesn't make a huge impact on the buyer's decision, an appropriate chord length is appreciable.
High/Low Power Outage Functionality
One of the biggest perks of using a Drybar hairdryer is that you don't have to worry about a power outage. A Drybar was designed to work in a lower power outage. It has a motor of 1875 watt power. So, if you travel with a Drybar hair dryer, you don't have to worry about any power outage system.
However, in the case of the T3 hair product, the dryer couldn't be used anywhere with low power. It was designed to operate with a high power outage. Which consumes 1,800 watts of power. This might cause inconvenience during any event. Also using a T3 hairdryer in a low power outage isn't a safe idea.
Hairdryer Performance 
Drybar hairdryers are good for giving a smooth and dry hair effect. If you want a quick blowout to retain your hairstyle for a long time, Drybar is the best.
Among the two hair products, the T3 hairdryer is the quickest. And not to mention, it makes the hair smooth and soft. And finishing it off with a healthy shine. If you are having a problem with your frizzy hair, this is the perfect solution. Whether you want a long-lasting effect or healthy and shiny hair is up to you.
Possibility Of Heat Damage
Heat damage is the one thing that keeps us from using products such as the hairdryer, straightener, curler, etc. It takes away all the shine from our hair. However, both the t3 and Drybar hair dryers have fewer results like this.
T3 hairdryer makes our hair soft and shiny. It also makes our hair healthier with each use due to its outstanding technology. There are zero complaints about T3 hairdryer heat damage. Although sometimes you'll have to use hair products such as the heat protectant on the scalp. 
There are a lot of options for you in the market. That's why we've curated a list of the best hair protectants for you-
Marc Anthony Grow Long Vitamin E Leave In Deep Conditioner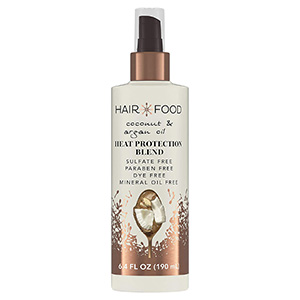 Hair Food Coconut & Argan Oil Heat Protectant Spray Blend
Once you have your protectant at hand, it's time to blowdry your hair.
Drybar also makes our hair smooth and locks our style for a long time. However, this hair dryer doesn't have a similar effect on hair like the T3 hairdryer does. 
This results in more heat damage than the T3 hairdryer. Sometimes this heat causes the hair to stick up on top of your head.
The Verdict
So are you ready to hear what we think?
If you want a hairdryer for regular use, just a quick blow, then Drybar should be the one you go for. The effects of Drybar hairdryer stays for a long time. However, if you want to avoid heat damage, T3 will be the best choice. Because it'll protect your hair along with giving it a healthy shine.
There are some other factors that you need to consider. For example- power outage, portability, and budget. They will help you come to a conclusion. 
Frequently Asked Questions (FAQ)
Which hair dryer is least damaging?
Between the two hairdryers, T3 hairdryer is considered to be the least damaging. Because the airflow of this hairdryer is almost as if it's natural. And not only that, there are a number of airflow settings one might choose from according to one's hair condition.
Is the Drybar hair dryer worth it?
If you're okay with using a heavy hairdryer, which also works in a low power outage and has a separate hair filter. Then yes, a Drybar hairdryer is worth the shot. This hairdryer also sets our hair for a long time and makes our hair smooth.
Is the T3 hairdryer worth it?
Yes of course! With its beautiful lightweight design, good performance, bigger nozzle for long and thick hair, and almost zero hair damage, T3 is worth the shot. However, this shot is worth $250 so you'll need to check if the dryer meets all your criteria.
Signing Off
Now that we are done with the differences. Let us know where you stand in the t3 vs Drybar hair dryer dilemma.
If you want to invest in a hairdryer then you need to make sure all your requirements were met. After that, you can find out which hairdryer is more suitable for you.
Till then, make every day good hair day!
Latest posts by Katharyn Riedel
(see all)