It's no secret that nail art has become a massive trend in the past few years. You can get your nails done at any salon nowadays. But it is still pretty cool to do them yourself from home. 
Because you can use your creativity in your work. But either way, you'll achieve colorful, eye-catching, and trendy nails. But what are these nail arts?
Well, we're here to help you with that. So, 2022 is dominated with these nail arts–
Top 9 Trending Nail Arts in the Year of 2023
Now, we have mentioned all the trendy nail arts you need to know about. Therefore, let's check them out quickly-
No 1: Color Blocking 
This nail art is famous among teenagers. Color blocking is a type of nail art that involves two solid colors. 
These arts are side by side without any designs or patterns in between them. This design can go from having one bold color to using multiple colors at once. 
Either way, it looks pretty awesome. If you're looking for a simple nail art design, this one is it.
No 2: Ombre
Ombre manicures employ a variety of colors. They are light at the beginning and darken as they progress. The colors can go from pink to lavender to purple or even black. It all depends on the preference of the person who does them. 
Some people prefer going from light to dark from brown to red. Some also like to go from one bold color to a more subtle one. They look fantastic no matter which colors you choose. Adult women love this nail art since it's so simple.
No 3: Stripes
Stripes are a pretty simple nail art design that is popular nowadays. It's especially popular among the younger generation. Because they are easy to apply and still grab a lot of attention.
These come in different variations and styles. But most of them are vertical lines that cover the length of the nails. 
No 4: Outline Nails
Outline nails are a variation of ombre nails. But they only use an outline of one color. This color goes over the tip of your nail. The rest of the nail remains with the natural base color that you have. 
However, this look is also stunning when accentuated with diamonds or rhinestones. Diamonds or rhinestones are used on top to make it more sparkly and shiny. This type of nail art is also extremely popular among young women.
No 5: Geometric Nails
Geometric nails are one of the most straightforward designs. But they are also trendy among the younger crowd. Simple shapes such as squares, circles, and triangles are used to fill the nails. 
It's pretty cool seeing all these shapes coming together on one person. It also looks super classy. That's why teenagers love this nail art 
No 6: Gradient Nails
Gradient nails don't need much explaining since they look exactly like their name suggests. They are nails that transition from one color to another, gradually getting darker or lighter. 
These are also pretty simple to do since they only need two colors. But you can use up to three different colors if you want. This way you'll have more depth on your nails.
No 7: Starry Nails
Starry nails are very different compared to gradient and ombre nails. These are designed with different colors of glitter. It's done to make your nails look like they have stars on them.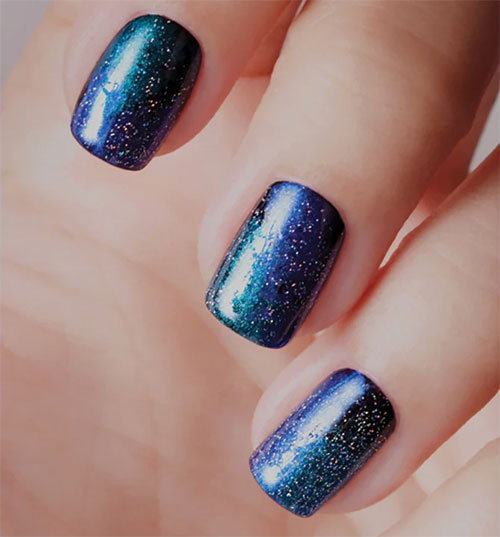 Usually, these are done in a gradient style where the color is darker at the tip. Then these gradually get darker towards the base of the nail.
No 9: Nautical Nails
Another design that uses two colors is nautical nails. You can also do this nail art in ombre style. The tips and bases of the nails are blue, while the rest of the nail is red.
This nail art represents the colors of the flag when combined. 
No 10: Leopard Print Nails
These nails are pretty cool. They let you show off your wild side without being too obvious about it.
Leopard print is quite versatile. So, you can still do it whether you want your nails to have spots. The possibilities are endless. It all depends on the design you're going for.
So, these are the most famous nail arts in 2023.  
Frequently Asked Questions (FAQ)
How Long Should You Wait between Applications If You Have Acrylic Nails?
It's debatable how long you should wait between applications of acrylic. But most specialists recommend a treatment period of three to six months.
What Is the Proper Number of Coats of Nail Polish to Use?
If you want the best manicure, use one base coat. Then two coats of polish, and two precise topcoat applications. The secret to a salon-quality manicure is to apply the polish in three light strokes.
What Happens If You Apply Too Much Nail Polish?
According to doctors, nail painting can sink into your nails. Also, it can dry out the nail's top layers if left on for an extended period. As a result, fungus, yeast, bacteria, mold, and mildew can grow beneath the nail plate. This will potentially cause severe trouble in the future.
It is apparent that your options are endless. But as 2023 is dominated with these nail arts, you can give them a go!
Good luck!
Latest posts by Katharyn Riedel
(see all)