Hair plays a big part when it comes to looking beautiful. Thus, if your hair color changes suddenly, it's quite worrying. However, it's best to know the reasons. Because that's how you can treat the problem as soon as possible. 
So, it's important to question yourself- why is my hair turning red?
Firstly, the redness can appear naturally. For example, staying in the sunlight too much, poor diet and lifestyle can cause it. Then the change might start occurring because of genetic reasons. Next, your hair can turn red because of chemicals. For example, hard water, harsh shampoo, chlorine water, etc. 
Now, this is obviously not enough for you. Because you need to be clear about the reasons. Otherwise, you'll face difficulty in solving the issue. That's why we've explained all the reasons along with the solutions. 
Therefore, don't forget to check out our entire piece! 
Is Your Hair Actually Turning Red?
Now, before we get started, we need to confirm one thing. And that's-
Is your hair really turning red?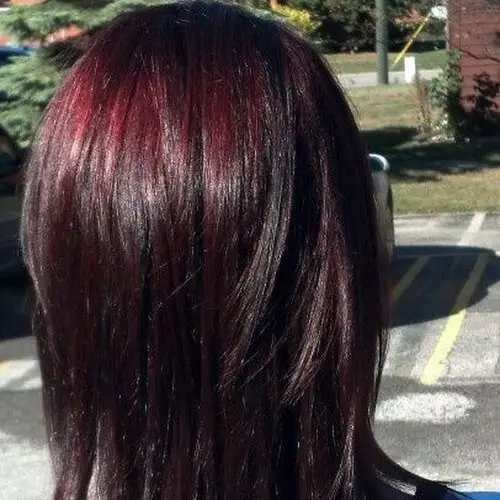 Well, sometimes people with dark hair find their hair turning red when they go under sunlight. So, they ask themselves- why does my hair shine red in the sun? 
Well, it's quite natural if you ask us. Because dark hair, black or brown, has a red base in them. Therefore, if you go under direct sunlight, the light brings out that base. So, you'll see the red color in your hair. 
But this isn't a permanent thing. Thus, you can't say that your hair is actually turning red. 
Now, if this isn't the issue and you're seeing the color even after getting out of light. Then you have every right to be worried. Because your hair is indeed turning red. 
Why Is My Hair Turning Red Naturally? 
Now, your hair color can change because of different reasons. Plus you don't have to worry much if your hair turns red due to natural causes. Anyway, let's go through the reasons-
You're Spending a Lot of Time Under the Sun 
The first most common factor responsible for this issue is daily exposure to sunlight. This reason only applies to dark-colored hair such as brown and black.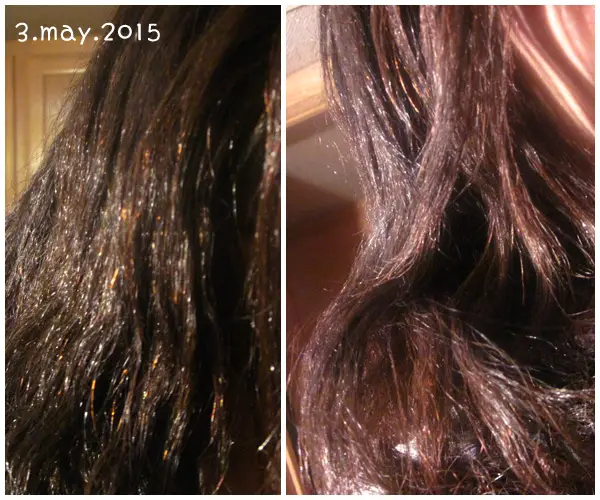 Because brown and black hair has a red base within it. Staying out in the sunlight for too long will make that red more and more obvious. Why? 
Well, the sun bleaches and destroys the melanin in your hair. This causes your dark hair to lighten into red gradually.  
Too much exposure to the sun makes your hair have red streaks. Sometimes you'll notice a red tint in your dark hair. You might even start having darkish rusty red hair color due to this.
Solution
You have to stop spending too much time under the sun. If you're unable to do that, we suggest tying your hair up. Then wearing a cap or scarf to protect it from the sun. 
Lastly, to remove the red tones from your hair, use a toning shampoo. 
Genetic or Hormones Can be a Reason 
Now, our eye and hair color is determined by genes. And if you didn't know, genes can turn off and on throughout a person's life. Therefore, hair color can surely change into another with time.
The gene responsible for changing hair color is the one that makes pigment. It's called melanin. This pigment is also the reason why your skin color changes. 
Nonetheless, let's get back to why the hair pigment genes turn on and off-
Different factors can cause this issue. For example, your hair color can change because of changing hormones. So, there you go! Another reason why your hair is turning red. 
Another factor is having one red-haired person in your family tree. Because of this, you might see your hair turning red slowly. 
Solution
If the red color takes place due to hormones or genes, you can't stop it. You just have to embrace the color. 
However, if you think red doesn't look good on you. Then you can always dye your hair into your previous hair color or even a new color.
Poor Diet and Improper Lifestyle Are Responsible Too
The last reason is poor diet and lifestyle. Your dark hair color can change due to malnutrition. For example, Kwashiorkor can turn your hair red. It takes place due to the deficiency of protein. That's why it's also called protein malnutrition. 
This deficiency occurs in specific countries. For example, in countries where people's diet has high levels of starch and really low levels of protein. These countries are Africa, Lebanon, Italy, India, United Kingdom, etc.
Also, Kwashiorkor means "Red boy" in another African dialect. 
Hence, it's safe to say that the one symptom that stands out the most is red hair. The disease changes the person who is suffering from it to orangish-red. 
Solution
For this disease, you obviously need to go to a doctor. And follow whatever he/she is telling you to.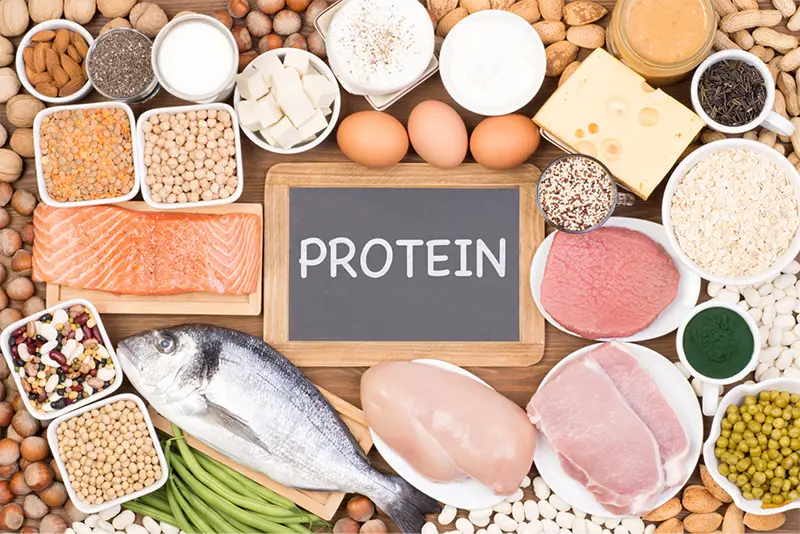 You'll have to eat lots of protein to start getting the red color out of your hair. However, you might want to give the toning shampoos a try too.
Hair Can Turn Red during Pregnancy
"Why is my hair turning red during pregnancy?"- is a really popular concern. 
Well, here we've mentioned the reason. So, when someone is pregnant she needs to take lots of vitamins or minerals. Because a higher intake of these helps her to support her pregnancy. 
The fluctuating mineral or vitamin levels are responsible for changing hair color into red. During pregnancy, most women with lighter hair color go through this change.
Because the hair color darkens during this time. So, if you're blonde and wondering why your hair is turning red. Then this might be it. 
Also, a pregnant woman can have red hair for another reason. And that's- protein and vitamin/mineral deficiency during this time. 
Solution
Now, it's often said that after the pregnancy period, the hair color goes back to normal. Therefore, there's nothing to worry about. 
But you might still end up having red hair. This means the color is actually permanent. So, if you want, you can dye your hair into another color.
Is Your Hair Turning Red Because of Chemicals?
Your hair can become red because of chemicals too. Thus, let's figure out how do chemicals make your hair red-
Washing Your Hair with Hard Water 
Firstly, in some households, hard water might be a big problem. Because using it can seriously cause you damage. Whether it be regarding your health or your hair.
For example, sulfur water can make your hair smell really bad. And if you don't act quickly, it can even cause skin disease. 
Now, hard water has high levels of iron in it. For this, people often see their color-treated hair fading its color. Furthermore, even the natural hair color can change into a different color.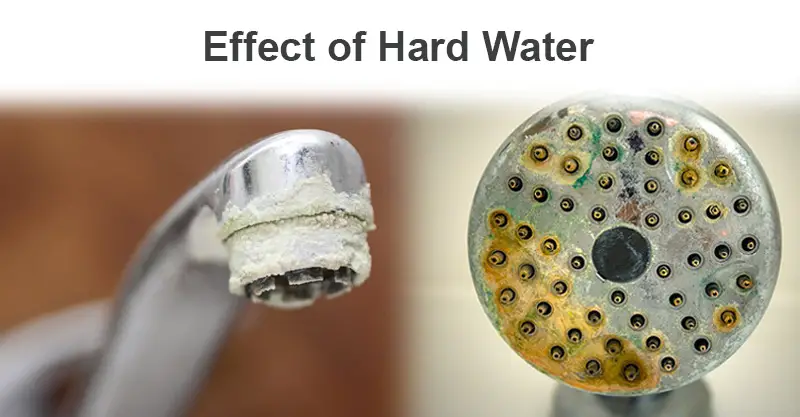 High contents of iron in hard water act as an oxidizer and change hair color. But you'll see different results for different types of hair-
| | |
| --- | --- |
| Natural Hair Color | Changed Hair Color |
| Light blonde hair | Brassy tones |
| Dark hair | Copperish red hues or highlights |
Also, if you don't stop washing your hair in this water, your hair will get lighter. For example, you'll end up with more orange tones. 
Solution
First of all, you have to install a water softener system. This way you'll be able to stop your hair from getting redder. Then apply a toning shampoo to neutralize the red pigments in your hair.
Using Shampoos that Are Harsh on Your Hair
Not all shampoos are great for your hair. Some carry harmful chemicals such as sulfate and other powerful cleansing agents. These elements make your hair dry after every wash. And because of this, your hair color will start getting lighter. 
To be specific-
If you have lightened blonde hair, the underlying pigment yellow will start appearing. For darker hair like light brown to black, the underlying pigments are orange to red. 
So yeah shampoos with harsh chemicals will surely change your hair color. Furthermore, if you don't stop using them, your hair will get seriously damaged. You'll see your hair falling out and breaking. 
Because of these issues, you'll end up with small broken hair strands on your head. And this is definitely not attractive and super hard to tame.
Solution
Now, first, you have to see the ingredients of the shampoo. This way you'll know whether or not there is sulfate present in the shampoo. If yes, you have to stop using it immediately. 
Instead of that shampoo, get a toning shampoo. This will help you tone down the red color gradually and keep your hair soft. 
Dye Color Fading and Exposing Warm Tones
People often dye their hair. But some of them don't know-
When the dye color fades the hair color will change too.
And when the dye color starts fading-
You'll be left with the warmer tones of the dye color. This basically means that your hair color is starting to look lighter than the original one. 
Thus, here's a table discussing the dyed hair color and what hair color you'll end up with later on- 
| | |
| --- | --- |
| Dyed Hair Color  | Fading into Which Hair Color? |
| Brown  | Coppery reddish  |
| Light brown | Orange  |
| Black  | Brown to red |
So, which color is your hair right now? 
Solution
To be honest, you don't have to do much for this. You only need to dye your hair again. But before adding more color, be sure to bleach your hair. 
Bleaching will get rid of the red tones. Your new hair color will be more prominent. 
Swimming in Pools 
Now, swimming very often in pools can damage your hair. Because most pools have chlorine water in them.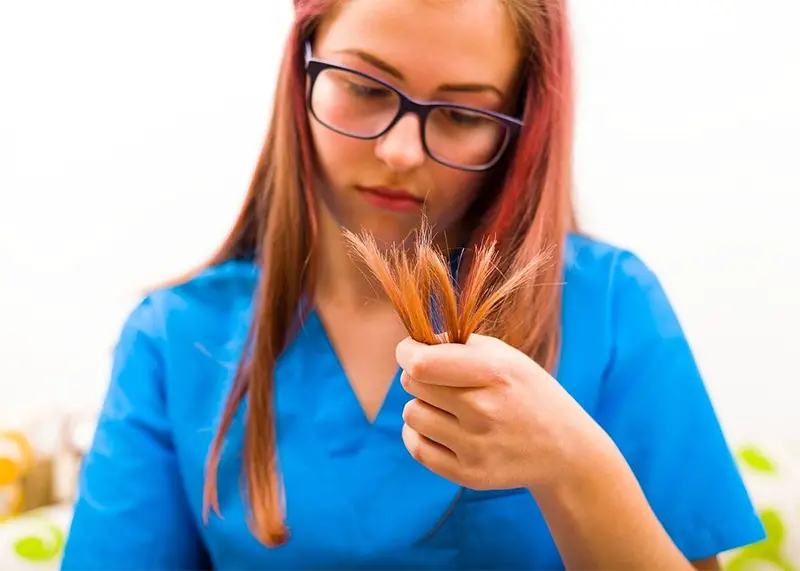 Chlorine is pretty strong when it comes to oxidizing. According to a study, chlorine can change your hair color if there's no UV radiation present. But for this, the pH level of the chlorine water has to be between 5 to 10. 
At the pH level of 5, virgin dark brown hair turns redder. Furthermore, black hair changes to brownish red. 
Moreover, according to the same study-
If the chlorine water is irradiated with sun or UV radiation. Then the hair color changes to lighter tones and the hair gets even more damaged. 
Solution
Firstly, stop swimming in the chlorine-treated pool. Then start using a clarifying shampoo. Or clarify your hair at home by using apple cider vinegar, baking powder.
Also, you can try using a protein treatment if your hair is seriously damaged. We recommend going for either Nexxus emergencee or Aphogee. Just don't forget to deep condition it afterward. 
Then your scalp can be damaged from chlorine water as well. You'll understand this by feeling the scalp. It'll seem severely dry. So, to fix this, try products that are recommended for dry scalp. 
Now, for better results, we suggest talking to a hairstylist. And let him/her give proper advice on this. 
Lastly, the color might be still present even after your hair is healthy. Thus, to solve the issue, try out toning shampoos. 
Why Is My Hair Turning Red When I Bleached It?
While bleaching your own hair, you might encounter your hair turning red. This is pretty common so there's no need to panic. 
Because as we have mentioned your natural hair color has a warmer tone to it. So, if you're bleaching brown to black hair, you'll see it turning red. This happens because of one simple reason. 
The factor behind the red hair is- your warmer pigments or tones aren't lifted yet. Therefore, the result of bleaching your hair is red or orangish-red hair.
Solution
The solution is actually pretty simple. You have to keep on bleaching your hair till you get the right color. However, bleaching your hair too many times can damage the hair. 
Thus, it's best to bleach it properly the first time. So, after applying the bleach to your dark-colored hair, wait for 45 minutes. Then wash your hair quickly. Because otherwise, you'll have to work on repairing your damaged hair from bleaching. 
How to Neutralize Red Tones in Hair? 
 Now, you might be wondering- how to get rid of the redness in hair?
Well, we've got just the right answer for it. And you'll be super pleased with it because it doesn't involve any use of chemicals. 
So, to neutralize the red tones in your hair, you have to use a toning shampoo. This type of product is made to focus on specific times in your hair. They also cleanse your scalp and hair thoroughly. 
Now, which type of toning shampoo should you use? 
Well, it basically depends on the hair color you have right now. Therefore, to make things easier we have discussed 3 hair color types- 
| | |
| --- | --- |
| Color of Your Hair  | Toning Shampoo Type |
| Red tones or pigments in brown to black hair  | Green toning shampoo |
| Orange or brassy undertones in lighter brown hair | Blue toning shampoo  |
| Orange or brassy tones in blond hair | Purple toning shampoo  |
So, now just pick the right toning shampoo. And apply it as it says in the directions to eliminate the red tones. 
Also, to help you one this, we've mentioned some top-notch toning shampoos-
Now, make sure to buy the conditioner along with the shampoos for best results! By washing your hair with toning shampoos, you'll see the different tones disappearing pretty quickly!! 
MATRIX Total Results Dark Envy Color-Depositing Green Shampoo
MATRIX Total Results Brass Off Color Depositing Blue Shampoo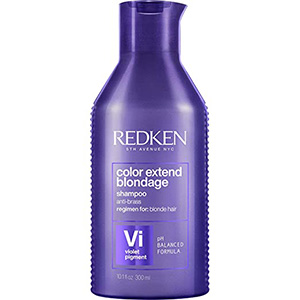 Redken Color Extend Blondage Color Depositing Purple Shampoo 
Frequently Asked Questions (FAQ)
Why is my black hair turning reddish brown? 
Black hair can become brown or reddish due to many reasons. For example, it can happen due to too much sunlight, genes, or malnutrition. Plus pregnant women go through this change oftentimes because of taking too many vitamins. Lastly, chemicals like iron and chlorine are responsible for hair color too.
Why is my natural blonde hair turning red? 
Well, even though the underlying pigment of blond hair is yellow, it can turn red. The reason behind this is a higher intake of minerals and vitamins. Because of this, the blonde hair of a pregnant woman turns red. Also, this change can take place because of genes. But only if at least one person in your family tree has naturally red hair.
Why is my hair changing color itself? 
To be honest, this isn't an uncommon thing. Lots of factors can cause your hair color to change. For example, aging, genetics, sunlight, chemicals or chemical treatment, malnutrition, etc.
Conclusion
Phew! We're finally done giving away all the info on why is my hair turning red. Hopefully, you have got the answer you're looking for. 
By the way, your hair can turn red due to heat styling. So, make sure to repair the damage afterward. 
Now, don't forget to write down your thoughts in our comment box. We're always here to answer them!! Good luck!! 
Latest posts by Katharyn Riedel
(see all)