Yes, Native Shampoo helps your hair and scalp to become healthy. It's made from natural ingredients and has no harsh chemicals in it. For a healthy scalp, you can use their different range of shampoos based on your hair type and problems. 
They are cruelty-free and gives much priority to their user.
So, Is Native Shampoo good for your hair? Let's find out!
Key Takeaways
You might experience dry scalp from using Native Shampoo
Is Native Shampoo Good For Your Hair?
Most people believe that native shampoo is good for hair. It's made with natural products and doesn't have any dyes, sulfates, or parabens. 
This makes it a good choice for people with sensitive scalps or who want to care for their hair in a more natural way. 
Its core ingredient like Sodium cocoyl isethionate is very effective for hair cleansing and safe for hair.
Native shampoo can also clean the hair and head well without removing natural oils. This can help keep hair healthy and stop it from drying out, getting frizzy, or getting damaged. Also, Native shampoo helps hair grow shinier. Most users find Native shampoo useful for their hair.
A user said "This shampoo and conditioner is hands down the best that I have ever used. Lather is amazing so you use far less, no build-up just clean, shiny, moisturized hair!! Sold for life!!!" – Brooke Lewis
Check this video review by a user.
Putting Native Haircare Products to the test
Native Shampoo ingredients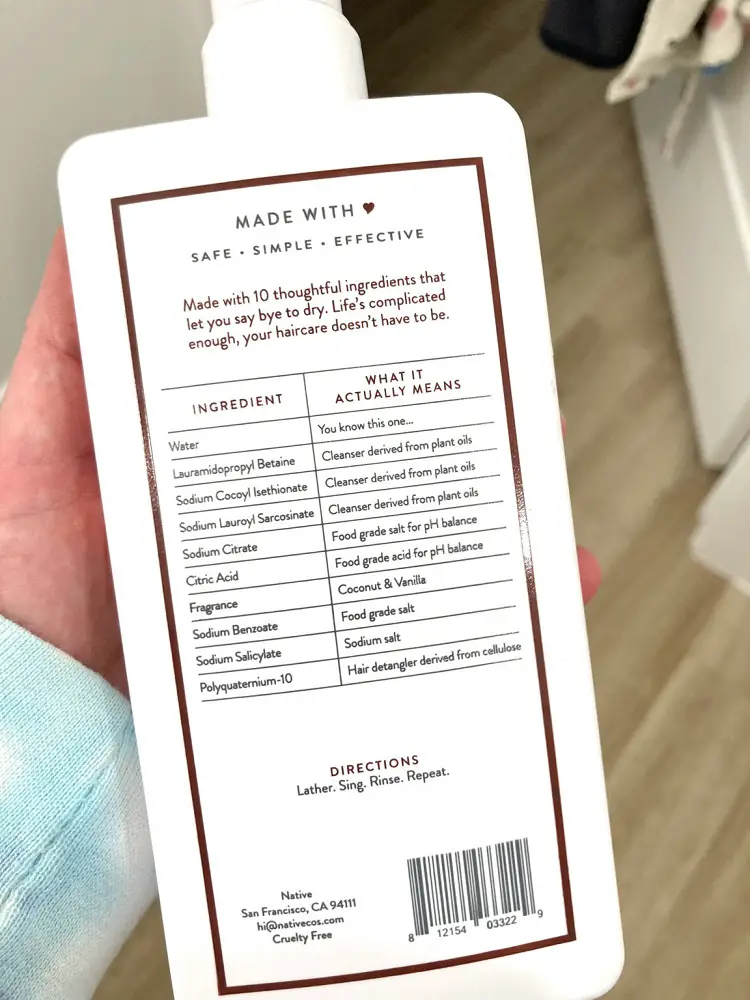 Source: Filtery.com
The 10 carefully selected ingredients in Native Moisturizing Shampoo make dry hair a thing of the past. 
Sulfates, parabens, silicone, and artificial colors are not included in it, making it mild enough for everyday use and gentle enough on all hair types to leave hair feeling fresh, silky, and manageable.
Each of the natural ingredients in Native Shampoo is briefly described below.
Lauramidopropyl Betaine: Lauramidopropyl Betaine is made from coconut oil and is used for cleansing the scalp.
Water: It's a common ingredient in Native shampoos as a solvent for ingredients.
Sodium Cocoyl Isethionate: One more gentle surfactant made from coconut oil.
Sodium Lauroyl Sarcosinate: It's a mild cleaning agent made from coconut and palm kernel oil.
Sodium Benzoate: It's a preservative agent that protects the shampoo from fungi and mold buildup.
Citric Acid:  To balance the pH level of shampoo and preserve it for a long time.
Fragrance: Native shampoo uses natural fragrances that are not harmful to the scalp.
Polyquaternium-10:  A thickener that forms a nice layer on the scalp.
Sodium Citrate: It's a helping agent that removes hard water mineral ions from hair.
Sodium Salicylate: It's another preservative that also works as an exfoliator to remove dead cells from the scalp.
Native shampoo has beneficial Citric acid for hair in its ingredients.
Is Native shampoo sulfate and silicone-free?
Yes, there are no Sulfates or silicones in Native shampoo. 
Natural ingredients are used in the production of native shampoo. Native Shampoo maintains its efficacy despite its sulfate-free formulation. 
In fact, their unique combination of all-natural components does wonders for the hair, leaving it clean and revitalized after each application. Silicone-free shampoos tend to be more portable. After using it, your hair will be fresh and hydrated.
Is Native shampoo safe?
Anyone can use native shampoo without worrying about the safety of their hair. 
Some of the harsher ingredients in shampoo, like sulfates, silicones, and parabens, are absent from this product. 
Native Shampoo is also less prone to cause irritation to the scalp or hair because it's produced from natural substances.
However, it's worth noting that everyone's hair is unique, so one's ideal style may not work at all for another. 
Consult a dermatologist if you have any doubts about using Native Shampoo. 
You can also try the natural ingredients shampoo called Cantu for your hair.
What hair type is Native Shampoo good for?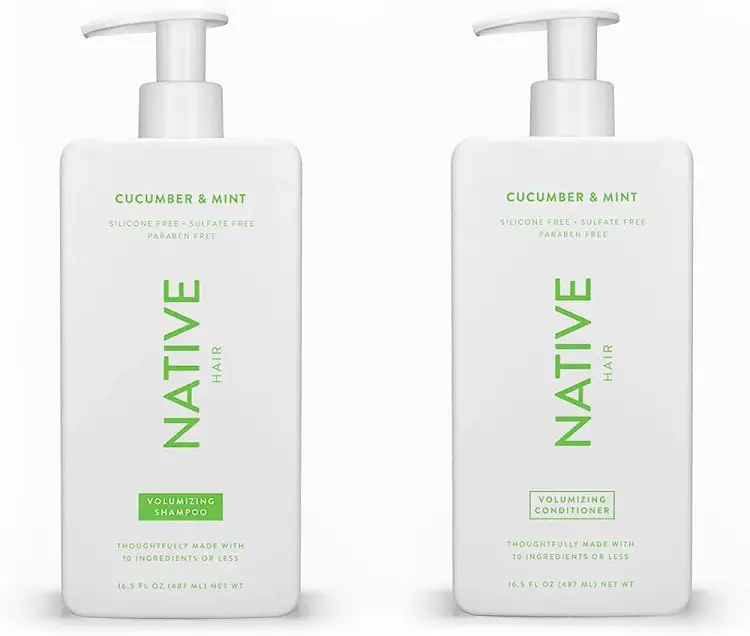 Source: Amazon.com
Is Native shampoo good for oily hair?
Yes, It's good for oily hair.  Native Cucumber & Mint Volumizing shampoo controls your scalp's natural oil production and makes it healthy. 
Due to its sulfate and silicone-free ingredients, the shampoo does not build up any greasiness. 
However, it's worth noting that everyone's hair is unique, so one person's ideal style may not work at all for another. 
Find a shampoo that is formulated for oily hair and will assist to regulate oil production without stripping your hair of its natural oils.
Is Native Shampoo Good for Colored Hair?
Yes, Native shampoo is good for colored hair. 
Because It doesn't include any sulfates, which are known to remove hair color, and it has chemicals that may help prevent color from fading. The natural ingredients of the shampoo are gentle on the scalp. 
Does Native Shampoo Help with Dandruff?
Native Daily Clean Shampoo with Citrus and Herbal Musk is good for preventing dandruff problems. 
This shampoo is free from sulfate, as sulfate  can strip away the scalp's natural oils and cause dandruff. Also, it prevents scalp irritation as it does not contain parabens and silicones, which makes the scalp greasy and make dandruff worse. Finally citrus is the main natural ingredient that gives the scalp a balanced pH and refreshes the scalp.
Benefits of Native Shampoo
The ingredients in Native Shampoo come from natural sources, so you can feel good about using it. 
Some of the harsher ingredients in shampoo, like sulfates, silicones, and parabens, are absent from this product. 
Here are some benefits of using Native Shampoo
It is gentle on scalp: The hair and scalp are protected. There are no harmful chemicals like sulfates or parabens in native shampoo, so your hair and scalp will be left unharmed. Those with dry, damaged, or chemically-treated hair will benefit from using it.
Made from all-natural materials: The plant-based components used in Native Shampoo are kind to both the hair and the scalp. Hair can benefit from these components since they help nourish and protect it, making it feel healthy, soft, and smooth.
It's completely vegan and cruelty-free: Vegan and cruelty-free, Native Shampoo is produced without the use of any animal byproducts. Because of this, it's a great option for anyone seeking a vegan and cruelty-free shampoo.
Native shampoo side effects
Although Native Shampoo is made from natural ingredients, it's safe for most people. 
However, it's important to note that everyone's hair and scalp are different, so what works for one person may not work for another. 
While there are many benefits to using these products, it's important to note the potential risks and side effects.
Here are some potential side effects using Native Shampoo
Dryness: Native Shampoo doesn't have sulfates, which can make hair dry. 
If your hair is already dry, Native Shampoo could make it feel even drier. If you want shampoo with sulfates you can try Loreal shampoo for your hair.
Irritation: The essential oils in Native Shampoo can irritate the scalps of some people. If your skin is sensitive, you might find that Native Shampoo makes it worse.
Allergic reactions: Native Shampoo is made from natural ingredients, but some people may be allergic to one or more of these chemicals. Stop using Native Shampoo right away and see a doctor if you have any kind of allergic reaction after using it.
Does Native shampoo cause hair loss?
There is no solid proof that Native Shampoo makes people lose their hair. 
In fact, Native Shampoo is made with natural chemicals that are kind to the hair and scalp. It also doesn't have any strong chemicals that can hurt hair and make you lose hair.
But it's important to remember that everyone's hair and skin are different, so what works for one person might not work for another. 
If you notice hair fall after using Native Shampoo, you should see a doctor to make sure there aren't any other health problems going on.
Native shampoo lawsuit
There is a lawsuit going on for Native shampoo. 
ClassAction.org's lawyers are looking into whether or not a class action lawsuit can be made against Native for possibly false advertising. 
Frequently Asked Questions
Can I use Native shampoo every day?
Native shampoo is chemical-free, which is good for hair. But it's better to shampoo at least 3–4 times a week. As daily shampoo usage might cause the overproduction of sebum.
How do I choose the right native shampoo for my hair type?
You can choose the right shampoo based on the ingredients that can solve your hair problem.
For example: For oily hair, you can try Native Cucumber & Mint Volumizing Shampoo, Which can control oil production from your scalp.
Is native shampoo cruelty-free?
Yes, it's cruelty-free. Native doesn't test its ingredients on animals. Not even by a third party. But they are not certified yet.
Wrapping Up
Is Native Shampoo good for your hair? I believe we did a good job explaining it. 
It's a cruelty-free shampoo. The natural ingredients in the shampoo make it comfortable for your scalp. You don't need to worry about harsh chemicals. 
All you need is to choose the right type of shampoo for your hair problem.
Latest posts by Katharyn Riedel
(see all)