Are you thinking of pursuing your dream of styling nails? Then you have to think no further. Now you can achieve anything easily with the help of the internet. You can even master the art of nail care online from your home.
We all are bound in our homes because of the pandemic. So why not take this opportunity and become a nail technician?
So, how to become a nail technician without going to school?
There are several options for you to be a nail technician without going to school. Many beauty schools offer online nail care programs. This will help you to get a nail tech certificate. If you want a license, however, there are some boards that take online exams. Besides, apprenticeship and self-learning can also help you learn a lot about nail care.
These are some ways you can become a nail technician without going to school. However, there are some things to keep in mind about this new journey. Read along to find out.
Let's dive in-
Do You Need A License/Certification For Becoming A Nail Technician?
Yes, of course, you need a license or certificate to become a professional nail technician. Without a certificate, you might not be able to practice your skills in a salon or elsewhere.
In case you're someone suffering from nail file phobia, let's stop you right there. This isn't the career path for you. Unless you can overcome your fear.
To become a professional in the field, you need to have a license. You might get a certificate for your training, but that still does not allow you to practice. That's why you'll have to apply for one. They'll conduct a licensure exam which you'll have to pass. You can practice once you get the license and the certificate.
There are some requirements for applying for the certificate and the license. So let us take a look at the requirements for becoming a nail technician-
As the first step, you need to complete your nail technician certification. You can do that from any cosmetology school or simply complete a nail tech program. 
In some states, you don't even need to be a high school graduate for applying to these programs. Anyone above 16 years will be able to apply for nail tech certification. The certification is considered as the high school equivalent diploma.
After the certification, you need to apply for licensure. And for that, a certain amount of training hours should be completed. These requirements differ among different states. These requirements are set by the state board of cosmetology or health.
 They govern the whole process of licensure. So before applying you might have to check the state licensure requirements.
The training hour varies by the state you live in. And they can be anywhere between 200-750 working hours. The required training hour may get updated so you'll need to keep an eye out. Here's a list of the training hours required for the license exam-
| | |
| --- | --- |
| State | Required Training Hours |
| Maine | 200 hours |
| Ohio | 200 hours |
| New York | 250 hours |
| Hawaii | 350 hours |
| Illinois | 350 hours |
| Michigan | 400 hours |
| Arizona | 600 hours |
| Tennessee | 600 hours |
| Alabama | 750 hours |
These are some of the requirements of the state for the licensure exam. So for most states, you've to complete working hours for attending the exam. 
If you want the license, however, you need to pass the exam. The exam is conducted in two segments: written and practical.
The written segment covers topics such as health and safety, nail technology, and nail care. One may be expected to administer a manicure, apply vinylux or gel, and perform other treatments during the practical. Passing this exam will get you the license for practicing nail therapy.
Once you get the license, you'll be able to practice your skills professionally. 
In some states, it's illegal to perform nail treatment without a license. But if you want to only learn the technical aspects of nail care for yourself, there are no issues to worry about. You don't need a certificate or a license to do your own nails at home.
One thing you should know, your license needs to be renewed after every two years or so. For renewing your license, you need to take up continuing education classes. Along with that, you need to pay a little fine.
Speaking of renewal, a nail technician can also continue studying after receiving the license. They can take their careers to the next level by going on to become cosmetologists or estheticians.
Can You Get Your Nail Tech License Without Going To School?
Yes, you can! You can get a nail technician license without going to school! How? Well, thank the internet. There are many ways to become a professional nail technician online!
Many renowned cosmetology schools offer online courses. Through which you'll be able to learn and gain experience. Due to the pandemic, many people are pursuing their careers online. So, you can enroll yourself in one of these courses and earn your certificate.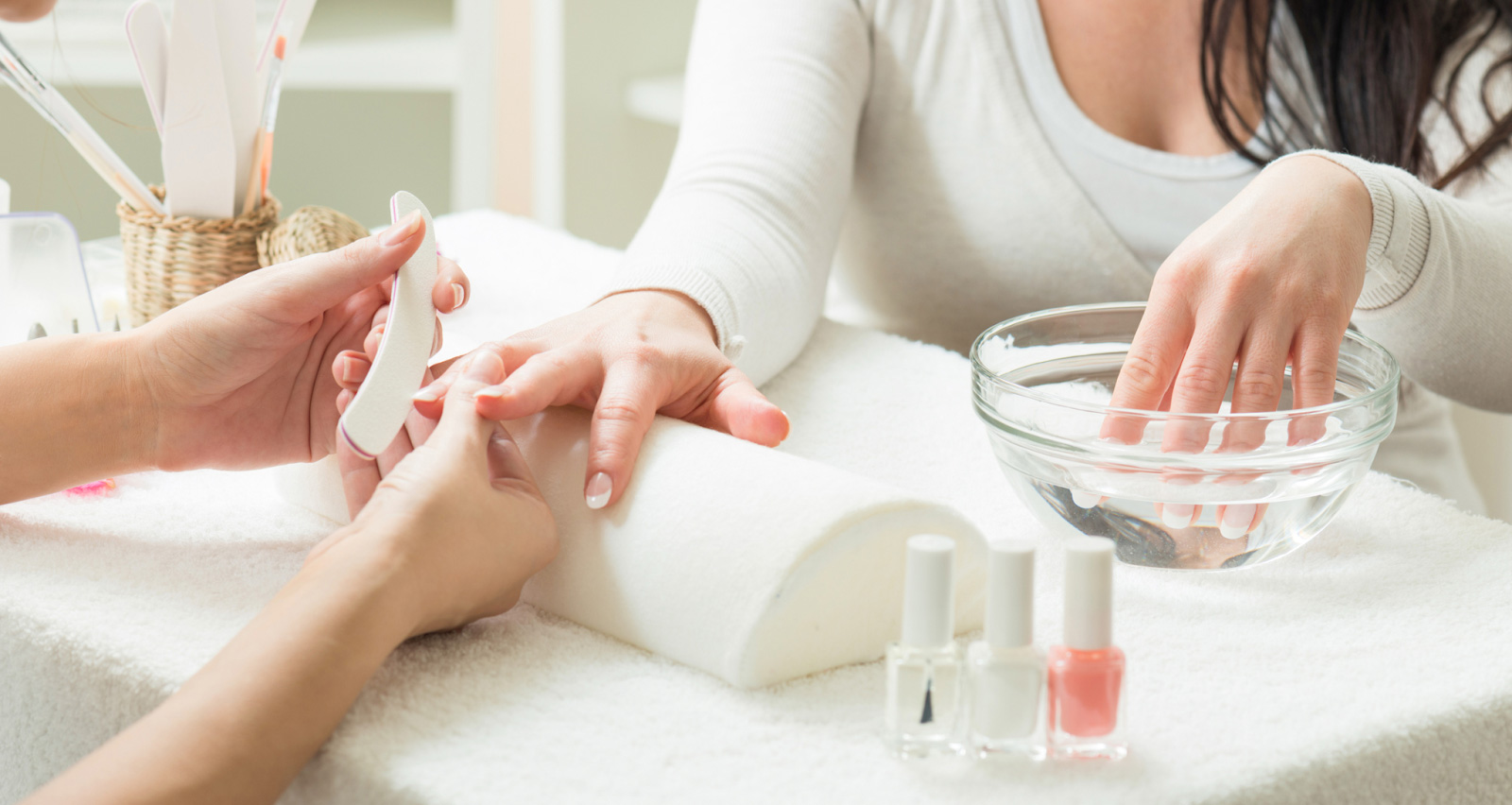 However, before enrolling in the course, check the validity of the institution/organization offering them.
Now, let us know the methods of being a nail tech without going to school-
How To Get A Nail Tech License Without Going To School?
With the internet on our hands, there are a million ways to achieve our goals. Now you can achieve almost anything from the internet. Even being a professional and certified nail technician. Becoming a nail technician at home is easier than ever. 
With the Covid pandemic going on, we have enough time and opportunities on our hands. We can utilize this time and get a license. Right at home!
Here are some of the ways you can become a nail technician by not going to school-
Online Courses
Like we mentioned before, many schools are now offering their nail technician courses online. This is the best opportunity for a nail art enthusiast. You will get knowledge and experience from renowned colleges right from the comfort of your home.
Besides schools, there are some other organizations that are offering good courses online. Are there any better ways to get the certificate you always wished for? You need to simply enroll yourself in one of the courses. But before you do that make sure you check the organization and its authenticity.
Just like any cosmetology course, you might need 4 months or a whole college term to complete an online course. However, some full-year or 8-months courses are also available. 
But you'll be learning a lot in the process. Here are some of the topics you'll learn in your online course-
Hygiene
Anatomy
Chemistry
Histology of Hands and Nails
Artificial Nails
Customer Relations
After you learn all these you'll be presented with a certificate.
Nail Technician Online License Exam
Due to the global pandemic, all the schools are forced to take their academics online. Not only that, the students are now attending the exams online.
Similarly, you have the option to attend the licensure exam online. At least, the written part. The practical part can be demonstrated online or in the exam center. However, the exam regulations vary from state to state so you'll need to figure that out beforehand.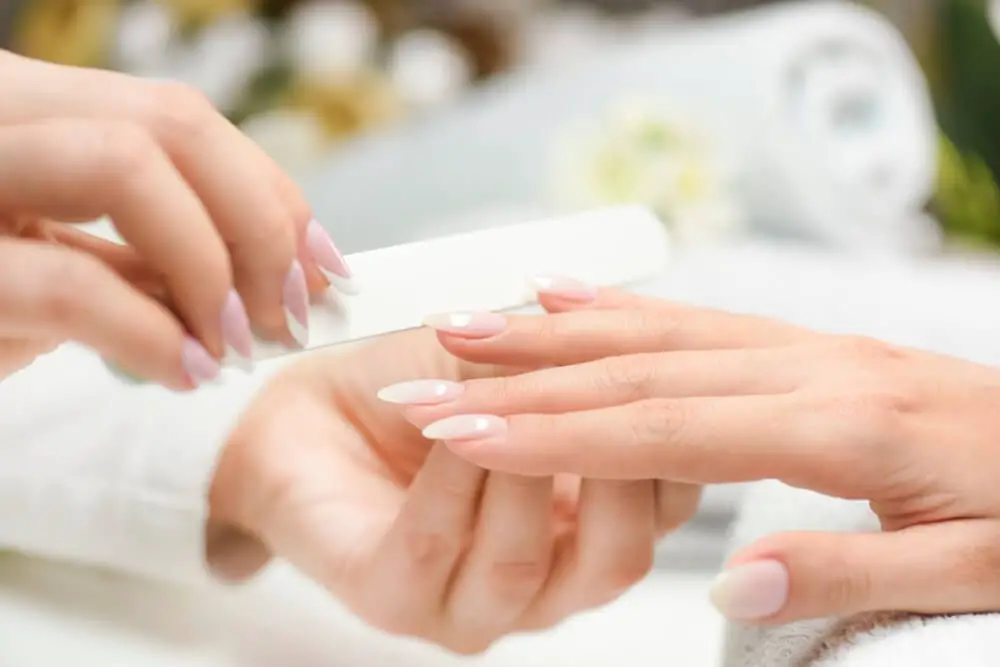 Really, becoming a nail technician couldn't be any easier!
Apprenticeship
Another way to get a license as a nail technician is to become an apprenticeship student of any university. In this case, you train yourself under a supervisor who would report back to the board. This process also requires a training period that varies from state to state. The training period could be somewhere between 600-1200 hours. 
An apprentice needs to do a lot of hard work. All your daily, monthly, and an accumulated total of earned apprentice hours will be reported by your supervisor. After the designated hours are fulfilled, the board will analyze your total report. You'll get approval for your written licensure exam.
Self-learning
If you don't want a certificate or a license, this method will be useful. You might only want to learn about nail care. There are many alternatives paths you could choose apart from being a nail tech. 
So how should you proceed?
That's right, learn it yourself. There are endless resources about nail art and nail care online. You can even watch tutorials on youtube and practice them at home. 
You can also enroll in one of the online courses and learn about nail treatments in detail. Or take help from any professional that you know. That way you'll learn about nail art and care right from your home!
After all that studying, you can practice on yourself and your friends. For that, we suggest getting some beginner tools to help you on your journey.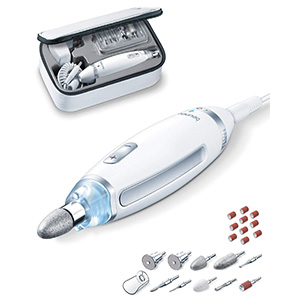 Beurer 24-piece Professional Manicure & Pedicure Nail Drill Kit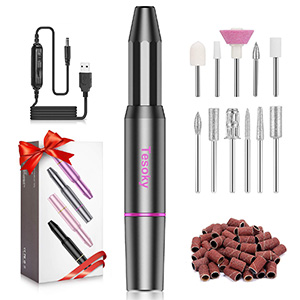 Tesoky Upgraded Electric Nail Drill Bits Set
Get your tools now and you can soon start working. There's no stopping you from becoming a nail technician without going to school.
What If You Fail To Get A License?
We don't mean to scare you! As 50% of the students fail the written exam, we just wanted to help you out. What happens when you fail the exam? Is it the end?
No, it's not the end. You can always apply again for the licensure exam. There is no limit, you can take as many tests as you want. As long as you attend the written and practical exam in the same year. And give it your best shot.
Frequently Asked Questions (FAQ)
Is doing nails at home illegal?
Of course it's not. There is no law that states doing nails at home would require any qualification or certification. So you can easily do your nails without any worrying. However, if you want to practice nail care then you need a license.
Can you be a self-taught nail technician?
Yes you can. There are many options for you to become a self-taught nail technician. You can follow video tutorials and study nail treatment online. And practice your skills whenever you have time.
What does a beginner nail tech need?
There are a few nail technician starter options. You can include nail file kits, cuticle exfoliators, reusable nail forms, diamond nail files, a sable brush, towelettes, toe separators, cuticle oil, etc.
Signing Off
Now you know how to become a nail technician without going to school. So what are you waiting for? Go, fulfill your dream and become the best nail technician you can be.
Let us know in the comments if our suggestions were helpful for you.
Good luck on your new journey! 
Latest posts by Katharyn Riedel
(see all)