Most of us have been planning our wedding day since we were kids. It's our dream to look the prettiest on our wedding day with a pretty hairdo. So what are your plans for it? 
Most people want to rush to the nearest parlor and treat their hair with harmful chemicals. But the best way to make your hair nourished is to try out home remedies. Make time for your hair and it'll be worth it, we promise. 
Here we suggested a few things you can try at home. Try these and you'll thank yourself. So, read along- 
How To Take Care Of Your Hair Before Wedding?
Stressed or not, at the end of the day, we should all take care of our hair. But the wedding day will require a lot more care than usual. Especially if you're not used to doing any hair care routine. 
Let's show you some proper ways for you to take care of your hair- 
Set The Timeline 
Know when your big day is? Good for you. Because you need to prepare things weeks before the day. 
You'll need to invest time every week on your hair until your big day arrives.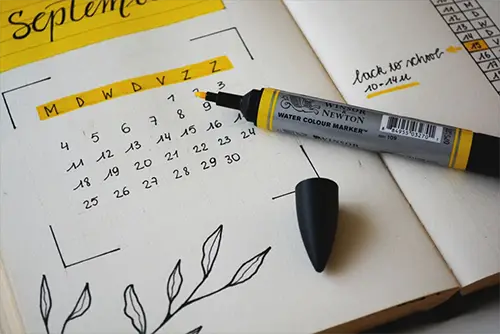 Hydrate Yourself 
Drinking water is not only good for the skin. It also does miracles for your hair. When you drink water, it moisturizes your hair follicles. 
Thus stimulating hair growth. So, drink at least 8 cups of water a day. 
Eat Healthily
Eating healthy is important for your hair. Lack of protein, vitamins, and minerals can damage the health of your hair. Dull hair is a sign that you lack vitamin B.  
So, add beans, eggs, fatty fish, sweet potatoes, and nuts to your diet. Because these foods will supply you with sufficient nutrients like omega 3 acids and vitamin B. 
If you can't stand the smell of fish, you can get fatty acid omega 3 supplements. You have to start eating these foods weeks in advance to get a good result.
Trim Your Hair
Of course, you will not trim your hair on your wedding day, in a rush. So, days before your wedding day, trim the split ends. 
We highly suggest not to get a new experimental haircut before your wedding day. By any chance, if it doesn't fit your style, you'll regret it. 
So, stick to trimming your split ends with the help of your hairdresser. 
Avoid Heat On Your Hair
Heat ruins your hair. If you don't get headaches from air drying, please go for it after showers. Try not to style your hair using heat, weeks before your wedding day. 
Also if you can, avoid wrapping your hair in a towel. It breaks your tresses. 
Dyeing Your Hair 
We will highly recommend you not to dye your hair. Because the bleach dries your hair and ruins it. Not everyone can properly take care of bleached hair. If you still go for dyeing your hair, get an expert to do it. 
Make sure to buy good bleach and good color from a renowned brand. If you want a reddish or brownish tint to your hair, go for henna treatment instead. Dyeing your hair without bleach works too. If you dye your hair, switch to purple shampoo. And try to shampoo less. Otherwise, it'll fade your hair color.
Deep Conditioning Your Hair
Nothing can be the alternative to hot oil massage on the scalp. Hot oil massage helps regulate blood and moisturize your hair. It nourishes your hair. It's also a great way to relieve stress. 
Hot oil treatment thrice a week is a must. You can apply a mixture of coconut oil, castor oil, and argan oil for this. 
DIY Hair Mask 
You can make DIY hair masks at home using various ingredients. These ingredients are available at any store. Hair masks are super easy to prepare. But make sure you apply the mask according to the condition of your hair. 
If you have dandruff, make a mask using lemon and onion juice. To get rid of itchiness and dryness, make a hair mask using bananas and milk. 
For nourishing hair, add egg to your hair mask. Eggs are rich in vitamin B. Want bouncy hair?  Then wash your hair with beer. Beers contain yeast and vitamin B which is good for your hair. 
Are you a victim of the hair fall problem? Wash your hair with rice water. If you want to reduce hair thinning, add green tea to your hair mask. 
Aloe Vera is good for skin and hair too. It gives you frizz-free hair.
As wedding bells are ringing, it's hard to stay relaxed. But try to be stress-free. Stress can cause hair fall as well. 
I hope we could help you with measures you can take at home. 
Let us know in the comments if our suggestions helped your hair on your big day! 
Latest posts by Katharyn Riedel
(see all)