According to customer reviews (and science), Amika is good for your hair. Amika's range of naturally sourced ingredients potentially caters to diverse hair needs, ensuring an inclusive approach to haircare. This makes Amika products everyone's favorite and go-to brand. Many trust Amika for the best hair care experience that's both effective and enjoyable. 
Still thinking if Amika is good for your hair? This article is for you.
Key Takeaways
In this article:
Why is Amika Good for Your Hair?
Amika hair products prove beneficial, delivering noteworthy results. With a blend of nourishing ingredients, they promote healthy hair, enhance texture, and offer versatility in style. 
Users find that the products reduce frizz, bolster shine, and protect against heat damage. However, individual experiences may vary with certain factors like hair types, routines, current state of hair, etc.  Overall, Amika stands as a promising choice for those seeking improved hair quality and styling options.
Is Amika Good for Damaged Hair?
Yes, Amika covers all the solutions for treating damaged hair, so Amika is good for damaged hair. Our hair bears so much from everyday heat, environmental stressors, chemical treatments, and more. 
Naturally, severely damaged hair requires extended hair care routines and products. To get rid of dull and frizzy hair, Amika's repair line is packed with a diverse range of damage-treating products- suited for every hair type. 
Amika Kure Collection for Damaged Hair: Features and Benefits 
Kure products contain plant butter and vegan proteins that strengthen and treat damaged hair. If used the right way, results are usually visible within a few washes. 
Key Ingredients that make the Kure great: 
Mango butter: Effective scalp conditioner which reduces hair breakage, contains vitamins A, C+E
Shea butter: Reduces dry scalp and treats potential scalp damage
Borage oil: Soothes the scalp and prevents hair loss
Vegan proteins: A natural source of protein that can strengthen hair strands.  
Although these ingredients are safe to use for every hair type, it's good to use them in appropriate amounts. Consult a specialist if any unpleasant reactions occur. 
How Can You Add Amika Kure Collection to Your Routine?
The Kure shampoo brings dry and damaged hair from its breaking point to strong, elastic hair with consistent usage. 
The Kure Bond Repair Conditioner
Just as the name suggests, this conditioner makes the hair strands bond stronger by intense hydrating. Repair and strengthen damaged strands to counteract everyday stressors, heat, and chemical treatments. 
The Kure Intense bond repair mask 
If you have thick and coarse hair, it must be very exhausting to deal with all those frizz. Amika's Kure hair mask is specially made for those, and it treats the breakage of hair quite effectively. 
Is Amika Good for Coloured Hair
Haircare is always double trouble for those with dyed hair.  And the fear of losing color with every wash is constant. Users love Amika's hair color protectant products for they save hair color without making several trips to the salon. 
Amika's Vault color-lock shampoo + conditioner is a color-preserving duo filled with UV filters and antioxidants to help maintain color. 
Key Ingredients include:
Soybean Oil: This antioxidant protects against color fading and keeps color vibrant for longer
Amino Acid Blend: Boosts hair elasticity 
Betaine: Retains moisture
Amika Hair Masks for the Shine
According to NCBI, cuticles are the most vulnerable part of the hair. It is the shield of your hair that protects the hair from any damage. After every wash, attending to those cuticles is necessary. 
To help seal the cuticle, Amika has flash instant shine mask that delivers brilliant moisture and shine in just 60 seconds. It instantly seals the cuticle while softening and hydrating the hair for a silky, smooth finish. 
Key Ingredients that are food for your hair:
Flaxseed: Softens the hair and adds shine
Amino Acid: Smoothens the hair cuticle and boosts hair elasticity
However, another essential element, citric acid, is good for your hair. Citric acid is known to hold in moisture and reflects light so the hair looks healthy and shiny. If you are looking for products containing citric acid, Dove is a good shampoo.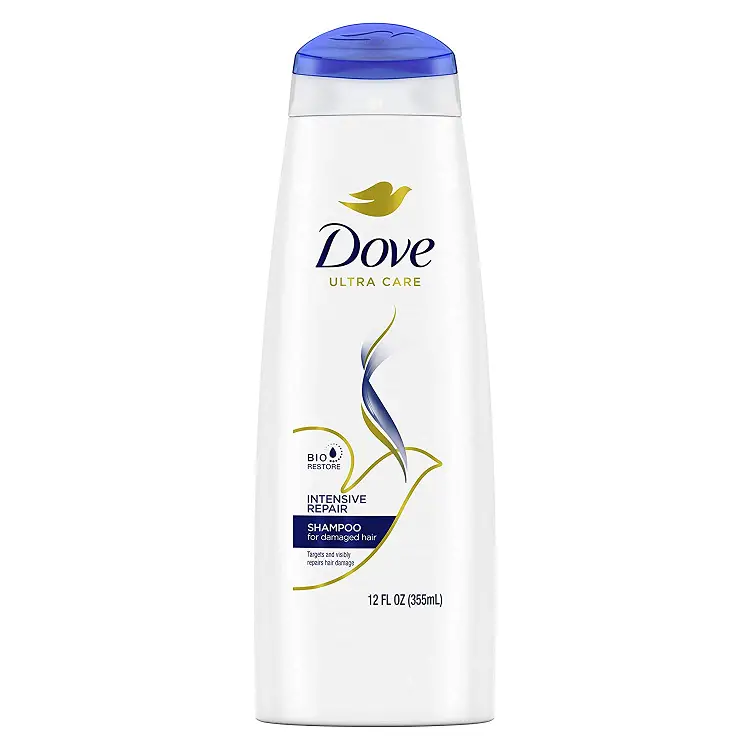 Source: Dove
Is Amika Dry Shampoo Good for Hair
Of course, you don't want to wash your hair every day. Dry shampoos are a crucial part of your haircare regime if you want a clean scalp.  
The Amika Perk Up Dry Shampoo
This talc-free dry shampoo brings your hair back to life as it absorbs oil, reduces odor, and gives hair a freshly washed look. And it does it without a trace of white residue, all while restoring 'oomph'. To learn how to add Perk up dry shampoo to your routine, watch this  how to use no residue dry shampoo | perk up dry shampoo | amika
Is Amika Good for Hair Styling
If you are looking to channel your inner hairstylist, or try out different hair looks, Amika's news styling product is a must-try, and here's why. 
Amika On Lock High Hold Hair Wax
With this brilliant hair wax, you can easily work through your hair while keeping your style in place.  
Infused with shea butter, this high-hold wax leaves hair with a natural look and feel.
Whatever your hairstyle, whether it's short, braided, sleek, or up-do, this wax makes life easier. 
Source: Amika Canada
How Can You Add Amika Hair Wax for Styling
Warm-up and emulsify a dime-sized amount of wax in your palm to create piecey waves. Work through hair using your fingers for more defined waves. ​
For a sleek pony, apply a dime-sized amount of wax onto the hairline and comb through with a dense brush to slick it back. Secure with an elastic, then use any excess wax to tame flyaways. Create clean partings by running the wax along the part​. 
Add texture to natural waves. Apply wax to damp hair, braid it loosely, and let it air dry or diffuse
Are you new to using wax for hair styling? Watch this video.how to achieve a long-lasting hairstyle | amika on lock high hold wax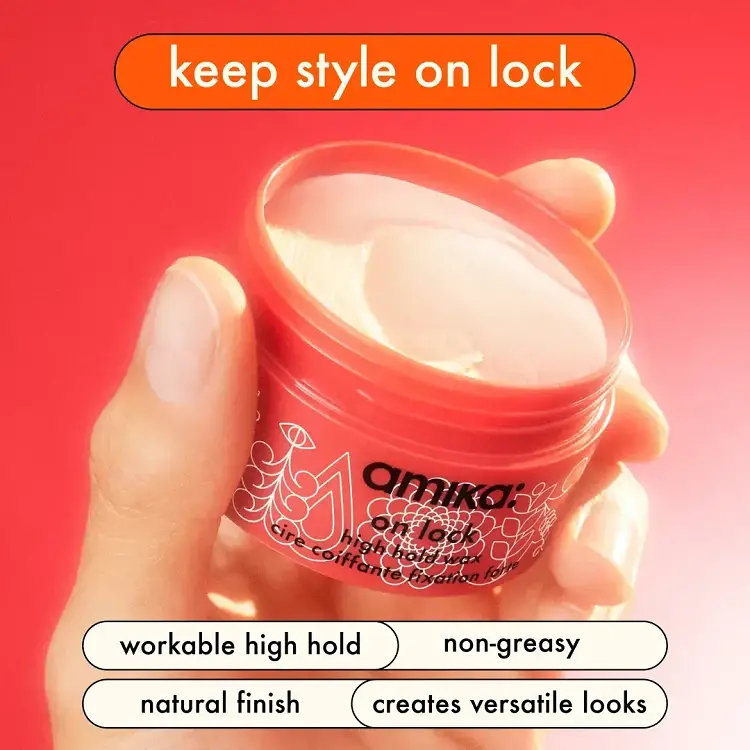 Source: Love Amika
Side-Effects of Amika Products
Shea Butter Might Weigh down Your Hair
A lot of Amika hair products contain natural oil carriers. For example- shea butter, and mango butter. While natural oils and shea moisture are good for hair, in some cases, they pose disadvantages too. Its thick consistency can weigh down fine or low-porosity hair. 
Among the notable products of Amika, the kure intense bond repair mask and the Kure bond repair shampoo contains shea butter.
Fragrances in Shampoo Might Cause Allergic Reactions
Certain fragrances on shampoos might actually trigger allergic reactions or scalp irritation. Try switching to fragrance-free shampoos to prevent such incidents. 
Choosing the Right Amika Product
Amika product lineup is saturated with specialized products for all hair kinds, from thick to thin, sleek to messy. Browse this bestselling selection to find the product that is tailored to your needs.
Source: Amika
Frequently Asked Questions
Is Amika a Professional Brand?
Sephora recognizes Amika as the fifth professional hair brand, making it every stylist's trusted brand. Amika has covered the start to finish hair care journey for users in fun and promising ways. 
Is Amika Paraben free?
Amika products are free from sulfates, parabens, and aluminum starch, which are harmful to the hair. This makes it very attractive to its users.
Is Amika cruelty-free?
Amika is cruelty-free and vegan. As a brand, it works towards being sustainable and planet-friendly while creating top-quality, leaping-bunny-certified hair products without compromise.
Last Remarks
If you are looking for affordable-luxury hair care, as well as products for daily use, Amika is worth trying. Amika has succeeded in gaining the trust of many while making haircare fun and easy for users. So Amika haircare products are a must-try. And life is too short to not try new products anyways.
Latest posts by Katharyn Riedel
(see all)