Yes, Shea Moisture is good for curly hair. Shea Moisture is a well-known brand with a dedicated separate line of products for curly hair. 
If you are having trouble with taming your curls, Shea Moisture can be your solution because:
It moisturizes your hair and adds shine to it.
It defines your curls.
It improves your scalp health.
It controls your frizzy hair.
It strengthens hair and promotes hair growth. 
Source: Have Yourself a Time 
Still confused about whether Shea moisture is good for your curly hair? Follow this article to learn more about Shea Moisture. 
Key Takeaways 
5 benefits of using Shea Moisture for curly hair.
Key ingredients of Shea Moisture 
Best Shea Moisture curly hair products and their key features
The right way to use Shea Moisture products. 
Is Shea Moisture Good for Curly Hair?
Yes, Shea Moisture is good for curly hair. These products help strengthen hair, control frizz, define curls, improve scalp health, and moisturize your hair. Shea Moisture contains natural, organic, and nourishing ingredients that help tame your curls.
Why Is Shea Moisture Good for Curly Hair?
Shea Moisture has become the go-to brand for people with curly hair because of its promising results. Here are 5 reasons why you need to add Shea Moisture to your hair care routine: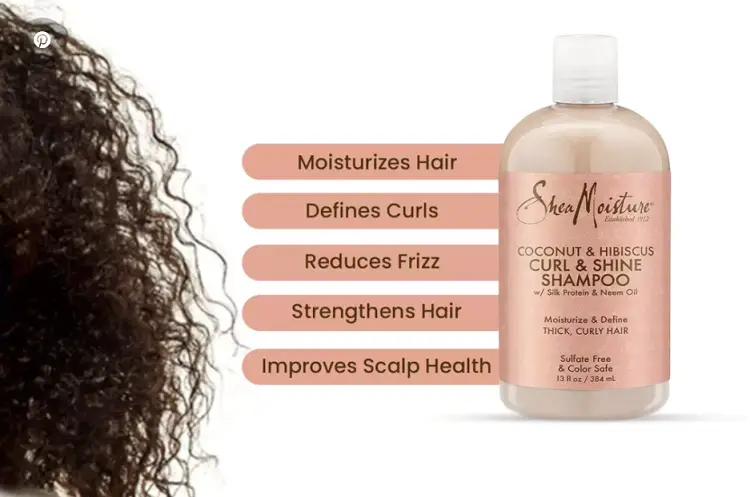 Source: Beauti Classy
Moisturize and Shine
Shea moisture contains moisturizing ingredients that help nourish and hydrate hair. Curly hairs are naturally drier. So, natural oils can easily reach the ends. This leads to frizz and split ends. 
A key ingredient of Shea Moisture is shea butter which is moisturizing. This helps prevent dryness by locking in the moisture. This also helps curly hair look hydrated and shiny. 
Source: Beauty Review NZ
Defines Curls 
Shea Moisture products help define curls by nourishing the hair. Shea Moisture contains coconut oil and hibiscus flower extract that work well with curly, untamed hair. This gives a more defined, clean, and well-put look. 
Coconut & Hibiscus Curl Enhancing Smoothie is a popular Shea Moisture product. These are great for defining curls while reducing frizz.
Improves Scalp Health
Shea Moisture's products contain ingredients like tea tree oil and aloe vera which helps soothe and nourish the scalp. Scalp health is important for hair growth and healthy hair. Shea Moisture helps nourish your scalp and improve your scalp health by reducing scalp irritation and inflammation.
Controls Frizz 
Shea Moisture helps manage and tame your frizz by hydrating and moisturizing your hair. You have a hard time taming your curly hair frizz. Ingredients like shea butter and coconut oil smoothen hair cuticles and thus reduce frizz.
Source: Good Housekeeping
Shea Moisture's Jamaican Black Castor Oil Leave-in Conditioner is a famous product for taming your frizz.
Controlling frizz can be hard. Watch this video to learn how to prevent frizzy hair- How To Prevent Frizzy Hair & Enhance Definition In Curly Hair! (2c/3a curly hair routine)
Strengthens Hair 
Shea Moisture is great for hair damage and strengthening your hair. Curly hairs are often thin and fragile. As a result, it can easily break. Natural ingredients in Shea Moisture help with nourishing and strengthening hair.
Shea Moisture And Its Ingredients 
Shea Moisture is formulated with natural ingredients and is devoid of damaging chemicals like parabens, alcohol, and silicone. Their natural formula is what makes them so popular.
Here are some of the key ingredients of Shea Moisture that are great for curly hair:
Shea Butter
Shea butter is good for moisturizing and nourishing your hair. Curly hairs are often dry and frizzy. Shea butter with hydration and increase shininess in your hair. It can help reduce dryness in your hair and scalp. 
Coconut Oil
Coconut oils are a restorative ingredient. It helps you restore hair health and prevent loss of protein from the strands. You can even use coconut oil individually for moisture even though they can be unpleasant to smell. However, you can always make it smell better.
Coconut oils are great for hair growth and controlling hair loss. It helps you lock in moisture as it is a great moisturizing agent. It prevents dryness and makes your hair look soft and shiny.
Hibiscus Flower Extract
Hibiscus flower extracts are good for promoting better hair health by making them voluminous and lustrous. It also helps with frizziness and dryness. Hibiscus flower extract prevents and treats dandruff and other scalp conditions.
Silk Protein
Silk protein helps to hydrate your hair and thus adds shine to it. It also increases and promotes better hair elasticity. As a result, it reduces hair loss. It helps with hair repairing, boosting hair strength, and increasing keratin production.
Neem Oil
Neem oil increases hair growth and reduces hair loss by strengthening the hair follicles. It is a great conditioner for dry hair. Neem oils are great to treat and soothe scalp conditions like dry scalp, dandruff, and itching.
Neem oils have fatty acids which help keep your hair well-nourished, well-hydrated and well-moisturized.
Best Shea Moisture Products for Curly Hair
Shea Moisture is a brand with a wide range of product lines. They have a dedicated product for curly hair. This product line contains more than 50 products. 
Source: Beauti Classy
However, we got their best curly hair products from people's reviews:
| | | | | |
| --- | --- | --- | --- | --- |
| Shea Moisture Curly Hair products | Key Ingredients  | Who should use them? | Key Features  | Cons  |
| Coconut & Hibiscus Curl Enhancing Smoothie | Coconut oilHibiscus flower extract Shea butter | Best for dry hair, curly and kinky hair, or bouncy curls  | Best sellingThick consistencyDefine curlsReduce frizzMoisturize and promote shine Soften and detangle hair  | Unpleasant scent  |
| Coconut & Hibiscus Curl & Shine Shampoo | Coconut oilHibiscus flower extractSilk protein  | For curly thick hair, the Best anti-frizz formula | Cleanse hair Restores moisture and shine Soften and protect hairImproves hair elasticityReduce frizz | Might leave hair greasy |
| Coconut & Hibiscus Curl & Style Milk  | Coconut oil Hibiscus flower extractSilk protein | Best non-greasy formula  | Lustrous and manageable curls Soft, shiny strong and frizz-free hair Colour-safe for highlighted hair  | None  |
| Coconut & Hibiscus Curl & Shine Conditioner | Coconut oilHibiscus flower extract Shea butter | Best lightweight formula | Restores and smooths dry hair cuticlesSoftens and detangles hair Thick moistureGives a smooth, soft, and silky texture  | Might lead to hair loss |
The Right Way of Using Shea Moisture Curly Hair Products for Best Results
Shea Moisture's Curly Hair Products is a go-to brand for curly hair enthusiasts. They offer a wide range of products which makes them the ultimate solution for curly hair problems. 
But what is the right sequence of using their products for great results? Follow the given steps to get the best result;
Wash and clean your hair and scalp thoroughly to remove all the dirt with a sulfate-free shampoo i.e. Shea Moisture Coconut & Hibiscus Curl & Shine Shampoo.
Use a leave-in conditioner. i.e. Coconut & Hibiscus Curl & Shine Conditioner or Jamaican Black Castor Oil Leave-In Conditioner
Use a curl-enhancing product to define your curls and reduce frizz. i.e. Coconut & Hibiscus Curl Enhancing Smoothie.
Use a gel or styling cream to hold your curls, add shine, and style your hair. i.e. Coconut & Hibiscus Curling Gel Souffle. You can use pomades for your curls or eco gel for a clean look.
Tips
Before using the Shea Moisture shampoo, dilute it in a little bit of water. It will help to lather the shampoo better.
Do not wash off the shampoo immediately. Rather keep it on for a few minutes and gently massage your hair.
Frequently Asked Questions
What Are The Cons Of Shea Moisture?
Shea Moisture products are rich in moisturizing ingredients so they can be a heavy weight. it is not recommended for fine, thin hair because it can weigh down your hair. Also, Shea Moisture products are formulated with natural products so they can be expensive. 
How Long Should You Leave Moisture In Your Hair?
You should use it on clean hair once or twice a week and should leave it on for 5 minutes. 
How Often Shea Moisture Should Be Used?
Shea Moisture shampoos can be used every day. However, limit your use of masque and cream products to once or twice a week. 
Closing Words
Shea Moisture controls frizz, defines curls, moisturizes your hair, improves hair health, and strengthens hair. So coming to the question- is Shea Moisture good for curly hair? Yes, it is. So, you can use Shea Moisture to tame your curls. 
Latest posts by Katharyn Riedel
(see all)