Yes, pomade is good for curly hair. In fact, pomades are great for curly hair. Curly hair is dry and frizzy. Therefore, most of the time it is very hard to control. Pomades are a great option because:
It helps to control frizz.
It holds and defines your curl.
It moisturizes hair.
It can be used for styling.
It helps tame your unruly curly hair.
By following this article you discover for yourself- is pomade good for curly hair? 
Source: Fix Your Lead
Key Takeaways
Types of Pomade for Curly Hair 
Pomade is a hair care product which is an ideal option to manage and take care of curly hair. There are 2 basic types of pomade found in the market, water-based pomade and oil-based pomade
Water-based pomade
Water-based pomades are lightweight and offer light hold. They are easily washed out, making them a good choice for people with thin hair. So, for an everyday clean look, you can use water-based pomades. 
Oil-based pomades
Oil-based pomades are thicker in consistency and have more moisturizing ingredients like natural oils, shea butter and glycerin. If you have dry hair and want a shiny finish, oil-based pomades are your best option. They can be a bit greasy and hard to wash off. However, it will look best for a night gala or elegant party look.
However, there are also some other forms of pomades like gel-based and wax-based. 
Gel-based pomades are great options for a shiny look and a sturdy grip. It adds volume and structure to your hair. So, if your hair is fine or thin and hard to manage, gel-based pomades are your best option. You can also opt for eco gel to hold your hair in place.
There are some wax-based pomades in the market. These pomades are good for a matte sheen look and have a firm grip. They work best for thick and untamed hair.
How to Choose the Best Pomade for Curly Hair
There are a lot of pomades in the market. So, it can be tricky to choose the one for your hair. There is also the challenge of styling curly hair for both men and women.
There are other types of hair care products like wax and gel. It depends on your hair type and preference on which product to choose. 
Hair wax provides a strong hold to your hair cuticles and moisturizes your hair. So it is good for taming your frizzy hair give it structure. 
Hair gel has an oily texture. It offers a strong hold so you can use gel for a structured and sleek hairstyle. 
Consider your hair type, texture, suitable ingredients and desired look to choose the best product. Here is a detailed analysis of how to choose the best pomade:
Hair type
Curly hair is mainly 3 basic types- wavy, curly and coiled. Some hairs are thick and coarse and some are fine and thin. Water-based pomades are best for thin hair while oil-based are best for thick hair types. For loose and wavy hair, water-based pomades are better. But for curly and coiled hair, oil-based hair is better.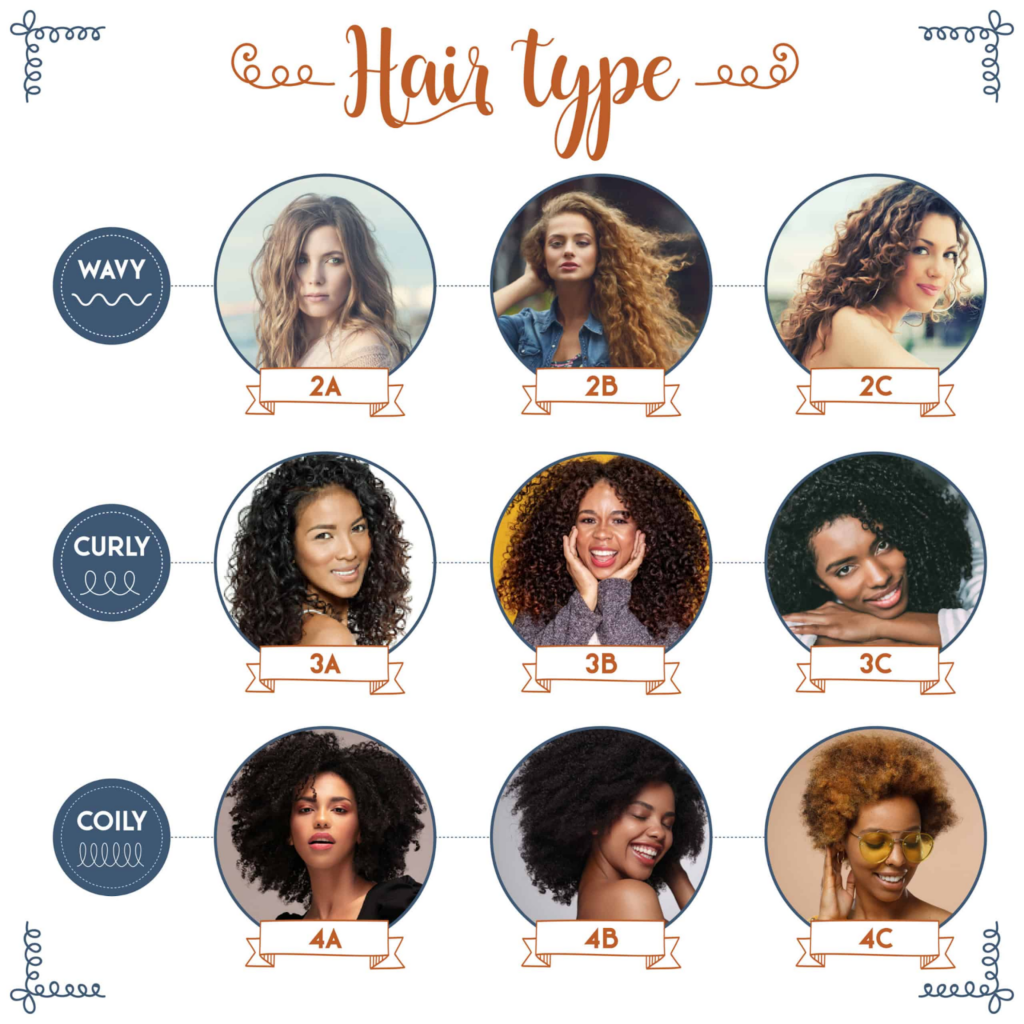 Source: Mestiza Muse
Hold
Pomades with strongholds are better for tightly coiled hair types. However, for wavy and loose hair lightweight pomades are recommended. So, go for a water-based pomade.
Finish 
Water-based pomades and wax-based pomades give a matte finish while oil-based are for a shiny look. 
Moreover, oil-based pomades last longer than water-based ones. Water-based pomades have a thinner consistency so they may dry out in a while. So, oil-based pomades are good for a day-long plan while water-based are good for dinners or brunches.
Ingredients
Pomades with moisturizing ingredients like natural oil, glycerin, and aloe vera are the best choice. They will give your hair a strong hold and nourish your hair to give it definition.
On the other hand, you should avoid pomades with alcohol, mineral oil, petroleum, parabens, or alcohol. These will destroy your hair by removing the hair's natural oil and will cause dryness.
Some of the best pomades are made of organic ingredients. The following table will guide you to choose what type of pomade is good for different types of hair:
Why Pomade is Good for Curly Hair?: 5 reasons 
Pomade is good for curly hair. Taking care of curls can be quite challenging.  Using pomade can help to tame your hair. You can also use pomade in your curly hair to give it a neat finish. 
5 Reasons why you should use pomade for curly hair:
Frizz Control 
Pomade helps tame frizz by providing moisture to the hair.  Curly hair is naturally prone to frizz. As a result, natural oils don't easily travel down the hair shaft. Pomades contain moisturizing ingredients such as shea butter, glycerin, natural oils, aloe vera and beeswax. These moisturize the hair and thus control the frizz.
But, if you have acne and dandruff, it is better to avoid using pomades. That's because natural oils can aggravate the condition more from the build in your hair. You should also avoid pomades with glycerin if you are allergic to it. 
Source: Function of Beauty
Definition and Hold
Pomade gives definition to your hair by making them look more defined and organized. It does this by holding your curls in place and preventing them from frizzing out. This is especially helpful in humid weather, which can make curly hair more difficult to control. Pomade provides medium to strong hold, which will give the shape and definition of your curls. 
Source: SkinKraft
Moisture and Shine 
Pomade is good for moisturizing curly hair. because it contains moisturizing ingredients like natural oils, shea butter, glycerin, aloe vera, and beeswax. These ingredients help hydrate hair and scalp. As a result, makes hair look and feel healthier.
Natural oils, shea butter and glycerin seal in moisture in curly hair. On the other hand, aloe vera and beeswax help to protect the hair from damage and keep it looking healthy. 
Source: Stylecraze
Versatility 
Pomade can be used for a variety of hairstyles including slicked-back looks, pompadours, and loose, natural curls. It offers flexibility in styling without making the hair feel stiff or crunchy. You can use pomades on both wet and dry hair. Both men and women can use pomades for hair care styling.
Manageability 
Pomade helps manage curly hair by hydrating and holding it in place. Curly hair can be hard to manage and style given its frizziness so sometimes it's challenging. Pomade makes it easier because it hydrates the scalp and smooths down cuticles thus managing frizziness. It also reduces the chance of getting hair tangled.
How to Use Pomade for a Great Look?
Pomades are a great hair care product for managing your curly hair. Not only that, they are also great for styling for both men and women.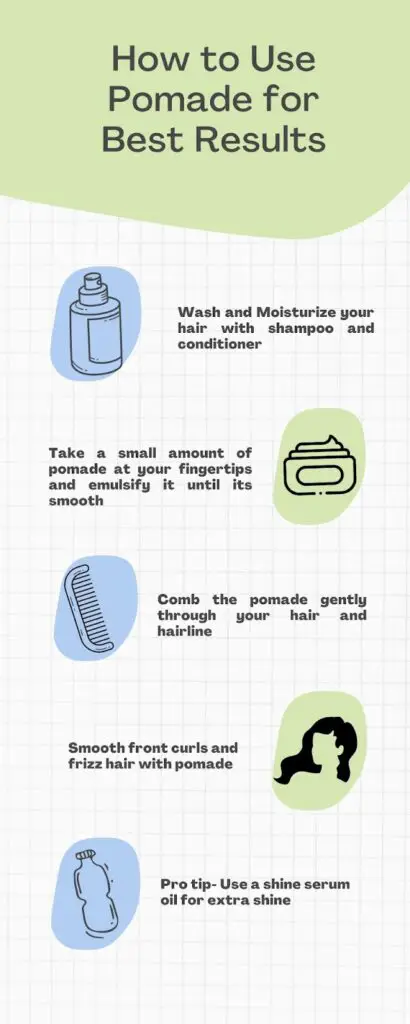 Source: Prepared by Canva
Here is the step-by-step guide to apply Pomade for the best results:
Wash and moisturize your hair with shampoo and conditioner designed for curly hair. Curly hair products from Shea Moisture are great options to go for.
Then take a small amount of pomade at your fingertips and lather in your hand to create a smooth texture.
Apply and comb the pomade working through your hair and hairline.
Smooth front curls and frizzy areas with the pomade.
Here is a pro tip: For extra shine, you can combine it with a shine serum oil but don't use too much.
Pomades are not the only hair care product for men. There are more options and it can get confusing. So, the following video will help you to identify what products to use for what purpose-
 This Ultimate Hair Styling Guide Eliminates Product Confusion Forever!
Frequently Asked Questions
Between Hair Wax And Hair Pomade Which Is Better?
It depends on the type of your hair and your style. For light to medium hold and matte look, hair wax is better. On the other hand, if you want a shiny finish and strong hold pomade is the best option.
What Pomade is Good for Silky and Straight Hair? 
Pomades are good for all hair types. Men can use pomades to style their hair in different ways. If you have straight and silky hair, water-based and wax-based pomades are better.
What Styles Can Men Try with Pomade?
Pomades are great styling products for men. Men can try side parts, combover, pompadours and quiffs using pomades.
How Many Times Should You Use Pomades?
Pomade should only be used when needed. Don't use it frequently or else it will buildup and create greasiness. Always use pomade in small amounts and should be washed away.
Closing Words 
So, coming to the question- is pomade good for curly hair?– yes it is. Pomade contains moisturizing ingredients like natural oil, shea butter, glycerin and aloe vera which nourishes your curly hair. Curly hair is difficult to handle, style or tame even. So if you are someone going through curly hair problems, pomades are for you. Understand your hair type and choose the best option for your hair.
Latest posts by Katharyn Riedel
(see all)