Yes, Dove shampoo is suitable for all hair types, as it nourishes, moisturizes, and helps repair damaged hair at an affordable price. However, some people may experience scalp irritation, allergies, dryness, or hair loss by using Dove shampoo.  
So, read the entire article to decide whether Dove shampoo is good for your hair or not. 
Key Takeaways
Is Dove Shampoo Effective For Hair?
Well, Dove is highly praised as one of the most effective shampoos in the market. According to hair experts and dermatologists, Dove shampoo is generally healthy for your hair care. You just need to ensure you pick the formula that suits your hair type.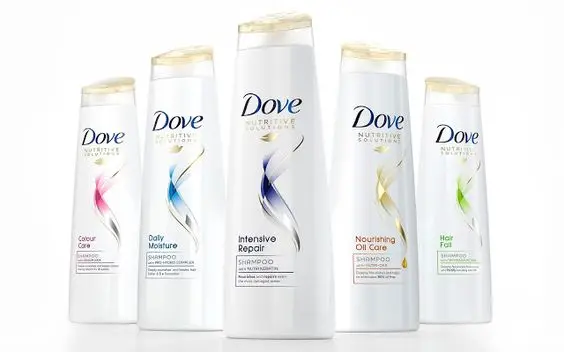 That brings me to the point of Dove's diverse range of shampoos tailored to various hair types and concerns. So, let's delve into the types of Dove shampoo:
Thin And Fine Hair: Dove has multiple shampoos specially formulated for fine and thin hair with natural volume. 
Damaged Hair: Dove offers Intensive Repair Shampoo that specifically addresses the needs of damaged hair. 
Coloured Hair: Dove also offers Colour Care Shampoo that is explicitly formulated to protect and maintain colour-treated hair for up to 8 weeks. 
Curly Hair: Dove provides choices specifically designed for curly hair, promoting smooth, defined curls and healthy hair. You may also be uncertain whether shea moisture is good for curly hair or not.  
Hijabi Women: For hijab-wearing women who want to refresh their hair without washing it, Dove offers a dry shampoo. It can help prevent flat hair and absorb excess oil from your hair. 
Men Shampoo: Dove Men+Care offers a variety of shampoos tailored to meet the specific hair and scalp requirements of men.
Baby Shampoo: Dove offers a mild shampoo enriched with a unique ¼ moisturizing cream, perfect for nourishing a baby's delicate hair and scalp.
What Are The Benefits Of Using Dove Shampoo?
Now, that we know how diverse the range of Dove shampoo is, here are the benefits of using Dove shampoo for hair care:
Nourishes And Protects
Dove Hair Therapy shampoos provide progressive nourishing care, making your hair healthier with every wash. They are usually designed to tame frizz, smooth hair, and repair damage, leaving your hair shiny and healthy. 
For example: If your hair is dry, you can pick Dryness Care shampoo which will make your hair up to 5X softer and smoother. 
You might also be unsure if Loreal is beneficial for hair. But rest assured that Dove is. and if Native shampoo is good for hair.
Restores Lost Moisture
Dove shampoo contains the exclusive NutrimMoisture complex, which replenishes lost moisture, resulting in softer and smoother hair. It strengthens each hair from root to tip, maintaining strong yet lightweight hair. 
Better Cleansing
Dove shampoo makes a rich, creamy lather that cleans your hair really well and removes stuff like hairspray and dirt. 
pH Balance
The formula of Dove shampoo has a low pH balance that helps to maintain an effective hair treatment by battling infections that cause bacteria on the scalp.  Also, because of the low pH value, Dove helps to preserve your natural balance and reduce frizz, dryness, breakage, and tangling.  
Sulfate-Free Options
Dove Shampoo has a sulfate-free shampoo option, offering a gentle cleansing option for those who prefer sulfate-free shampoos. 
Parabens Free
Parabens in shampoo can disrupt hormones, the endocrine system and cause skin irritation. So, Dove has already phased out the use of parabens in its products, ensuring a safe and more neutral experience for users. 
Additional Amino Acids
Dove shampoo contains amino acids including arginine and lysine, which help to keep your hair strong and nourished. 
Help With Dandruff
Dove offers a range of shampoos that effectively address dandruff and other scalp issues providing solutions for various hair concerns. Here are a few Dove shampoo options for reducing dandruff:
Affordable
Dove shampoo delivers effective results without breaking your budget, making it a budget-friendly choice. 
What Are The Side Effects Of Using Dove Shampoo? 
Aside from the benefits, there are some potential effects, you may experience when using Dove shampoo for hair care. 
Scalp Irritation
In some cases, some individuals may experience scalp irritation, especially if they have sensitive scalp conditions. 
Allergic Reactions
Some individuals may be allergic to fragrance ingredients in Dove shampoo, leading to skin irritation, redness, itching, or a rash.
Dryness
Using Dove shampoo regularly can remove the natural oils, which might make your hair dry and brittle. 
Hair Loss
The worrying issue is that some users have reported hair loss after using Dove shampoo. This might be linked to using shampoo excessively. As a result, you may question if other shampoos like Native are beneficial for hair or not. 
Harmful Compounds
Dove shampoo contains ingredients that might not be the best choice for your hair care. 
Sodium Lauryl Sulfate, a key component, removes essential oils from hair and scalp, causing dryness and itchiness. Additionally, the presence of silicone polymers initially imparts softness but may lead to dullness and scalp irritation. 
The shampoo also includes preservatives like Methylchloroisothiazolinone, and Iodopropynyl Butycarbarmate, which could trigger skin irritation and redness. DMDM hydantoin, another preservative, has the potential to result in hair loss and dryness on the scalp. 
Last but not least, the inclusion of fragrances in the formula may bring out strong allergic reactions in some individuals. 
The Best Dove Shampoo Products For Your Hair
Here's the table of the best Dove products for your hair care:
Frequently Asked Questions
Is Dove Shampoo Vegan?
Dove launched a shampoo for vegans named RE+AL Bio-Mimetic Repair Coconut + Vegan Keratin Sulfate-Free Shampoo. So, if you're looking for a vegan shampoo option, you can try it. 
Does Dove Shampoo Increase Cancer Risk?
Well, there is no concrete evidence that Dove shampoo increases cancer risk. But, In 2022, Dove shampoo was recalled due to the presence of benzene, which is linked to blood cancer.  So, purchasing a shampoo, whether it's Dove or another brand, make sure to check the ingredients. 
Is Dove Conditioner Good For Hair?
Yes, dove conditioner has positive reviews for its effectiveness in leaving hair soft, shiny and healthy. Further, Dove conditioners are available in a range of formulas for different hair conditions such as damaged hair, dry hair, coloured hair and many more. 
Final Words
So, are you unsure whether you should use Dove shampoo for hair care or not?
Well, while the renowned brand offers numerous benefits, there's also a possibility of experiencing side effects. So, Before using any type of Dove shampoo, check the ingredients to see if they're right for your hair. 
Latest posts by Katharyn Riedel
(see all)