There is a common perspective that short nails are not always sexy or trendy. However, this guide should show you that things are quite the contrary. Its especially true if you have the right insight, which can be mind-boggling to find nowadays.
So, we take a look at 7 speckless nail art designs 2023. 
These 7 speckless nail art designs are perfect for moms, even if you tend to have a busy schedule. Plus, they are also perfect for any enthusiast who wants to get creative with nail art designs.
1. Orange Fruit Summer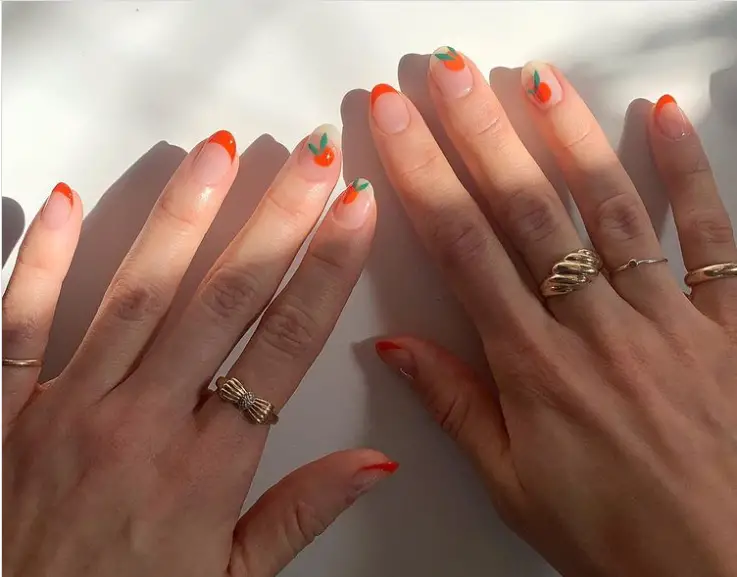 Our first suggestion seems simple, but there is more to this particular nail art design than meets the eye. You may have to get some decorative finger jewelry to help complement the finish of the nail design.
Start by applying a clear nail polish base to all your fingers. Then, let it sit and cure for a few minutes. Next, proceed to apply a light orange colour to the top section of the nail. However, the middle and index nails on both fingers will get a unique orange drawing.
2. Cute Flower Nail Designs 
Again, the art of going speckless with nail art is about knowing how to play with the ingredients! Start by applying a clear nail polish base on the base of your nails.
The next step is to apply stickers on your nails. Ensure that you let these stickers on the edge of your nails. Also, try and complete the overall nail design with some jewelry. 
3. White and Pink Gradient Nail Design 
Also, unique on this list would be white and pink gradient finish. As with all unique nail designs, you will have to start with a clear base coat. Then get a set of three colours, so you can get the colour gradient for this design correct.
You will need a stencil to perform this process. Start by applying the divider stencil on your nails such that it forms three sections. Then start with the cuticle section, and apply a mellow pink nail coat. Next apply a light pink coat on the middle section. Proceed to complete this process with a light blue finish on the final nail section. 
4. Stars and Glow Nail Art
Realize what you have been missing when it comes to nail art when you finally try this unique stary and gel nail design. The best part is that it's simple to apply, because the stars are nail stencils.
As usual, the first step is to apply a unique clear base coat to the structure of your nails. Then apply at least three coloured stencils to your nail structure. However, for the pinky finger, apply some gel nails. 
5. Colourful Nails Design 
If you are in a good mood, or you perhaps want to show your affinity for rich colours, then remember this unique nail art design. While it may involve the use of upto five colours, it's simple to apply once you have the correct accessories.
Start by applying gel nails to the structure of your nails. Let it sit and dry for a few minutes. Then, proceed to apply four striped stencils on the final ⅔ of your nails. Next paint each stencil differently. The colours to use include green, yellow, red and light purple. 
6. Let's Play with Jewelry and Colour 
When you are done trying out the nail art designs above, remember this unique nail art design that involves different colour types. It all starts with you applying a white base coat on your nail, with some clear nail polish.
Then, proceed to complement the finish with some appealing and circular dots. The final finish would be to apply some golden nail polish to any section that falls on the edge of your nails. Be careful so that you don't compromise the quality of the nail polish.
7. Immaculate Purple Nail Art Design 
There is a reason why purple ranks among the most luxurious colours. And, you can easily apply these colours to your nails, and make them look unique. 
We recommend this unique nail design that involves a patterned approach to apply colour purple. 
Start by applying a clear base coat to your nail. The base coat will help boost the appeal of the nail coat. Then, proceed to apply a criss cross pattern to the nails. Do this by applying tape to the sections you need the purple finish. Then apply the purple finish and remove the non-adhesive tape gently. 
8. White Nails with Stencil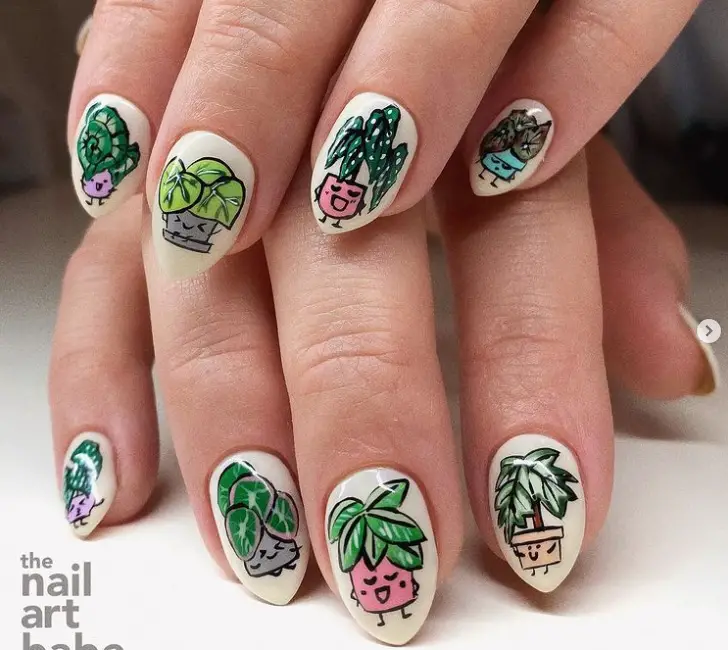 Finalizing this list of speckless nail art designs would be this unique fruit and plant character design. You will have to start with gel nails for this to work. Clean your nails using disinfectant and then apply some nail strengthener. 
Next, place the fruit and plant cartoon character on the surface of your nails. And that is pretty much everything to this nail art design. 
Latest posts by Katharyn Riedel
(see all)