You have finally taken that bold step to expand your skills in applying nail art. However, you have come across various struggles, and it's time for you to invest in a worthy course. The issue is that there might be several courses out there, but not many of them offer the right value.
So, what are some of the best nail technician courses worth my time?
Well, the best nail technician courses worth your time have a particular set of values. The course should have good ratings, and be available through a legitimate website. We took these factors into consideration and more, in outlining these top courses for you to consider.
So let us get started:
Best Nail Technician Courses in 2022
Top on this list would be the Complete Nail Art Course, that is available free of charge. While the course has technical information on nail designs, its also suitable for beginners. The course instructor is Gabriela Cismas. 
She has over a decade worth of experience in the nail product industry. Furthermore, she also has various other skills to boost the scope of her skills. These include skills in painting, gel applications, acrylics and various others. So, its an excellent course you can try during your free time. 
A few standout lessons in this nail course would be on choosing gel products, nail decorations and the types of brushes to use. With a total of 3.5 hours of information, you are in for an insightful learning experience. 
The other notable contender on this list would be this course on Udemy, which offers excellent information for nail technicians. While this course has focus on beginners, the information can also help boost any skilled professional's skills.
A total of three instructors are available on the course. These instructors include Alex Saxon, Vitali Fedarchuk and Liliya Saxon. So, you have an immersive and authoritative course that offers immense information for your learning experience.
The standout lessons in this program are crucial in helping one become an expert nail professional. These include lessons on gel nail sculpting, applying new designs, manicures, and various other types of information. 
Averaging at a total of 6 hours, this course makes up for fun and insightful learning experience. Plus, the course goes a step further by providing information on marketing techniques. 
Did you know you can become successful in the nail product industry. Take a look at this course that lets you gain insight into the specific nature of running a nail business. The course comes with various bonuses to help you make the most of this experience.
For instance, the course offers information curated for both novice and advanced nail care professionals. Plus, the maker of the course is Michelle Donaldson. She has over 3 decades of experience in this industry.
In a total of 18 video lessons, she does a good job of covering various topics. These include topics on hand massage, UV polish application, manicuring and nail polish removal. Best of all, the makes of the course have done well to present the information in a simple and straightforward manner. 
With an average rating of 4.6, you can see the immense value that this course offers for nail professionals.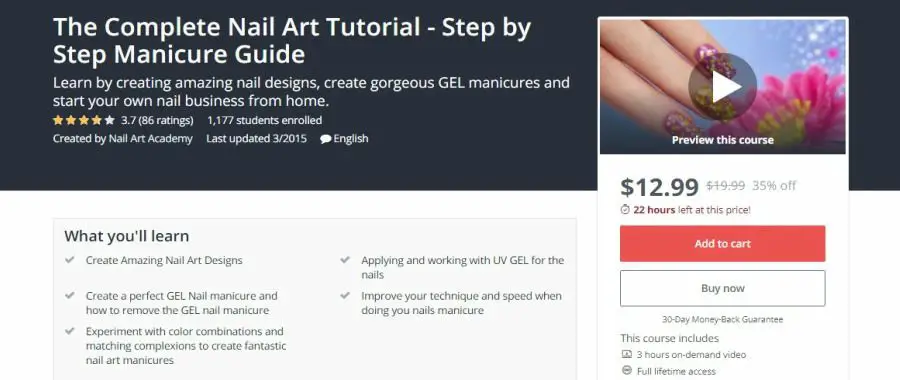 Take a look at this complete nail art tutorial, which is also an excellent recommendation for broadening your skills. It's the perfect course for new learners or advanced nail art professionals.
Offering a total of 3 hours Udemy, this course offers information on applying GEL nails with UV lights. The makers of the course have done well to organize the information into a step by step format. 
Students will find it easy to follow along with 18 video lessons, which are short but concise. However, prepare ahead of time by getting the right resources for this process. Some of them include buggers, primers, acetone and nail clippers. 
Have fun learning with this beauty courses online training program. While the course might seem technical at first, you will notice that it offers insightful information. You should be ready for any nail product application process once you are through with the content.
The course offers information on nail health and care aspects. Plus, you will also be accessing useful information on sanitation and hygiene procedures for nails. Issues such as broken acrylics, nail fungus, and various other topics are discussed in the program.
The course goes further on acrylic systems, applying extension tips and a UV gel system for the best results.
Latest posts by Katharyn Riedel
(see all)