Your shampoo is a crucial part of your hair care routine. Thus, it's natural to be confused between shampoo brands like Aura and Aveda. However, to get healthy hair, you need to clear up the confusion. 
So, what exactly are the dissimilarities between aura shampoo vs aveda? 
Well, the first difference is regarding the cost. Aveda shampoos are more pricey than Aura shampoos. The next difference is their moisturizing ability. In this field, Aveda wins. Moreover, when it comes to being 100% sulfate-free, Aura loses. There are quite a few more differentiating factors between the two to be discussed.
Don't fret, we've explained everything we possibly could! Now lather up and slide into our article to know the details of these two shampoos!
Different Types of Aura and Aveda Shampoos: Names & Features 
Now, you shouldn't skip this part. Because you need to have a basic knowledge about these two brands. Otherwise, you won't understand which shampoo will suit your hair. 
So, firstly of all, Aveda is a super popular haircare brand. It has been said that Aura and Aveda both have the same parent company. Thus, Aura is just a knock-off brand of Aveda. 
Now, there are different types of Aveda and Aura shampoos. To be honest, Aveda has more varieties than Aura. However, both brands focus on solving common hair problems with their shampoos. 
Therefore, let's get to know the different types of Aveda shampoos-
| | |
| --- | --- |
| Shampoo Name  | Shampoo Speciality  |
| Aveda New Shampure Dry Shampoo  | Refreshes your hair instantly and leaves a calming scent. |
| Aveda Rosemary Mint Purifying Shampoo  | Leaves your hair feeling super clean, shiny, and soft.  |
| Aveda Scalp Benefits Balancing Shampoo  | Helps to tame scalp problems and dandruff.  |
| Aveda Smooth Infusion Shampoo  | Moisturizes your hair and reduces frizziness. Helps to reduce your unwanted waves and flyaways. Softens your hair and protects it while styling. |
| Aveda Cherry Almond Softening Shampoo  | Resolves any kind of hair tangling issues. Makes your hair super soft, smooth, bouncy, and shiny.  |
| Aveda Damage Remedy Restructuring Shampoo  | Repairs damaged hair and makes it healthy-looking. |
| Aveda Invati Advanced Exfoliating Shampoo | Exfoliate your scalp and renew it. Also, nourishes, cleanses, detangles, and protects hair from damage. Makes your hair fuller and thicker. |
| Aveda Be Curly Shampoo  | Gently cleanses and enhances wavy to curly hair. Reduces frizziness and makes hair shiny.  |
Lots of shampoos, right? Guess what almost all of them are suitable for any hair type. However, Aveda Be Curly shampoo is mainly used on wavy and curly hair.
Now, Aura doesn't have that many varieties like Aveda. But here are some popular Aura shampoos-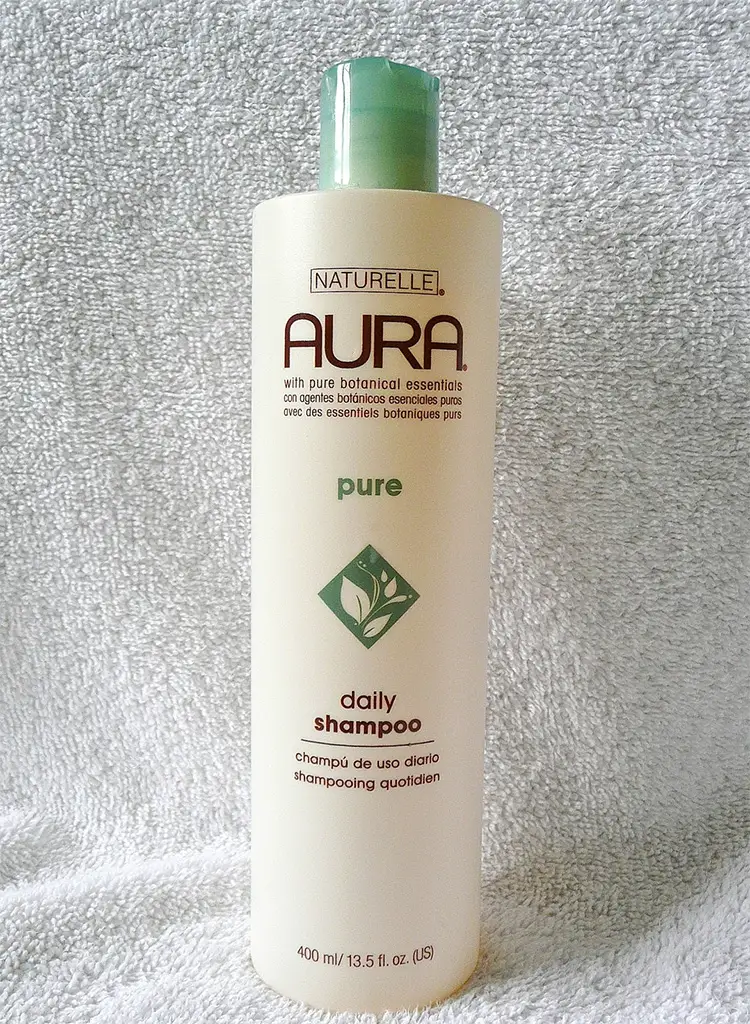 | | |
| --- | --- |
| Shampoo Name  | Shampoo Speciality  |
| Aura Rosemary Mint Rejuvenating Shampoo | A daily cleanser that keeps your hair clean weightlessly. And leaves your hair feeling healthy and full. The rosemary, vitamin C, and E in the shampoo strengthen your hair and protect it from damage. Also. peppermint awakens your scalp. |
| Aura Clove Shampoo for Brunettes  | Enhances the darker shades of your hair with rich hues. And enhances blonde hair with honey tones. Also, gently cleanses your scalp and hair. Keeps the natural pH of the hair balanced too. |
| Aura Pure Daily Shampoo  | Provides moisture for your hair. Also, deep cleans the hair. |
| Aura Cherry Almond Bark Revitalizing Shampoo  | Leaves a cherry almond smell after using it. Moisturizes and cleanses your hair. Makes your hair soft too.  |
| Probeaute Aura Color Preserve Shampoo | Helps to hold the color for a longer time. Makes your hair feel really soft and full too. |
Well, these were all the aura shampoos we could find!! All of these can be used on any type of hair.
Also, before getting into the comparison, you should know-
Some of the Aveda and Aura products were discontinued. For example-
Probeaute Aura Color Preserve and Aveda Cherry Almond Bark were discontinued. Anyway, Aveda launched a newer version of Cherry Almond Bark. And they named it Cherry Almond. Don't worry! The new version is told to be just as good as the old one. 
Aveda or Aura Shampoo: Sneak Peek
Now, it's time we start learning the differences between the two brands. But at first, we suggest keeping the knowledge minimum. So, you can easily comprehend everything. 
Thus, here are the basic dissimilarities between Aveda and Aura shampoos-
| | | |
| --- | --- | --- |
| Factors  | Aveda  | Aura  |
| Price | Expensive  | Cheap  |
| Moisturizing Ability  | High to moderate  | Moderate  |
| Cleansing Ability  | Good  | Good  |
| Detangling Ability  | Good | Good  |
| Ability to define Curls  | Better  | Good  |
| Hair Stripping Issue  | Low | Low to medium  |
| Cruelty-free | Yes | Yes |
| Sulfate, paraben, silicone-free  | Yes  | Not always  |
| Lasts Long or Not | Yes  | Finishes quicker  |
So, as you can see the brands have both similarities and dissimilarities. This makes it even tougher to pick one!
2 Similarities Between Aura and Aveda Shampoos
Did you know that Aura and Aveda are a bit similar in some ways? Well, there are few factors where the similarities are more than differences. So, let's check them out-
Both Shampoos Cleanse Your Hair Better
Now, if you're going out often, your hair will get dirtier than you can imagine. The dust and dirt from the outside will get into the hair. 
Sometimes, if you aren't cleaning your hair properly, you can get scalp problems. And let's not even talk about hair fall. Because that's bound to happen.
But lucky for you! Both Aveda and Aura have great cleansing shampoos. These deeply cleanse not only your hair but also the scalp. Thus, there's no chance of infections or hair fall due to dirt and oil. 
Both Shampoos Are Cruelty-free
Everyone hypes a product that's cruelty-free. To be honest, it's actually a great trend. Because experimenting and harming the animals for our benefit goes against morals. Plus cruelty-free products also help to protect our environment.  
And thankfully, both Aura and Aveda strongly disagree with testing products on animals. Thus. it's pretty clear that their products are 100% cruelty-free. So, you can buy their product without feeling guilty. 
A Detailed Comparison Between Aveda Shampoo and Aura 
Now, let's be honest. Getting both shampoos isn't the ideal decision you'll make. Therefore, you have to be 100% sure about which you're buying. 
Hence, we've done in-depth research. We went through reviews and forums and compared the two brands. Along with the comparison we also provided detailed info.
This type of comparison can help you to get to a conclusion soon. Even if the decision is regarding choosing one from Keracare and Mizani.
Which Is More Pricey?
So, while trying to get a product from Aveda and Aura-
The first thing you'll notice is the price difference. Yup, there's a great gap between the cost of these two. Aveda is pretty expensive while Aura is on the cheaper side. 
To be specific, the cost of an Aura Shampoo is about ⅓ of an Aveda shampoo. The price of Aveda Shampoo starts from $16. Whereas Aura shampoos start from $11. 
So, yes! Aura shampoo is much cheaper. And the shampoo is suitable for people that can't effort the expensive Aveda shampoos. 
Which Defines Curls and Waves More? 
Everyone loves healthy curls. But not all shampoos can define your curls properly. Thus, it's difficult for a person with curly hair to choose a hair product.
However, you won't have this problem with Aveda. Because Aveda has a dedicated shampoo (be curly) that works to enhance your curls. The defines your beautiful curls and keeps them healthy-looking. 
On the other hand, Aura doesn't have a dedicated shampoo for curly hair. But the shampoo users have said it does define curls. However, both Aveda and Aura users said that Aveda defines curls better. 
Which of The Products Are Sulfate and Paraben-free? 
Having sulfate and paraben-free shampoo is essential. Because these elements can cause damage to your hair. 
Sulfate makes your hair dry which gradually results in hair breakage. For this, you'll end up having tiny broken hair on top of your head. 
That's why experts suggest using sulfate-free and paraben-free hair products. 
Now, Aveda has always been producing and selling sulfate-free products. The shampoos of this brand are also silicone and paraben-free. 
Plus they stated-
More than 50% of the ingredients used to make their products are organic. Thus, Aveda shampoos are also vegan. 
Then for Aura shampoo, it isn't totally sulfate-free. For example, Aura Rosemary Mint Rejuvenating Shampoo has little amount of sulfate in it. Therefore, only people with hair that can tolerate a low amount of sulfate can use it.
Which Product Moisturizes Your Hair and Scalp Better?
Now, both Aura and Aveda are good moisturizers. However, it's known that Aveda moisturizes hair a lot better than Aura. 
But Aura as a moisturizer is also great. It just moderately moisturizes the hair. Whereas, Aveda deeply moisturizes hair. 
Which Product Causes Stripping?
Aveda says that your hair won't strip while using their shampoos. Because the shampoos are made to be gentle on the hair. 
On the other hand, Aura shampoos don't usually cause stripping. But sometimes while using the shampoo daily, you might see your hair stripping.
For example, some said that Aura Pure Daily Shampoo isn't suitable for daily use. Because it causes their hair to strip. 
Which Shampoo Lasts a Long Time? 
You want to use your shampoos for a longer time, right?
Well, everyone does! That's why it's important to use the shampoo properly. So, make sure to see the directions. 
However, we have found out that Aveda lasts longer than Aura. Because only a dime-size amount of Aveda is enough for good results. 
Whereas you might have to use more of the shampoo when it comes to Aura. Otherwise, you won't get the desired results. 
But hey! Aura is quite cheaper so you can easily buy another!
Aveda or Aura Shampoo: Which One Is Worth It? 
So, who wins?
Well, to be honest, we can't say who is the real winner. Because it's your decision. All we can do is to make your decision a bit easier. 
Therefore, here are our opinions regarding the result of the battle-
Aveda shampoos are a superb choice for your hair. Because the shampoos have more positive reviews than negative. The shampoos are suitable for every hair type. They moisturize, cleanse, and protect your hair perfectly.
The only issue is the price. Most of the time people get really upset by seeing the high price. Because they can't afford it to make their hair look luxurious and healthy. 
But we would still say spending money on the Aveda shampoos is worth it. Also, don't forget to buy the conditioners along with it.
Now, Aura is kind of like Aveda but at a lower price. However, it might not suit every type of hair. But still, you can easily give the shampoos a try. Because they're not that pricey. 
Then decide if you want to stick with it. Or do you prefer upgrading your hair care routine by buying Aveda shampoos? 
But if you are unable to buy Aveda and Aura is kind of making your hair dry-
You can repair your hair by using coconut or almond oil. So, here are some of our suggestions regarding those-
Garden of Life Organic Extra Virgin Coconut Oil
Viva Naturals Almond Oil (16 oz)
This is one way to moisturize dry hair. By the way, you can also use essential oils. But make sure you aren't using too much of them. Plus sometimes using an excess amount of tea tree oil can damage color-treated hair.
However, if your hair is still getting dry, it's best to upgrade to Aveda. 
Frequently Asked Questions (FAQ)
Question: Is Aveda shampoo good?
Answer: Well, yes, Aveda is great for the hair. Plus the products of the brand are also eco-friendly. Because they are filled into recyclable bottles. And they are also suitable for vegans. Moreover, Aveda has lots of high-performing shampoos. Thus, they help to keep your hair healthy.
Question: Is Aura shampoo good for hair? 
Answer: As far as we know, Aura shampoos are a good choice. They keep your hair clean, moisturized, and healthy. Also, the after smell of the shampoo on your hair is also admirable. Plus the products are cheap.
Question: Where to buy Aveda products? 
Answer: Well, you can buy the products from Aveda's official website. You can also get their shampoos from your local supermarket such as Walmart. Furthermore, they are available on Amazon as well.
Bottom Line 
So, there you have it! We tried writing down all the important facts about aura shampoo vs aveda. Now, it's just up to you to decide. 
Also, if you didn't know-
Both Aveda and Aura shampoos are suitable for color-treated hair. So, there's no need to worry about your hair color fading away. 
Anyway, do let us know which one you pick. Till then good luck!!
Latest posts by Katharyn Riedel
(see all)