It's easy to get caught up with the many variations of acrylic nail designs, and colors that exist day? And this is a good thing, especially when you are well-informed. You must be well-informed to ensure you get the best out of your acrylic nails. 
So, how long do acrylic nails last without fill-ins?
Usually, acrylics last without fill-ins for two to three weeks. Fill-ins are the products applied to your nail to improve longevity. With fill-ins, expect acrylics to get up to three or four weeks – with the right care approach off course!
How Long Do Acrylic Nails Last? – For Starters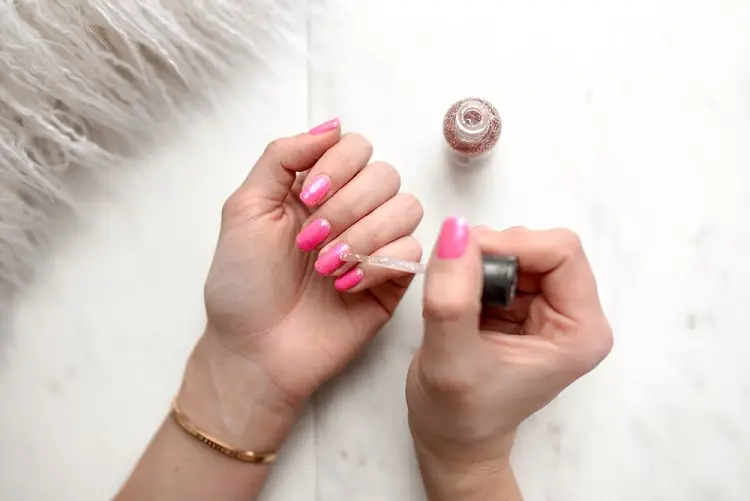 You should know by now that acrylics last for two to three weeks before considering one of two options. These are the:
Infills. You set these on your nails to help improve the nail structure.
Removal. You use products like acetone or homemade acrylic nail removers for this process. 
The specific process that applies to each person varies. For instance, some acrylic nail users can last up to one month without damage or lifting issues. It's a common phenomenon among people engaging in nail biting or those with oily nails.
It may cause such people to lose their nails, specifically as they weaken the foundations for setting the extensions. Various factors impact the longevity of your acrylics. Activities like doing housework or any job involving nails can be a contributing factor.
But, most of it also relates to the quality of your nails and the application process. 
The FDA bans nail products that contain chemicals like 'MMA (methyl methacrylate). Surprisingly, they are still common in various nail products – including acrylics! Safer alternatives like ethyl methacrylate are expensive – which is why they are less common.
Aside from being a harmful product, MMA also sticks strongly to the nails. So, there is a significant likelihood that it can lead to nail damage complications. Plus, it's also surprisingly hard to remove. 
Nail technicians who use products containing excessive MMA also often resort to using products like nail drills. However, the poor quality products also cause them to use drills on natural nails – which is a "NO – NO!"
One more thing, should I get a fill or a new set?
Getting a fill or a new set depends on various factors, such as the current quality of your nails. It also relates to the appearance and nail care procedures you can perform.
What Exactly are Acrylic Fill Ins? + Tips for Making the Last Longer!
Acrylic fill-ins refer to the gaps on the back or acrylics, requiring covering or touch-ups. 
The role of these touchups or fill-ins is to help restore the appearance and longevity benefits of the acrylic nail product. 
Fill-ins are crucial for people whose acrylic nails break down faster than others. Some reasons for the compromised breakdown can include genetics, compromised nail structures, and excessive nail product usage.
Here are some additional tips you need for using acrylic fill-ins: 
Tip #1. Locate a Good Nail Tech 
One of the keys to getting long-lasting acrylic nails is to perform the "good nail tech near me" search process. 
Google will provide you with a host of exceptional results you should consider. Once you narrow down your list of service providers, proceed to perform more research on their service quality.
While this seems like an unnecessary process, it will help ensure you get the best out of the acrylic nails world. 
Research the nail tech you will use. Observe some of their work. Ask some questions, like
Do they fit your nail design style?
What are their prices compared to others?
Can they execute the specific steps you require for nail services?
Can they provide you with helpful information even before investing? 
We also can't stress the importance of proper communication enough! Aside from asking questions, inform them of the specific things or results you expect with your nail design projects. 
Try and tag along some photos of some nail designs that have tickled your fancy in the past. With the right acrylic nail service, you are sure of getting quality results – so you never need fill-ins. 
Tip #2. Use High-Quality Nail Care Products – Top Coats and Nail Polishes 
As we had already recommended, acrylic nails require time and financial investment. There is no reason for you to waste time investing in cheap or low-quality nail polish products. Regardless of the appeal of the color, ensure you always settle for the best! No exceptions!
Our research has shown that many acrylic nail product users prefer the Essie brand. Aside from boasting of an extensive nail product selection, they also have products that offer longevity. 
Plus, they also have an appealing shine effect that makes them perfect for different attire types. When performing acrylics on your nails, we recommend you settle for gel polish products. 
Tip #3. Remember the Importance of Moisturization 
One of the best ways to lengthen the longevity of your acrylics is to use moisturizing products. Adding moisture to your hands will help improve skin quality, nails, and cuticles. So, what's the key concept here? Your answer – CONDITIONING!
It's a crucial concept that many nail product users never understand. You must apply oil to the cuticles and ensure they are healthy and soft. We also recommend you develop a conditioning product that works best for your skin and nail type. 
One key factor for you to consider is avoiding products like enhancements. While acrylic nails have unique appearances, health should be your priority! Many people who struggle with the" acrylic nails after a 1-week issue"" often fail to moisturize properly. 
PRO TIP! Here is a Youtube video to help you moisturize your nails properly. Link: How to Moisturize Nails.
How to Use and Remove Acrylic Nails So They Last for Long Periods?
Below are the steps and products involved in using acrylic products and removing them correctly:
Recommended Products 
Here are the products we recommend for how to make acrylic nails last longer:
Steps
Purchase the right acrylic nail products.
Prep your nails. This can include buffing or sanding techniques. Some might also have to push back their cuticles. 
Size your acrylic nails using a measuring tool like a ruler.
Apply a dehydrating primer.
Apply the acrylics.
Shape your nails. 
Removing your acrylic nails will require an acetone solution. You should only dip your nails in acetone solution for up to 10 minutes. Take a break, and use nail strengtheners.
PRO TIP! Here is an expert Youtube video for applying acrylic nails. Link: 💅🏼Acrylic Nail Tutorial – How To Apply Acrylic For Beginners 🎉📚
Frequently Asked Questions (FAQ)
What Happens if You Don't Fill in Acrylic Nails?
Various things can happen when you don't fill in acrylic nails. The nails may break down faster than normal and might require replacement. You are also likely to experience some slight nail damage. 
How Long Can You Go Without Filling Acrylic Nails?
The longest you can go without filling acrylic nails depends on various factors. These include the damage level to your nail, the application process, and expected results. It also relates to your nail appearance and maintenance preferences. 
Do Acrylic Nails Come Off on Their Own?
Yes, acrylic nails can sometimes come off on their own, which can happen for various reasons. It can be due to nail trauma, poor nail care, and lifestyle factors. It's why you must be cautious when using nail products. 
Can Acrylic Nails Last 6 Weeks?
Yes, while rare, acrylics can last for up to 6 weeks. One of the main reasons this can occur is because you take good care of your nails, and your lifestyle tendencies are not aggressive. 
How Often Should You Give Your Nails a Break From Acrylics?
The frequency you should give your nails a break from acrylics depends on various factors. These include the frequency of acrylic product use and the quality of appearance of your nails. 
How Often Do Acrylics Need to Be Filled?
The frequency of filing your acrylic nails depends on various factors. It can relate to your lifestyle preferences, the quality of your nails, and any other relevant factor. Be cautious to ensure you have the best quality acrylic nails.
How Long Should I Keep My Acrylic Nails in Acetone?
You should keep your acrylic nails in acetone for five to ten minutes. Any period longer than this risks causing long-term damage to your nail structure. You should also take well-timed breaks from using this product. 
Various factors influence the longevity of your acrylic nails. It can be due to your lifestyle preferences, the quality of your nails, and the results you expect. Regardless, your nails can still last for up to 3 weeks without acrylic fill-ins. 
Latest posts by Katharyn Riedel
(see all)