Eco-gel is a good choice for you as they are made of natural ingredients and are free of harsh chemicals. It benefits the hair by improving the scalp's health, providing daylong hold, and nourishing the hair strands. Eco-gels are available depending on your hair type and color. However, it might have some adverse effects on your hair as well if not used carefully. 
How? Keep reading this article to discover more insights!
Key Takeaways
Why Is Eco Gel Better?
Eco gel is a much better alternative to regular gels. It is built with natural ingredients that don't harm the hair. Some of the key features of Eco Gel are-
Retains Moisture: One of the pluses of Eco Gel is to retain moisture. Aloe vera in it is known for its hydrating properties. The gel creates a barrier around the hair, which locks in moisture and prevents the hair from breaking.
Non-Flaky: Eco Gel is a non-flaking gel. It leaves no residue on the hair or scalp after drying.
Hold: Eco Gel gives a strong hold that you can carry throughout the day. It not only defines your curls perfectly but also keeps frizz manageable, giving your hair a polished and sleek appearance.
How Much Eco-Friendly Is Your Eco Gel?
Eco gel contains the following key ingredients:
Aloe vera
Olive Oil
Vitamin E
Toxic and Cruelty-free
Vegan
Aloe vera moisturizes the hair while Olive oil strengthens the strands.
Besides, Eco gel provides long-lasting placement for your hair. On top of that, you can apply this on damp and bare hair. So, you can carry different hairstyles without any mess!
Can Eco Gel Foster Your Hair Growth
Eco-styler gel is being popular lately as a possible solution for hair loss. But here is the question, how credible is this piece of info? Well, eco gel definitely enhances hair hydration levels, boosts shine, and detangles the hair easily. 
Turns out, it is still not fully approved whether eco-gel helps with hair growth. So, the claim of hair growth is not valid yet. 
However, you may use Eco Gel in your hair according to your needs. But, If you use the gel every day, it is necessary to wash your hair more frequently. Also, be aware of the time not to leave the gel in for more than 48 hours. 
Leaving hair gel for a long time will block the pores on your scalp. Thus, it results in hair fall and hampering your hair's overall growth.
Is Eco Styler Gel Bad for Natural Hair?
No, Eco Styler gel is not bad for natural hair. 
Although, there is some controversy around the use of gel for natural hair. Some users claim that hair gel is not good for hair as it contains alcohol. This can dry out your natural hair and lead to breakage and split ends.
However, Eco Styling Gel is the pioneer of alcohol-free gel to be available on the market made using nature-based ingredients. So, it is completely safe to use it on your natural hair.
In addition, the perfect choice of hair gel for natural hair is the one you can make on your own. However, not everyone has the time, interest, or patience to experiment in the kitchen.
So, what's the solution? No worries, we got you! Here are 5 alternatives to Eco Styler Gel that set best in natural hair:
Eco Gel Vs Normal Hair Gel
Hair gel helps you style your hair properly and hold it in place. 
In contrast, using hair gel has some negative effects on the hair and scalp since it contains toxic chemicals.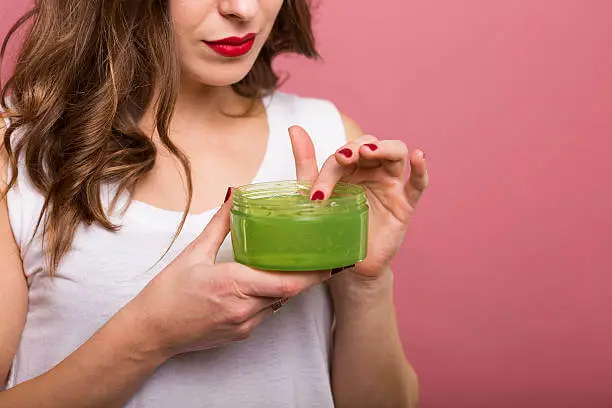 Source: Niyis
The problem with regular hair gel is
Dehydrated hair: Alcohol and chemicals in regular hair gel absorb moisture from the hair and scalp. It makes them look dry, dull, and dehydrated. In the long run, brittle, dry, and breakage-prone hair is created.
Dandruff: Using regular hair gel makes your scalp dehydrated, and it leads to dandruff. In that case, you need to clean the scalp with clarifying shampoo like Aussie.
Damaged hair: Frequent use of hair gel causes hair thinning, split ends, damage, and discoloration of hair. These gels strip away the hair's nourishment and moisture, leading to breakage. Using gels for a long period can cause premature graying of the hair.
Types of Eco-Style Gel
Eco Gel has 13 types of hair styler gel in its line. They are- 
Argan Oil, 
Gold, 
Black Castor & Flaxseed Oil, 
Coconut Oil, 
Colored Hair, 
Curl & Wave, 
Krystal, 
Olive Oil, 
Protein, 
Super Protein, 
Sport, 
KGF, 
Super Olive 10X. 
Source: beauticlassy
There are several strengths available in eco gel, each designed to suit a different type of hair. Some popular Eco Gel are:
Strongest version.
Suits every hair,
Offers strong placement.
Olive oil infused, 
Increases moisture level, 
Best for dull and damaged hair.
Contains argan oil,
Suits every hair,
Gives medium hair placement.
Eco Style Moroccan Argan Oil: 
Better hold compared to the regular version. 
compatible with all hair,
Ensures strong hair placement.
You can choose any one of them that is best paired with your hair. Find them at an affordable price on Amazon.
Is Eco Gel the Best Choice For Curly Hair?
People with curly hair find eco gel working well for smoothing curls with minimizing frizz.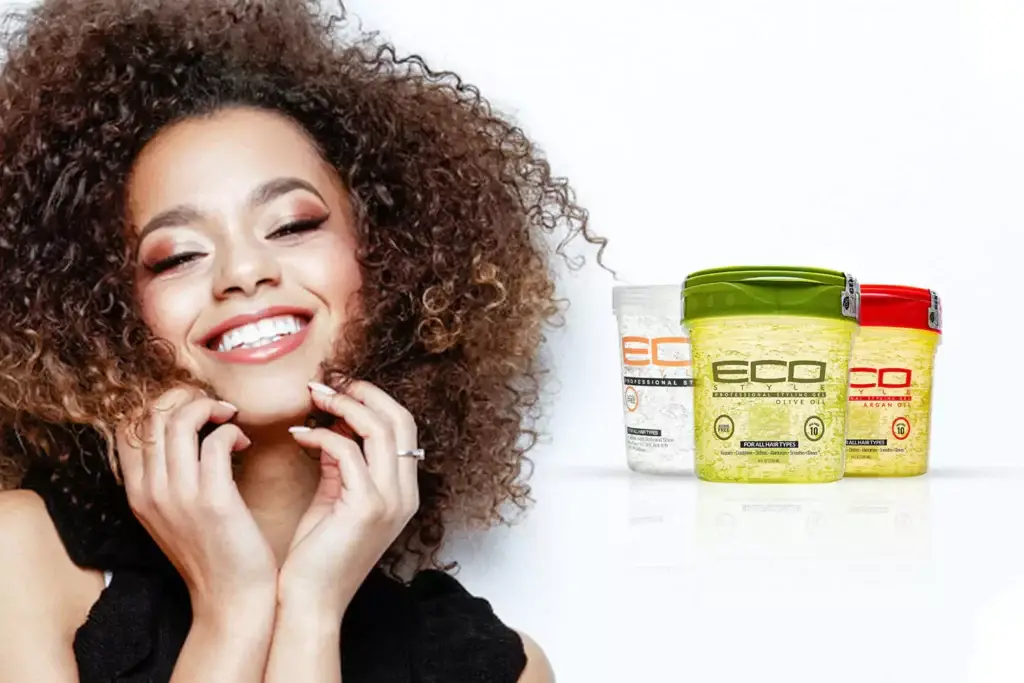 Source: beauticlassy
For a few users, it might be excessively heavy or tacky to apply. Eco gel has also been reported to cause dehydrated hair in some users.
The effectiveness of Eco Gel can vary from person to person. So, to find the right product, you need to research them before buying. Also, it's best to invest in a good conditioner in your hair care routine to restore its damage.
To make a point, eco gel is a good choice for wavy hair. You need to apply it carefully to minimize problems..
Frequently Asked Questions
Can I Add Water to Eco Styler Gel?
Yes, you can mix water with Eco Gel to dilute it. Measure a bit of gel into an applicator bottle, add distilled or rose water, close, and mix. Use this method if you don't like the thickness of the gel.
Does Eco Styler Contains Triethanolamine (TEA)?
Yes, Eco Style Gel contains TEA, which has nitrosamines. It is widely known to be carcinogenic. However, the manufacturers of eco styler claim to use Cosmetic Grade TEA which contains no detectable nitrosamines. This Cosmetic Grade TEA has been extensively researched, tested, and FDA-approved for consumer safety.
Should I Cancel Eco Styler Gel?
The decision's up to you whether you should cancel Eco Gel or not as people have mixed opinions about it. As examined, the ingredients in it are non-harmful with FDA approval. While it's impossible to avoid all chemicals, the Eco Styler products are considered safe for use. However, You can always consult a hair expert to clear your confusion.
Final Thoughts
Now you know that Eco gel is great for your hair. With its natural ingredients, it helps to prevent your hair from being dry, weak, hard, and crunchy. In a nutshell, Eco-Gel is mostly safe to use whether your hair is straight or curly. But you can always consult an expert before you choose this product.
Latest posts by Katharyn Riedel
(see all)